1 View
UTV Riding and Zombie Hunting
June 16th, 2015 4:34 PM
Share
We're committed to finding, researching, and recommending the best products. We earn commissions from purchases you make using links in our articles. Learn more here
We kick up some dust and dabble in archery in West Virginia
I don't want to have to deal with a zombie apocalypse, but I feel a little more prepared now if it ever comes up – thanks to Kawasaki.
Not every manufacturer has the foresight to keep off-road editors trained in the art of fighting off the undead, but how else will anybody read about the latest products from Kawasaki when the going gets tough. Keeping the messengers safe seems like smart thinking to me, but I may be biased.
To train us media types in the art of combat, Kawasaki enlisted the help of Hoyt Archery, Delta McKenzie Targets and Realtree and flew the lot of us to West Virginia where the Hatfield-McCoy Trails would host our one-day boot camp. Look for a full story on this awesome trail system in the coming weeks.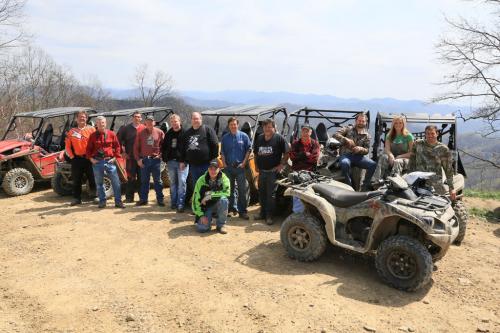 We took a fleet of Kawasaki Teryx4 UTVs on the Rock House loop of the Hatfield-McCoy Trails.
Chief John Hall, Jr. of the Hatfield-McCoy Trails law enforcement division met me at the airport in Charleston, WV. Wanting to get me in the proper frame of mind, Hall (with the help of another mean-spirited member of the media) came up to me in full uniform in the baggage area and told me I was in some sort of trouble and had to go with him. Having never been accosted in an airport by someone in uniform, I meekly complied, figuring it's always best to politely follow orders in a situation like this. Fortunately, he didn't string me along for too long and let me off the hook by the time we got outside. He may have won the battle, but I'll remember this incident if he ever gets bitten by a zombie while I'm around.
The Teryx4 might just be the perfect four-seat UTV for handling tight, technical trails.
We met up for dinner that first night for a little food and fun before the real work commenced the following morning. It was good for moral for the enlisted men like me to break bread with the officers who would be training us.
Kawasaki had a fleet of Teryx4 750 4×4 Side-by-Side vehicles waiting for us first thing in the morning. I chose a yellow EPS Limited Edition model, but in hindsight one of the units dressed in Realtree camo may have been a better choice for evading zombies. I've spent many hours in the two-seat Teryx, but this was my first experience in the multi-passenger version. While the powerful 749cc V-Twin mill is familiar, the rest of the machine is very much different.
For starters, the seating is the Teryx4 is so much more comfortable. I surely could have used these seats when I rode the original Teryx 330 miles from Big Bear, Calif. to Las Vegas, Nev. over two grueling days. Electronic power steering is a welcome addition as well. Other changes include a longer chassis to accommodate the extra two seats and a more compact bed.
Kawasaki's 749cc V-Twin powers the Teryx4 up and over just about anything.
Despite the added length, the Teryx4 feels remarkably nimble in the trails. For tight woods riding like we saw in West Virginia, it's the best four-seat UTV I've ridden. It may be missing a little of the suspension travel and top speed of some of its competitors, but for terrain like this I'll take the shorter chassis any day. You can read our review of the Teryx4 here for more vehicle details and ride impressions.
UTV FISHING TRIP: Read about our trout fishing adventure with Kawasaki
The Hatfield-McCoy trails proved a perfect place to work on our evasive driving techniques. Practicing sharp turns on the switchbacks that run up and down the rocky and hilly terrain for hours will make dodging slow-moving zombies a piece of cake.
With big elevation changes, we finessed the Teryx4 around many of these switchbacks.
Gabe Perkins from Delta McKenzie Targets was my co-pilot during our morning of spirited riding. I'm not sure how, but he managed to make it the whole day without complaining or showing any fear for his life. I call that a victory. After enjoying some lunch in one of the trail-side towns, it was time move from driving to shooting.
We were spoiled by a table filled with awesome Hoyt Archery bows.
Hoyt Archery set up a fantastic training site and gave us archery newcomers some insight into the bows we'd be using. Several tables were laid out with an array of Hoyt bows, some covered in Realtree camo. As luck would have it, a Hoyt Carbon Matrix compound bow was set up just for me with a 30-inch draw length and a 50-pound pull weight. This was my first time using a real bow, so I sought some instruction from two Hoyt staffers – Jeremy Eldredge and world champion Kevin Wilkey.
While we learned how to operate our bows, a handful of Delta McKenzie 3D targets were anxiously waiting for our arrows. Among the targets were a whitetail deer, mule deer, wild boar, and several more traditional archery targets. The star of the show, however, was Undead Fred – a zombie-inspired target that I would use to prepare myself for an uncertain future.
World champion Kevin Wilkey shows us how it's done at the range.
Having never used a bow before (unless you count the plastic and foam Z-Curve toy bow I got for my birthday last year), I was surprised by how light the Hoyt Carbon Matrix was. Weighing in at less than four pounds, it hardly felt like a weapon – until I shot my first arrow out of it. Eldredge and Wilkey showed me how to use the three-pin sight and the peep sight to line up my target. Much to my surprise, I showed that whitetail deer who was boss with an arrow straight into his foam-filled heart.
I could get used to a bow as nice as the Hoyt Carbon Matrix. It made a newbie like me feel like I've been doing this for years.
ATVS & HUNTING: Read about using ATVs for hunting turkeys
After a few more practice shots at the deer, I turned my attention to Undead Fred. With steely determination, I pulled back and sent an arrow right into Fred's torso. I was excited, but only until realizing a zombie can't be stopped that way – I needed a head shot. I don't know if it was Fred's somewhat sympathetic looking eyes or my complete lack of archery experience, but the head shot did not come easily. Eventually, however, I settled myself and ended the simulated zombie invasion with one satisfying arrow to eye.
Undead Fred feels the wrath of the off-road media zombie hunters.
We all spent the rest of the afternoon playing around on the range, having contests of accuracy and enjoying the experience to the fullest. Though I'd avoided being consumed by a zombie, I was bitten hard by the archery bug and have been shopping for a bow to call my own ever since.
Let this be a warning to all the zombies out there. We are prepared. Lucas Cooney
I have been working exclusively in digital media since 1997. I started out with TSN.ca, spending nearly nine years creating and editing content on Canada's leading sports website. I left to join VerticalScope, Inc., one of the world's largest online publishers, to start a number of powersports publications. While at VerticalScope, I've helped create and oversee content for a wide variety of different publications, including ATV.com, Off-Road.com, ArcheryTalk.com, Tractor.com, RVGuide.com, and many more.
More by Lucas Cooney
Published April 24th, 2013 11:17 AM
Top Brands
Popular Articles