1 View
Bad Boy Off Road to Sponsor NASCAR Sprint Cup Race
September 21st, 2016 10:19 AM
Share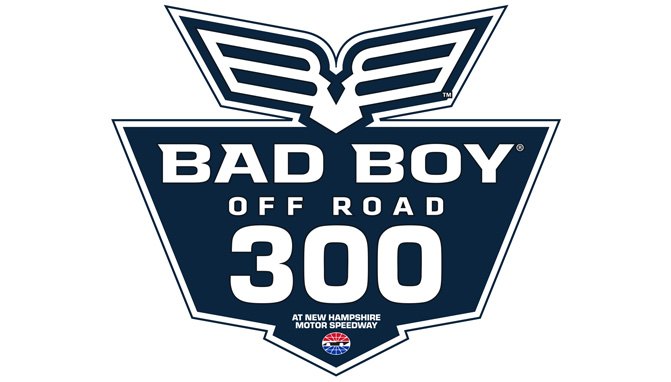 Bad Boy Off Road 300 scheduled for Sept. 25
Bad Boy Off Road, a Textron Specialized Vehicles brand, will be the title sponsor at New Hampshire Motor Speedway's upcoming NASCAR Sprint Cup Series race Sept. 25 in Loudon, N.H.
Bad Boy Off Road vehicles are designed and manufactured by Textron Specialized Vehicles Inc., a Textron Inc. (NYSE:TXT) company. The Bad Boy Off Road 300 will be the second race in the Chase for the Cup, the NASCAR Sprint Cup Series' annual high-stakes 10-race playoff to determine its champion.
From the Chase's opening field of the top 16 drivers in the Sprint Cup standings, only one will remain atop the leaderboard at the Chase's end. A Chase driver's performance in the Bad Boy Off Road 300 could make or break their season, making the race a perfect showcase for Bad Boy Off Road's no-holds-barred attitude toward tackling a day's work or a weekend trail ride.
"Bad Boy Off Road vehicles are designed and built to be driven by the bold, and there's no one bolder than the drivers who compete on NASCAR's highest and most fierce level of competition," said John Collins, Vice President, Consumer for Textron Specialized Vehicles. "We're proud to have our brand associated with a premier event at one of NASCAR's most popular and toughest tracks."
Bad Boy Off Road vehicles include the new Stampede 4×4, a gas-powered side-by-side powered by a German-engineered, high-performance EFI engine that provides a best-in-class 80hp, while generating exceptional torque for towing, hauling and hill-climbing power. The Stampede's class-leading 24 cubic feet of storage space includes an extended cab to keep users' most important gear, tools and equipment dry and clean while at work or on the trails. Its four-wheel double-a arm independent suspension, with front and rear sway bars, gives drivers the precision handling to tackle the trails without feeling every bump and rut along the way.
In addition to the Stampede, the Bad Boy Off Road lineup includes the Recoil series of fully electric 4×4 side-by-sides, for users who prefer the silent operation and instant torque of an electric vehicle, the Ambush series of hybrid side-by-sides that offer both the range and power of a gas engine with the silence of an electric motor, and the Onslaught 550, a single-rider ATV with a 503cc, liquid-cooled EFI engine and optional electronic power steering to make short work of trails and to-do lists alike.
The Bad Boy Off Road 300 will air live nationally at 2 p.m. EST on NBCSN.
To learn more about Bad Boy Off Road vehicles, or to find your local dealer, visit www.badboyoffroad.com.
Published September 21st, 2016 10:19 AM
Top Brands
Popular Articles