71 Views
Moose Hunting in a Yamaha Wolverine RMAX4 1000
October 29th, 2021 10:26 AM
Share
We're committed to finding, researching, and recommending the best products. We earn commissions from purchases you make using links in our articles. Learn more here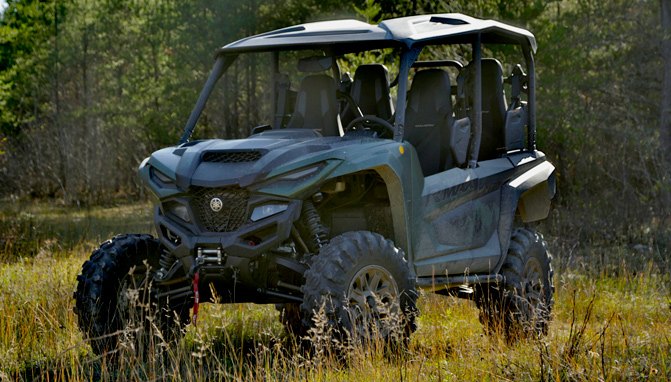 We head to Canada for a hunting adventure in the RMAX4
For most people, October is just another month, but for hunters… it's like Christmas! But instead of lights and decorations, it's camouflage and ammunition. Instead of chopping down a Christmas tree, it's splitting wood for the campfire. Turkey and pumpkin pie…MRE's and beer. And much like Christmas, it's a lot of planning, preparation, and money, so when you're unsuccessful, (like I have been for the last four years) it's like waking up on Christmas morning and discovering all of your presents have been stolen! But this year that all changed. And thanks to Yamaha Canada, we were able to bring along a 2021 Yamaha Wolverine RMAX4 1000 EPS SE to help us celebrate…
Power and Performance
After a 12-hour drive through the night into Northern, Ontario, Canada, we arrived at camp the morning before moose season opener. Day 1 is mostly spent setting up our elaborate campsite, but once the work was done, it was time to take the Yamaha Wolverine RMAX4 1000 out for a rip and explore the area for signs of moose! We piled four guys in the machine (one of which is 6'4" and 250 lbs and still fit in the back seat) and put the hammer down. My immediate observation is how powerful it is. You can feel every bit of that 999cc 108-horsepower engine, especially in Sport mode. We topped the machine out at more than 65 mph on a nice flat dirt trail, and it had no problem getting there even with 4 guys in it. Part of that is due to the Ultramatic Transmission which helps keeps the power very linear. It's also one of the best ATV transmissions in the industry due to the fact that it a has constant pressure on the belt, which not only reduces wear on the belt but helps with quick power delivery as well.
The EPS is also fantastic, and even though it lightens the steering load, you still feel very connected to the machine. It absolutely dances around corners.
Suspension
Speaking of dancing, we needed to navigate some serious terrain to get into moose country, and this RMAX is as delicate as a ballerina when it comes to bumps. I was shocked (pun intended) at how well the FOX 2.0 QS3 shocks eat up bumps on the trail, not to mention the 13.4" of ground clearance, which managed to soar over everything we through at it. It's a far departure from sitting on the back of an old ATV with a solid rear axle, getting absolutely hammered on every bump down the trail, like previous years. The three customizable, tool-less suspension settings came in very handy too. The guys in the back were complaining that the suspension was a bit soft when we were hitting some big bumps, so while they were looking for moose sign, I was tinkering with the shocks. Just as I got them dialed in I heard "That's bull$%@! right there!". There was scat and tracks everywhere. We were in the right spot…
Hunt – Day 1
When we woke up the next morning before light, the excitement in the group was palpable. This is the year! We quickly pounded back some breakfast and headed out to our spot…except it's not our spot… this is crown land (that's what public land is called in Canada), and it turns out, it's everyone's spot on this day. We ran into about 25 other guys, and quickly realized we needed a new place to hunt. We managed to find a few places away from other people, but it wasn't promising. We called it a day fairly early, but this gave me some time to play with some of the features on the machine.
Adjustable driving modes are a great feature that have typically been reserved for the automotive world, but have slowly made their way into the off-road segment, and the three modes "Crawl", "Trail", and "Sport" on the Yamaha Wolverine RMAX4 1000 are awesome. Essentially what they do is change the throttle sensitivity for different scenarios. The "Crawl" mode is very handy when slowly manipulating over big rocks, or when trying to park the machine, keeping the power from coming on to strong when you don't want it. On the opposite end of the spectrum is "Sport" mode, which gives you instant power when you touch the throttle, and makes the machine even more fun when you want it to be. "Trail" mode is somewhere in the middle of those two, but to be honest I never found a need for it. I was either having fun, or parking. But it's there if you want it.
Hunt – Day 2
Since we discovered just how many people were hunting the area this year, we knew we had to go where most people wouldn't. There are beaver dams, water crossings, big wash outs, steep, rocky inclines, and deep, stump filled mud pits, but for the Yamaha Wolverine RMAX4 1000…it was nothing. Pop it into 4WD and it'll get through just about anything. It also has a Low gear mode, and full differential lock, but honestly, this machine is so good, I wouldn't want to get myself into a scenario that would need it.
About three hours into the morning hunt on day two…hunger was starting to set in (and it's a long ride back to camp). So we decide to head back. Four of us are going in the RMAX and the other two guys have their own bikes and are going to meet us back at camp…but after an hour without seeing them, we begin to think something happened. We managed to get in contact with them, and sure enough…."bull down!"
We quickly pack up, jump into the RMAX, and rip over to help them. Luckily even with the four seats installed, there's still enough room to fit the gear we need in the bed. By the time we get there, the moose is already gutted and ready to be pulled out of the bush…but it's thick. And for some stupid reason we decided we wanted to get the moose back whole, instead of quartering it out. I'll admit, it is pretty cool having a full moose hanging back at camp, but it made it significantly more difficult. The next three hours are spent cutting a path to get an ATV in far enough to drag the moose out, but as you know…they're BIG!
Once we get the moose attached to the back of an ATV and try to drive out, it's too much weight for it to handle…In comes the RMAX! It was close enough to the trail that I could stretch the RMAX's 4500lb Warn winch out, connect to the ATV and help pull them both out with ease. From there, all we had to do was drag the moose 30kms through terribly uneven terrain back to camp… Somehow we did it, and it was glorious!
Interior Features
Now we could relax…for a little bit. We took one day off to do some bird hunting, fishing, and just cruising around in the Yamaha Wolverine RMAX4 1000, but we still had a cow tag to fill.
Comfort wise, in the front seats, it's fairly good. The seats are pretty well bolstered because this machine still has a lot of performance DNA, and you want that when driving aggressively, but they're still comfortable. There's a pad on the side of the center stack for your knee, which is nice on a long, bumpy ride, and you sit fairly high up so your view out of the machine is relatively unimpeded…until you look behind you. Because the back seats are even higher up, and there are protective plates at the side for your shoulders, it's difficult to see behind you. I would highly recommend getting side view mirrors to make reversing a little easier.
Speaking of the back seats, they are also surprisingly comfortable. They sit higher than the front seats, so you can see a little better which is nice. The one thing that isn't great about them though, is getting in and out. It is a very tight squeeze to fit through the doorway, and they're set back behind the opening, so when you're in full gear, and holding a rifle, it's hard to get in and out. But considering it's less than 9" longer than the two-seat Wolverine, and only an extra 4.5" added to the wheelbase, it's pretty impressive. Yamaha wanted to make sure you don't lose performance in the four-seater, and it has done a very good job at that.
One of my favorite features on the Yamaha Wolverine RMAX4 1000, however, includes the back seats. You can fold the bottom half up and slide the backrest all the way forward, giving you a full-sized bed in the back. I'd be hard pressed to buy the two-seater when you can convert the four-seater with next to no loss in performance.
Exterior Features
As we continued our hunt for a cow moose, we passed by a lot of different camps, and at slow speeds you can almost always hear someone say "Wow, that's a nice machine!" It's absolutely menacing when you stare at it. The sleek LED headlights and "evil eye" marker lights not only look great, but they perform wonderfully at night too. The angled lines, graphics, color combo, and aggressive front grille all combine to make this one of the best-looking machines in the segment. The one thing I don't like about it, however, is how big it is. We had an enclosed trailer designed to fit Side-by-Side vehicles and the Yamaha Wolverine RMAX4 1000 is three inches too tall. We had to use an open trailer, which is not something I'd want to do all the time if I owned one. But it's the price you pay to have performance and practicality.
Price
Speaking of price…it's quite an investment. At $29,299 (that's Canadian dollars), it's more than some compact cars on the market, but you do get a lot for that price. It's also a bit cheaper than the top trim Polaris General 4 Seater at $31,999 (again…Canadian dollars).
The good news is there are less expensive Wolverine models available. The cheapest RMAX is the 2-seater EPS model that starts at $24,299 (CAD). But if you really don't want to pay that much you can always drop down to the Wolverine X2 which at the lowest end starts at $18,699 (CAD), and is still an excellent UTV.
Conclusion
Although we were successful in our moose hunt, we still wanted to fill our second tag because it will likely be the last year we'll ever have two. Over the next five days we hunted hard and put the Yamaha RMAX4 1000 through it's paces. Walking between 2-5 km each hunt, through thick bush, nasty swamps, and steep inclines, it began to wear on us. And although a bit of disappointment set in when we didn't fill that second tag, we quickly remembered what was really important. The comradery with the boys, non-stop jokes back at camp, and reconnecting with nature.
All of this adds to an experience unlike any other, regardless if you harvest an animal or not. But this year we still did. We have meat in the freezer, and got to ride around in one of the best off-road machines in the industry. I can only hope that next year is as good as this one. Published October 28th, 2021 3:19 PM
Top Brands
Popular Articles