22 Views
2009 Can-Am Outlander 400 EFI Review
June 17th, 2015 4:22 PM
Share
We're committed to finding, researching, and recommending the best products. We earn commissions from purchases you make using links in our articles. Learn more here
Race-bred features add to this utility quad
Can-am, a new name that takes its origin from a vintage dirt bike that turned heads in the 1970s, is a company dedicated to racing. This direction, though, doesn't stop it from recognizing that the utility market is bigger than the racing one and probably always will be. That's where the Outlander series of ATVs comes in.
Can-Am's entry-level utility quad is the Outlander 400 EFI. It is powered by a 400cc Rotax V-twin engine, which the company claims is the most powerful in its class. The engine is electronically fuel injected, which means there is no choke and starting is aided by a computer that precisely mixes the right amount of gas and air based on altitude and air temperature. While this system is not particularly unique in and of itself, in the 400cc market it is. In large part this is because Can-am's engines have to do duty in various chassis styles. Also, the demands of racing are a bit higher than those of the trail rider or sportsman. This bleed-over of technology is a bonus at this end of the price ladder.
For 2009 the base Outlander remains largely unchanged, except for new decals and revised colours. Also, the skid plate is now a high-density polyethylene, which is actually an improvement. As much as I like steel under me I've learned that the polyethylene is tough, weighs less and, oddly, it's slippery – meaning it slides off rocks rather than grates and sticks like steel does.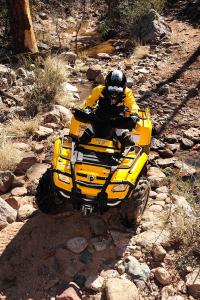 The Outlander 400 EFI has plenty of perks for an entry-level quad.
While buying a straight-up unadorned Outlander is possible, the best value for your ATV dollar comes from the XT model. The XT comes with a selection of add-ons that most owners would go to the aftermarket for anyway, including a Warn 3,000-pound winch with remote control. Also, the XT comes with cast aluminum wheels and Carlisle ACT radial tires. Upgraded bumpers on the XT are installed at the factory. All of this saves you the trouble of doing the installation yourself.
Looking at the chassis on the Outlander you'll see something called an SST frame (Surrounding Spar Technology). Rather than a common tube box frame, the SST is a single spar like a bike frame. It supports the rider and the suspension anchors all four corners.
Front suspension is a MacPherson Strut set-up that is designed to be firm but also soak up rough trail bumps. At the rear is TTI suspension. This Trailing Torsional Independent setup allows each wheel to move independently. That's not exactly new, but what is new, though, is that the swingarm moves the wheels rearward when the suspension compresses rather than to the side in a pendulum motion. This offers three key differences than other independent rear suspension systems: The tire remains in full contact with the ground, tire scrub is eliminated and the TTI system has 75% fewer parts than a traditional design. Again, these are systems which spill over from the race-built Can-ams. They are rugged and for riding in rough terrain anything that helps steering, balance and cuts weight is good.
Can-Am's Trailing Torsional Independent Suspension has fewer parts than a traditional setup, which helps cut the vehicle's weight.
Braking on the Outlander is pretty standard except for an inboard disc brake design that reduces unsprung weight. In its protected position it is also less susceptible to damage by mud and debris.
The Outlander features a fully automatic Visco-Lok differential.
The 4WD system on the Outlander is called Visco-Lok and its Can-Am's answer to the binding that comes from a full-on locked differential. As the name implies it uses oil pressure that is triggered by a spinning wheel to lock up wet clutches. This is completely automatic – there are no buttons or levers to push or pull. The system tightens up slowly (by mechanical standards) so the transfer of power does no result in wheel hop or driveline clunk. The system can transfer as much as 100% of the engine's power to whichever wheel has traction. When all wheels are once again turning at the same rpm the clutch lets go. For most situations this is fine. However, just beware that this is not a fully lockable system. This means that while you are slowly picking your way over obstacles, the Outlander is going to be spinning its wheels before it can climb those logs and rocks. That's the drawback of any fully automatic system – ultimately it's just not as smart as you are.
2009 Can-Am Outlander 400 EFI Specs
Engine
400cc single cylinder, liquid-cooled, SOHC, 4-valve, EFI
Transmission
CVT, with high and low range, park, neutral, reverse
Drive Train
Selectable 2WD/4WD, shaft driven with Visco-Lok front differential
Length
86 in.
Width
46 in.
Wheelbase
49 in.
Seat Height
35 in.
Clearance
9.3 in.
Dry Weight
618 lb
Towing Capacity
1,100 lb
Front Rack Capacity
100 lb
Rear Rack Capacity
200 lb Published June 19th, 2008 10:34 AM
Top Brands
Popular Articles