1 View
AMSOIL Quickshot SE Picks up Top Award at SEMA
November 5th, 2010 10:16 AM
Share
We're committed to finding, researching, and recommending the best products. We earn commissions from purchases you make using links in our articles. Learn more here
Named Best New Powersports Product by SEMA judges
AMSOIL Quickshot SE Fuel Additive earned the Best New Powersports Product award for 2011 at the SEMA Show at the Las Vegas Convention Center. This year, over 2,000 new products were submitted for consideration of this honor in various categories. In determining the winners, judges looked for superiority of innovation, technical achievement, quality, consumer appeal and marketability.
AMSOIL Quickshot SE is a premium fuel additive designed to clean and restore optimal performance in small engine and powersports equipment fuel systems. It acts as a fuel stabilizer between uses and short-term storage and helps prevent damaging corrosion. It focuses on three major fuel-related issues common in small engine equipment: ethanol, water and dirty gasoline.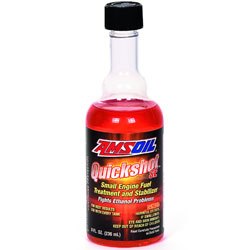 AMSOIL Quickshot SE is designed to keep water dispersed throughout the fuel tank, moving it out and decreasing the chance of ethanol separating from the gasoline. According to AMSOIL, moisture finding its way into gas tanks through condensation is dispersed in tiny molecules and safely moved out of the tank through the combustion chamber. The lack of additives in today's gasoline can cause fuel system gumming and varnish, creating deposits on critical components. AMSOIL says its Quickshot SE cleans hard to remove deposits on pistons, spark plugs, injectors, carburetors and other combustion chamber parts to maintain peak operating power.
AMSOIL Quickshot SE works in all two-and four-stroke gasoline powered engines including motorcycles, snowmobiles, personal watercraft, boats, ATV's, edgers, tillers, mowers, snowblowers, chain saws, generators and farm and construction equipment. Published November 5th, 2010 10:16 AM