1 View
Can-Am Wraps up Two GNCC Titles
July 10th, 2008 12:24 PM
Share
Beasley and Buckhannon continue unbeaten streak
After sweeping the morning 4×4 classes at the Mountain Ridge GNCC on July 5 in Somerset, Pa., Can-Am Outlander ATVs wrapped up two GNCC championships and have another within grasp.
Team Warnert Racing/Can-Am's Clifton Beasley won his ninth race in a row on his Outlander 500 ATV and remained unbeaten in the class to secure the 4×4 Lites championship.
"Today was a big day," says Beasley. "I may have the championship wrapped up, but I'd still like to go out there and win all the races."
In the same race session, Can-Am X-Team racer Bryan Buckhannon also continued his perfect record by winning the 4×4 Open class on his Outlander 800 and also wrapped up a class championship. Buckhannon finished in front of Team Warnert/Can-Am Outlander 800 racer Scott Kilby.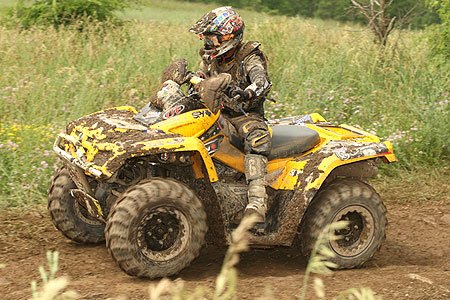 "I can't tell you how exciting it is to wrap up a championship with four rounds to go and also before the break," says Buckhannon. "I will return ready to keep my streak of wins going."
In the 4×4 Limited class, Michael Swift of Team Warnert Racing/Can­Am won the class by more than six minutes and needs one more win to wrap up the 4×4 Limited class championship.
"Our congratulations go out to Cliff, Bryan and their entire teams" says Del Bohlman, product, media relation and racing manager for Can-Am. "When we plan out our season, our goal is the same for every class we enter: championships. Cliff and Bryan have amazed us with their consistent winning and their reward is a championship with four rounds to go."
During the XC 1 Pro-class race, two DS 450 riders finished in the top 10 of the premier class on a course that saw many failures due to the rocky terrain. Team Warnert Racing/Can-Am teammates Chris Jenks and Chris Bithell both raced to top-10 finishes aboard their race-prepped ATVs.
Round ten will take the racers to the Snowshoe GNCC near Snowshoe, WV on Sept. 13.
Published July 10th, 2008 12:24 PM
Top Brands
Popular Articles