1 View
Suzuki Introduces 2009 LT-Z400
July 2nd, 2008 1:02 PM
Share
We're committed to finding, researching, and recommending the best products. We earn commissions from purchases you make using links in our articles. Learn more here
Media tries out redesigned QuadSport
Suzuki formally introduced the 2009 QuadSport LT-Z400 at a media event held at the Vessels Stallion Farm in Bonsall, Calif. on June 25.
Since its inception in 2002, the QuadSport Z400 has had an impressive racing heritage as well as being a versatile all-around sport ATV. Suzuki says the design concept for the Z400 was "Engineered for Fun".
As we mentioned in our 2009 Suzuki QuadSport Z400 Preview article, much of the 2009 Z400 was based on the QuadRacer R-450, including the addition of fuel injection. Suzuki says electronic fuel injection gives the Z400 a noticeably smoother and quicker throttle response, improved starting and performance in a variety of conditions, and improved fuel efficiency.
"Suzuki is definitely the leader with fuel injection in its products," says American Suzuki Motor Corporation vice president Mel Harris.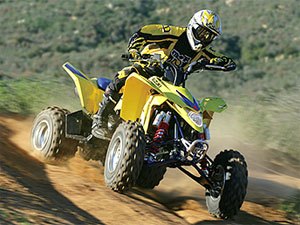 The Z400 also boasts an R450-like logic and ignition system. This Engine Control Unit monitors throttle position, engine RPM and the rate of change of both. By deciding the optimum settings for volume and timing, Suzuki says the ECU also gives the ATV improved traction.
The new QuadSport's engine updates include a change in cam profile and timing, an intake port redesign, change in internal muffler structure and shorter exhaust header pipe. According to Suzuki, these four elements help deliver a noticeable improvement in low to mid-range power output while maintaining the Z's strong top-end power.
Externally, the Z400 adopted the aggressive look of the R-450 and Suzuki says the chassis has been redesigned to be more accessible, functional and user-friendly. The front track has been widened by an inch, and the caster, camber and trail have all been changed. All of these modifications are meant to give the Z400 a lighter steering feel and more sure-footed handling.
Also, Suzuki made changes in both the front and rear suspension to offer the rider a firmer response plus a plush feel.
Ergonomically, the 2009 Z400 moves the rider into a different position that Suzuki says allows more freedom of movement for weight shifting and comfort. The handlebars have been lowered and reshaped and the footrests have been lowered and widened to the same width as the R450.
The QuadSport Z-400 will be available in September in both white and yellow for $6,199. Published July 2nd, 2008 1:02 PM
Top Brands
Popular Articles