11 Views
10 Best ATV & UTV Products From Overland Expo West 2019
February 23rd, 2021 3:29 PM
Share
We're committed to finding, researching, and recommending the best products. We earn commissions from purchases you make using links in our articles. Learn more here
Overland Expo West delivers some innovative and tough new products
Overland adventures are increasing in popularity among ATV and UTV enthusiasts. We can see why – there are more vehicles that can take you way back into the woods to your favorite mountain peak than ever before. Who doesn't want a little bit of adventure in their lives? For 2019, the annual Overland Expo West event included more ATV- and UTV-specific adventure products than ever before. We were there to get a firsthand look at all of the overland products on hand, each of which are tailor made to make our adventures more fun and safer for everyone in your group!
Here are our 10 favorite products from the Overland Expo West 2019 show:
Giant Loop Gas Bag
Carrying spare fuel is always a challenge on a quad or side-by-side, mainly because there are only a couple fuel can options out there that are approved for toting around. Giant Loop has created another distinct option for the marketplace. Its product is unique because the soft internal fuel storage bladder is encased in a soft bag. The bag has strapping points that allow you to safely secure the bag onto the vehicle. This convenient and spill-safe solution for carrying extra gasoline is exactly what we all need to extend our adventures and feel comfortable logging some extra miles on the trail. Best of all, the Gas Bags are available in 1-gallon, 2-gallon, 3-gallon, and 5-gallon sizes.
Rugged Radios Honda Talon Radio Kits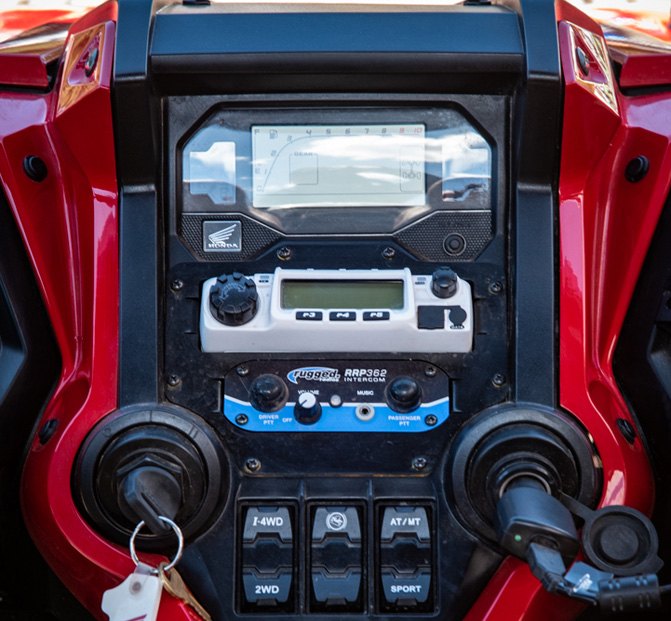 The latest UTVs to get the Rugged Radios mobile radio communications treatment are the Honda Talon 1000R and 1000X. While not up on their website yet, check back soon as Rugged releases a full gamut of Talon-specific products, including radio and intercom mounting hardware, pre-wired UTV helmets, full 2-seat radio systems, and more. One of the best parts of these systems is you can tailor make it to your preferences. If you're going to be traveling long distances, you're going to want a more powerful radio system, which they have in 50- and 60-watt options. If you're traveling close to family and friends on trail rides, then a basic Rugged setup should do the trick.
Bell Qualifier DLX UTV Helmet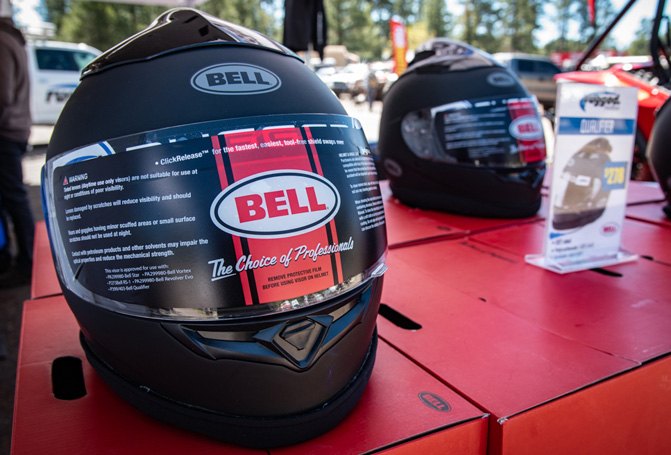 The latest purpose-built UTV helmet was on display at this year's Overland Expo. After personally using this helmet for several months, I can say that the forced air feature, along with the included dust skirt and Transitions shield, are all very appreciated features of this Bell UTV helmet. The Transitions shield, which automatically changes from light to dark tinting, has a very positive-feeling closure mechanism, and the overall fitment of the helmet is great for a wide variety of noggins.
Rex Specs Dog Goggles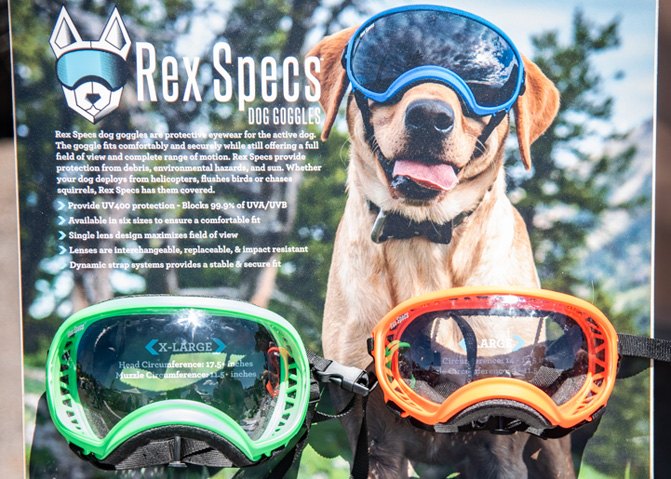 If you're like us, you want to take your pup on every excursion possible, but the going gets tough when you are in the dust and see your dog's eyes filling up with gunk. Traditional dog goggles haven't done the trick (we've tried a bunch!), but those troubles seem to be a thing of the past now. We stumbled upon Rex Specs at Overland Expo West, which are specific goggles made for the shape of a dog's head and muzzle. With every pair of Rex Specs, you get 1 clear lens and 1 additional lens of your choice. From what we saw at the show with dogs wearing these, they are sure to protect your dog's eyes for many years to come!
ORTLIEB Waterproof Duffle Bags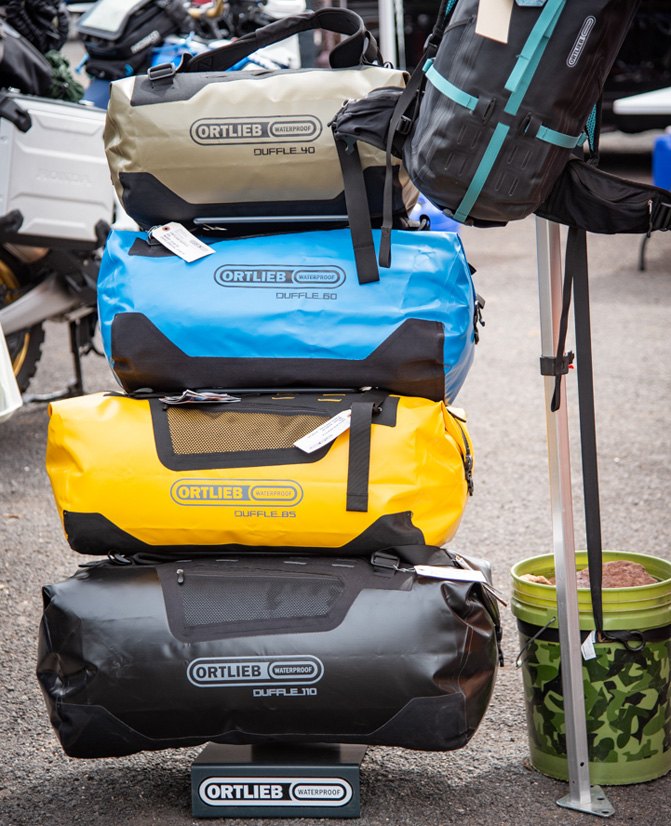 Made for those of us who enjoy getting in the craziest of situations out on the trail, ORTLIEB gear is 100% waterproof and made to take a beating. After checking them out at this year's show, we were impressed with the quality of the outer material, the positive-feel of the zippers, and the innovation that is included in this bag. The shoulder strap has the ability to separate and turn into backpack straps, giving you multiple ways to carry this bag. The toughness also allows you to tie it down to pretty much anything. Talk about a bag that is ready for adventure!
Shock Strap Tie Down Straps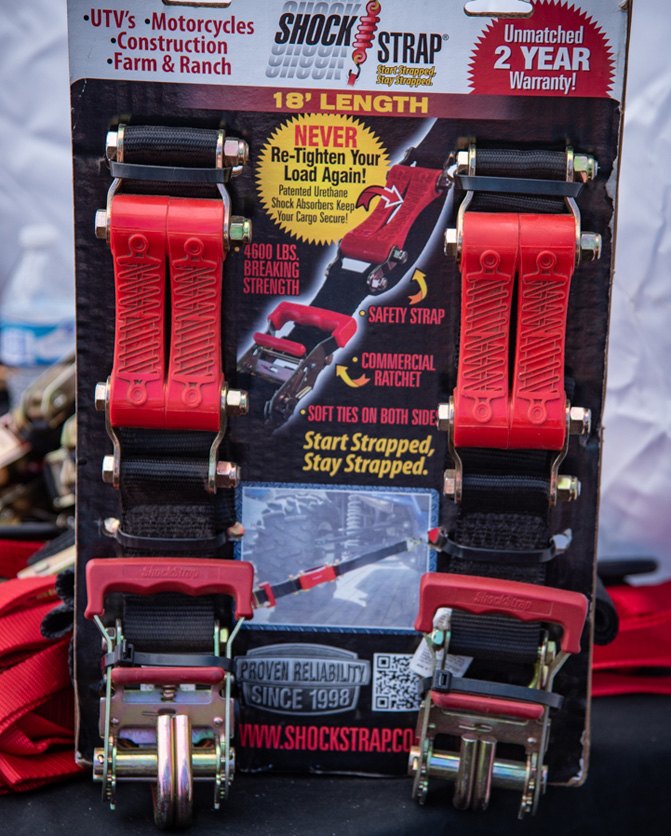 The battle of making sure your machines are tied down just tight enough without being too tight, thus resulting in broken straps, can be consistently tiring. At Overland Expo West this year, we found a solution! Shock Strap tie downs have a built-in bungee shock absorber. This system allows you to get your tie down tight, but it also allows the tie down to stay tight because of the bungee system. We were skeptical at first because it seems as if the bungee could break or give way, but the demonstration at the show proved that these are the real deal. After seeing these products in person, they made us confident that these are, indeed, a great solution to the tie down predicament.
Pelican Personal Utility Case – Ruck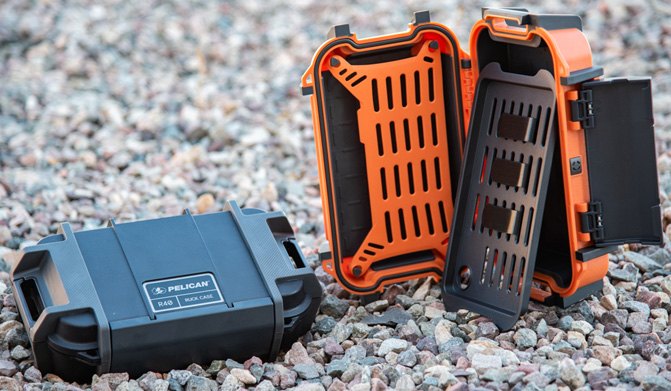 You've seen Pelican cases for camera equipment or military uses in the past, but it is more of a recent phenomenon for the company to be diversifying their product line with more cases, bottles, flashlights, and general products for all of us to use on a daily basis. Case-in-point (sorry, couldn't resist…), Pelican just released its new Ruck personal utility case, which allows you to safety store items like your phone and a portable battery charger, along with your wallet, watch, and other personal items in a safe and watertight storage container (IP68 rated for waterproofing). The Ruck is definitely ready for your next adventure, whether that is riding the deepest of mud puddles or navigating the endless sand dunes aboard your favorite UTV. After seeing these at the show, we also like the fact that they are all available in multiple colors, too!
UTV-Specific Trailer by Colorado Backcountry Trailers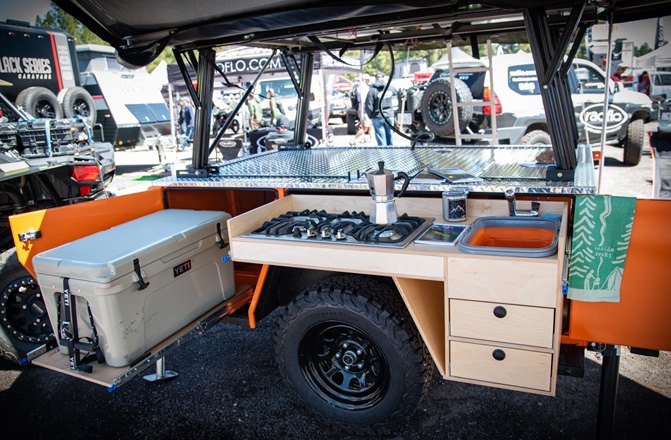 Colorado Backcountry Trailers (CBT) goes by the slogan, "Go Where Others Can't." After seeing these versatile, light, and well-built trailers in person, we can attest to them living up to this slogan. If you've seen backcountry trailers in the past, then you know that versatility is the name of the game here, and CBT brings that to this UTV-specific trailer with multiple storage options, full kitchen and battery system, a roof top tent for comfortable sleeping, and, of course, easy towing with a UTV. The owners are proud of the fact that they kept this trailer affordable compared to so many high-priced options out there. They are also proud of the fact that they personally use these trailers themselves in the oh-so-inspiring Rocky Mountains. If we were them, we'd be enjoying these in the mountains, too!
ASFIR Polaris RZR Aluminum Skid Plates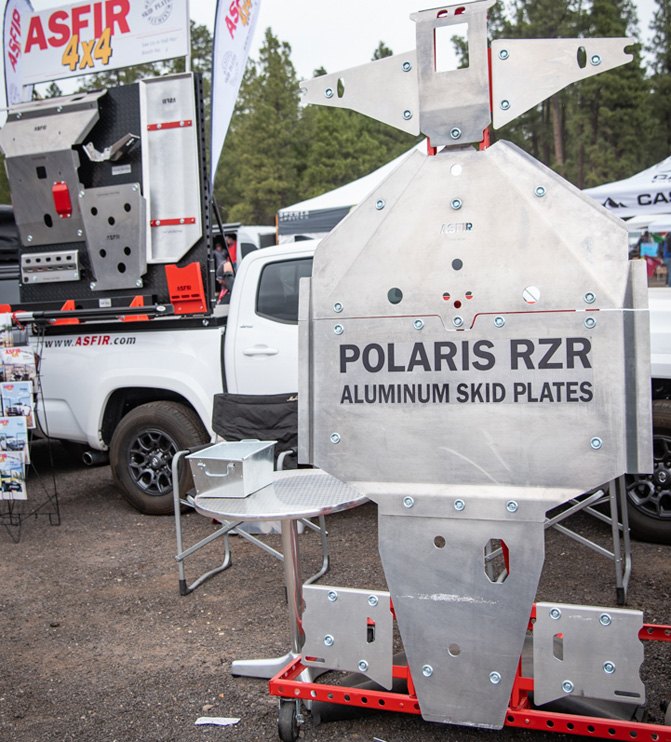 When buying a new ATV or side-by-side, putting more protection on the vehicle should be one of your first accessory purchases. We love a good set of skid plates, and ASFIR has an assortment of skids for Polaris RZR models that we saw at Overland Expo West. These plates are made from solid aluminum, more specifically ¼" thick material. From what we saw, all of the standard holes are pre-drilled in the full length RZR skid plates, giving you the ability to perform standard maintenance procedures without the need to take off your protection. These give you a great way to protect your vehicle at a very reasonable price.
Ram Mount Tough Track Systems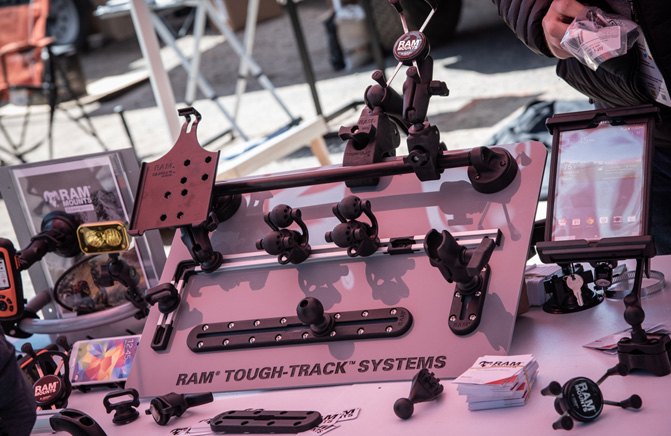 Yes, we have all seen Ram Mounts and their versatile offering of holsters and mounting solutions for phones, tablets, and other electronic devices. We use them all the time on our rigs for navigational purposes, but, until we went to Overland Expo West this year, we didn't know that Ram made Composite Top-Load Tough-Track systems, which essentially bolt to a flat surface on your vehicle and allow you to mount multiple devices all on one track system. Coming in 5" and 9" varieties, these track systems would provide easy solutions to securely mounting multiple devices in your vehicle. We really appreciate the fact that you can build your own system with these.
Conclusion
If you haven't been to Overland Expo West before, we highly recommend that you put this annual event on your calendars for May 2020. Keep checking Overland Expo's website for more details on the exact dates, and if you can't wait that long to see many of these products and more, Overland Expo East will be coming into Arrington, Virginia during the weekend of October 11-13, 2019. We'll see you there!
We are committed to finding, researching, and recommending the best products. We earn commissions from purchases you make using the retail links in our product reviews. Learn more about how this works. Published May 24th, 2019 2:43 PM
Top Brands
Popular Articles