1 View
Social Wars – Which ATV Pros Have the Largest Instagram Following?
July 24th, 2016 3:05 PM
Share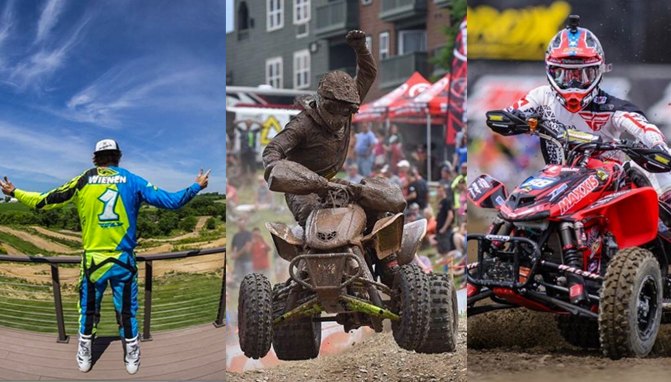 Social media is where the real battle takes place
Whether it's another Kim and Kanye family feud or T-Swift's latest love debacle, social media has given the general public a glimpse inside the lives of their favorite celebrities. While professional ATV racers may not be considered "famous" to the outside world, within our own little community, they are as A-list is it gets. Here are 10 professional ATV racers with the largest following on Instagram.
Chad Wienen 39,000+
A photo posted by Chad Wienen (@44wienen) on Jun 11, 2016 at 8:28pm PDT
Joel Hetrick – 37,500+
A photo posted by Joel Hetrick (@hetrick_88) on Jul 20, 2016 at 11:24am PDT
Thomas Brown – 24,500+
A photo posted by Thomas Brown (@tbrown84) on Jul 9, 2016 at 12:28pm PDT
Walker Fowler – 19,400+
A photo posted by Walker Fowler (@walker_fowler) on Jun 9, 2016 at 10:45am PDT
Nick Gennusa – 19,200+
A photo posted by Nick Gennusa?? (@gennusa15) on Jul 16, 2016 at 6:30pm PDT
Chris Borich – 16,200+
A photo posted by Chris Borich (@chrisborich) on Jun 24, 2016 at 4:35pm PDT
Adam McGill – 15,400+
A photo posted by Adam McGill (@adamkmcgill) on Jun 27, 2016 at 6:26am PDT
Cole Richardson – 14,500+
A photo posted by Cole Richardson (@colerichardson733) on Jul 15, 2016 at 3:58pm PDT
Jeffriey Rastrelli – 12,700+
A photo posted by Jeffrey Rastrelli (@rastrelli728) on Apr 15, 2016 at 6:48am PDT
David Haagsma – 11,400+
A photo posted by David Haagsma (@dh422) on Jul 19, 2016 at 7:37am PDT
Published July 25th, 2016 2:04 PM