1 View
Top Ten UTVs From SEMA 2015
January 8th, 2016 4:32 PM
Share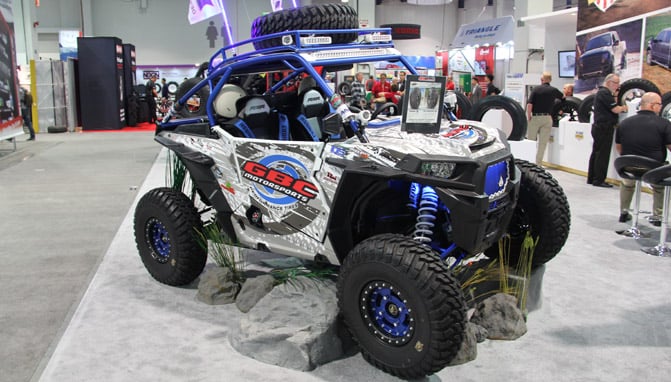 Desertworks/GBC RZR XP Turbo
Our favorite UTV builds from the massive expo in Las Vegas
No build would be a true SEMA build if it didn't involve some late night thrashing in the days leading up to the SEMA show, and that certainly was the case for this XP Turbo in the Greenball Tires booth. This immaculate new (and very white) RZR XP Turbo is the new play car for GBC tires and you can expect to see this machine making the rounds next year at some of the UTV industry's major events. Kory Ellis, former pro ATV racer and current Sales and Marketing rep for Greenball, is a regular attendee at most of the major UTV events in the southwest and even throws a leg over an ATV now and then. Ellis said the new Turbo car will be right at home in the desert; however, we're not sure how long that pretty white finish is going to stay clean.
Roll Cage with roof – Desertworks
Doors – Desertworks
Fiberglass trunk and rear bumper – Desertworks
Roof rack – Desertworks
Door storage bags – Desertworks
Switch Plates – Desertworks
Wheels – Hiper Technologies by Weld
Tires – GBC Mongrel 32x10R14 10Ply
Sound bar – MTX audio
Subwoofer – MTX audio
Steering wheel with quick disconnect – Assault UTV
Mirrors rear view/side – Assault UTV
Trailing arm armor – Assault UTV
Radius/tie rods – Assault UTV
Grill – Assault UTV
Seat belts – Assault UTV
Fire extinguisher mount – Assault UTV
Wrap – Proline
Light bars – Lazer Star LED
Under glow – Whiptech
Whips and whip mount – Whiptech
Light switches – Whiptech
Winch: WARN Industries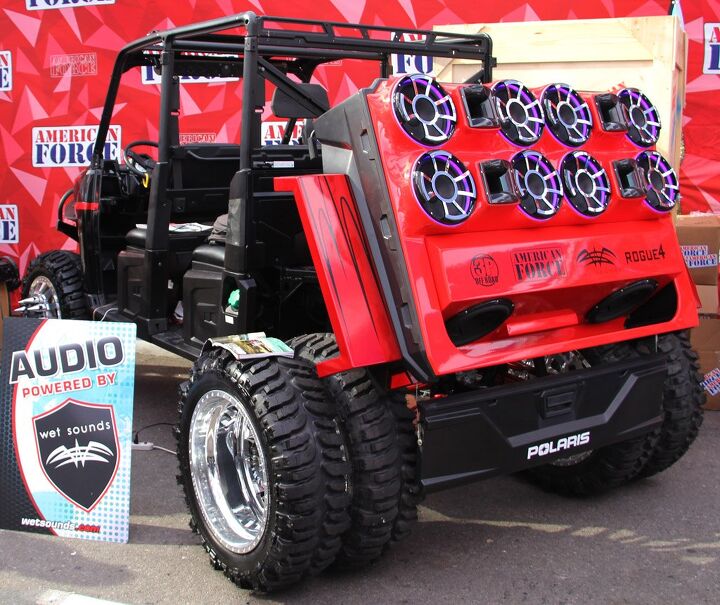 3P Edition Polaris Ranger Crew Diesel Dually
Outlandish is a word that comes to mind when you first look at the next machine on our list, but then again, you see a little bit of everything at SEMA. Amazingly, this Polaris Ranger Crew Diesel dually that doubles as a massive boom box was dreamt up barely a month before the SEMA show. When Josh Herzing of 3P Offroad found out that American Force wheels was planning to have a DJ spinning in its booth, he thought, why not just provide a vehicle that could supply the audio? Thanks to the involvement of Wet Sounds audio, this Polaris Ranger was really rocking. So much so, in fact, that to handle the added weight and add a little flare, Herzing and his team decided to turn the Ranger into a dually. The result is one outlandish UTV that turned plenty of heads and caught the attention of anyone within earshot.
Lift: 3P Offroad Sinister series 8 inch
Axles: Turner Cycles Eagle Level 2 axles
Wheels: American Force 22 inch Zink polished dually wheels
Aluminum wheel adapters: ZC Machine Works Custom
Tires: 33×12.50×22 Super Swamper Bogger Tires
Bumper: Tough Country Deluxe Front Bumper
Electric Power Steering unit: Super ATV
Lighting: Rogue 4 40 inch RGB LED Light bar
Battery Power: Four XS Power XS300 Batteries
Power Supply/Charger: Xs Power Intelli
Audio
Amplifiers: Two SD2 & Four SD4 Amps by Wet Sounds
Amp Rack: 3P Offroad
Speakers: Four Wet Sounds 410 Speaker systems
Subs: Two Wet Sounds XXX Comp sub woofers
Equalizer: Wet Sounds 420 SQ
Microprocessor: Arc Audio PS8
Sound Bar: Wet Sounds Stealth 10
Rear Fenders: Shrockworks
Bed Box: Custom made by Wet Sounds
Wrap: Pixelworks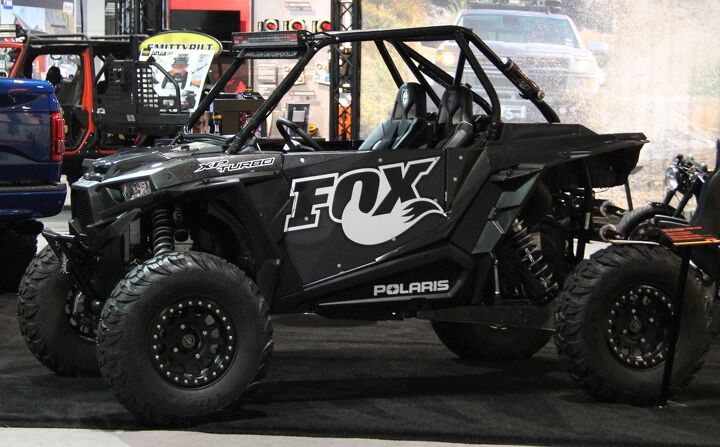 FOX Edition Polaris RZR XP Turbo
While FOX has a huge influence in the aftermarket truck industry, we were pleased to see the popular shock manufacturer showcasing its UTV offerings with this super clean Cognito Motorsports built RZR XP Turbo. This machine was actually one of four identical UTVs built to represent different brands at the Sand Sports Super show. All four cars were identical with the exception of the graphics kits for the companies that they represented, which gave them a very clean yet loud visual appeal.
Builder: Cognito Motorsports
Cage: Cognito w/roof & light bar mounting option
Doors: Cognito Opening door kit
Suspension: Cognito Long Travel
Radius Rods/Cage: Cognito
Tie Rods: Cognito
Bumper: Cognito w/integrated Rigid Q2 Driving Light
Shocks: FOX OEM Internal Bypass Shocks with Cognito Long Travel Calibration & Dual Rate Spring Option
Exhaust: Sparks
Intake: Sparks
Tuner: Sparks
Seats: Pro Armor
Harnesses: Pro Armor
Lighting: Rigid Industries 40" E2 Light Bar
Communication: Rugged Radios
Tires: 28" STU Sand Blaster & Razor Blaster
Wheels: Method 401 Beadlocks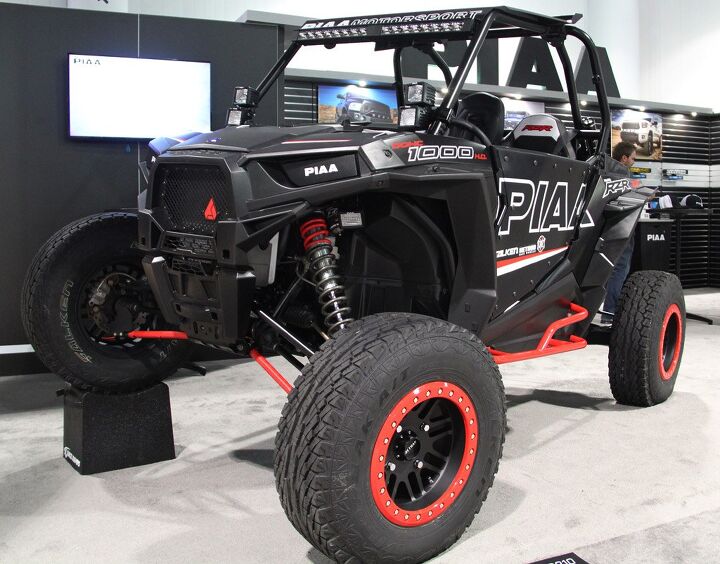 PIAA Polaris RZR XP 1000
While most of the UTV world is obsessing over the new RZR XP Turbo, there are still a few folks hanging on to their perfectly good XP 1000s. This particular beauty was on display in the PIAA booth in the South Upper hall. PIAA is a trusted name in the aftermarket lighting industry and more recently we've seen PIAA taking a greater interest in the UTV market. The immaculate all black XP 1000 caught our attention and was definitely one of the better looking UTVs at the SEMA show.
Lights
PIAA RF Series 18″ LED Lightbars – Hybrid
RF 3″ LED Cube Lights – Spot
RF 3″ LED Cube Lights – Flood
360 Aluminum Swivel Light Mounts
Wheels: Method 15×7 406 UTV Beadlock
Tires: Falken WildPeak A/T Tire LT30X9.5R15
Shocks: Stock with ZBroz Racing Stage 3 Valving & Spring kit
Sway Bar: Currie Enterprises Anti Rock
Doors: Dirt Engineered
Nerfbars / Tree Kickers: Dirt Engineered
Grill: Assault Industries
5-point Harnesses: Beard
Seat: UTV Giant Center Seat w/harness
Roof: UTV Giant Winged Aluminum
Mirror: Axia Alloys Black 9″ Panoramic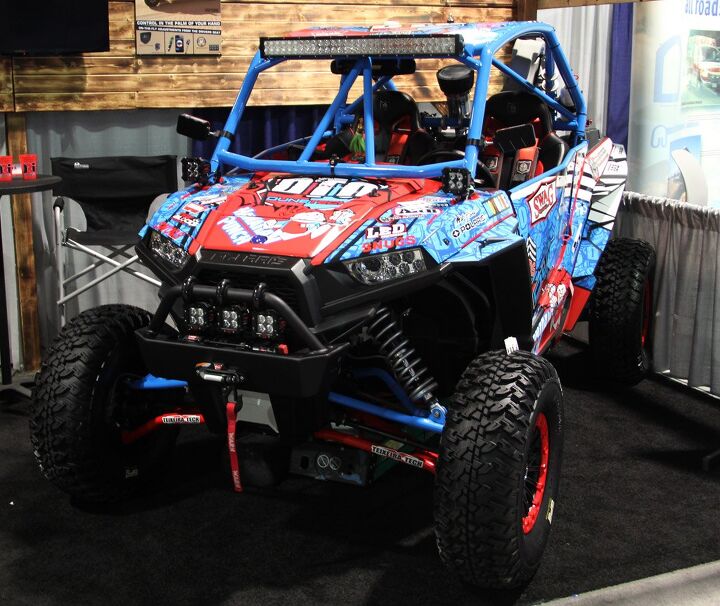 Hawaiian Punch Polaris RZR XP 1000
We originally spied this awesome Hawaiian Punch themed Polaris XP 1000 in the show 'n shine at Dunefest back in August. At SEMA, the vehicle was on display in the JRi Shocks booth and we can't deny that it makes for an excellent show piece. The machine was built by Dunetech Offroad, a small family run outfit that specializes in one-off ATV and UTV builds, many of which mirror popular brands like Hawaiian Punch, Cheetos and even Dos Equis Beer.
Builder: Dunetech Offroad
Doors: Dunetech Offroad
Frame Gusset Kit: Dunetech Offroad
Powder Coating: Dunetech Offroad
Cage: CAGE WRX
Shocks: JRi ECX 3 Triple Adjustable Shocks
Tires: GPS Offroad 30″ 8 Ply DOT approved
Wheels: Method Race Wheels
Runflat System: Tireblocks
Lighting: Rigid Industries
Winch & Accessories: WARN Industries
Suspension: Teixeira Tech
Bumper: Pro Armor
Harness: Pro Armor
Steering Wheel: Pro Armor
Steering Hub: Pro Armor
LED Grill: UTV Inc
Billet Gear Shifter: UTV Inc
HD Wheel Studs: UTV Inc
Communication System: Rugged Radios
Graphics: Chaos Graphics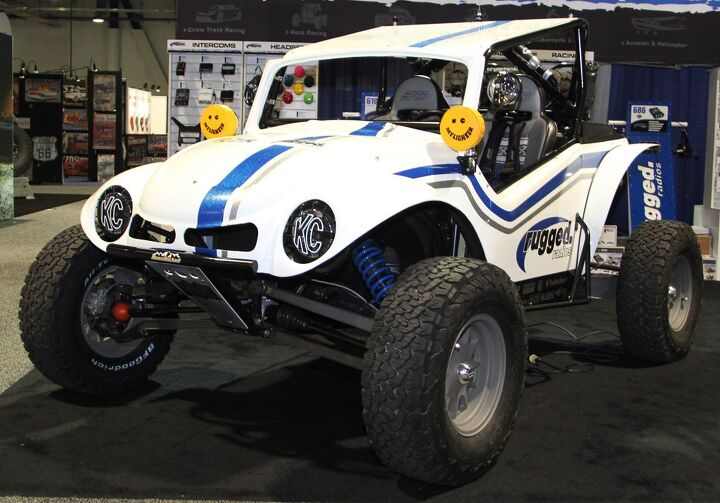 Rugged Radios Baja RZR
If any one vehicle from the SEMA show could bridge the gap between the automotive and UTV worlds it has to be the Baja RZR from Rugged Radios. Old school desert junkies loved seeing a fully restored bug on display and only after taking a closer look did they realize it was, in fact, a highly modified Polaris RZR. The idea for the hybrid RZR stemmed from the mind of Rugged Radios owner Greg Cottrell, who confessed he's a diehard fan of the classic bug. Rugged Radios Baja RZR perfectly melds the old school with the new school and we give Greg props for coming up with a completely original idea. If you're wondering whether the Baja RZR is another all show no go story, its Boondocker tuned and turbocharged engine puts out around 175 horsepower. That's nearly three times what an original VW 1600cc four cylinder bug produced!
Builder: Rugged Radios/NV Fab
Body: Modified VW Fiberglass Beetle Front Clip
Dash: Modified Factory VW fiberglass Dash
Engine: Boondocker Tuned
Turbo: Boondocker
Exhaust: Gibson
Axles: RCV Performance
Lights: KC HiLiTES
Wheels: Custom by American Racing Wheels
Tires: BFG A/T 31×10.5×15
Seats: PRP with Custom Mexican Blanket Upholstery
Wiring: Positive Ride Travis and Kyler Jecker
Communication: Rugged Radios RRP6100 Race Intercom System with 50 Watt Radio
Stereo: Rockford Fosgate Speakers with Rugged Radios WM1 Bluetooth
Harnesses: PRP 4 Point
Fresh Air System: Rugged Radios Dual MAC1 Carbon Fiber Air Pumper System
Shocks: KING 14" 2.5" Internal Bypass with Remote, Finned Reservoirs
Suspension: HCR Long Travel
Paint: Crocketts Premier Auto Body
Wrap: Linson Signs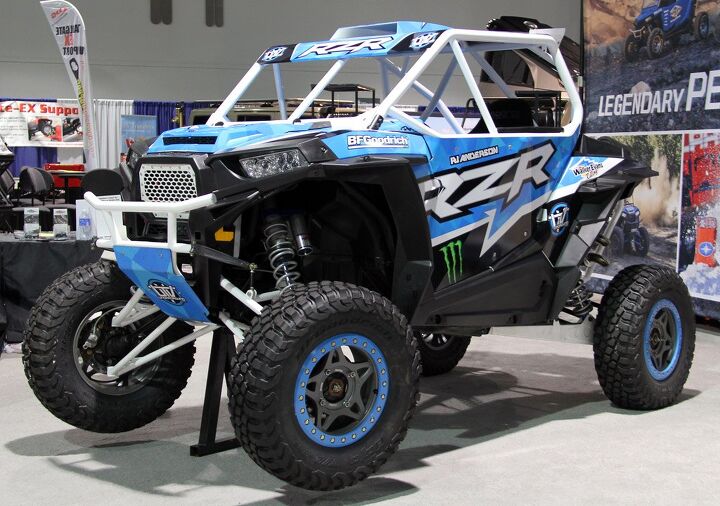 RJ Anderson's XP1K3 Turbo RZR
To celebrate the launch of its third viral video project XP1K3, Polaris had two of RJ Anderson's XP Turbo machines on display at the SEMA show. One was housed in the Walker Evans Racing booth and the other in the outdoor BFG Pavilion where the XP1K3 video was projected on a massive screen all week long. Considering some of the general public still thinks of UTVs as little more than hopped up golf carts, we think showing the video is a great way to combat the stereotype. As for the vehicle itself, this is a highly modified, purpose-built machine, built to handle the abuse that RJ has built a name and reputation on. Built by Mark Holz of Holz Racing Products, the car houses a 200-horsepower 1132cc Muzzys Big Bore engine complete with a K&T Performance Turbo. If after seeing this vehicle up close you still think it resembles a golf cart, you may want to visit a doctor…stat!
Builder: Holz Racing Products
Cage: Holz Racing Products Chromoly Tig-Welded Race Cage & Bumpers
Suspension: Holz Racing Products Chromoly A-Arms & Trailing Arms
Radius Rods: Holz Racing Products
Sway Bars: Holz Racing Products (Front & Rear)
Shocks: Walker Evans Racing 2.5" Velocity Series
Wheels: 15" Walker Evans Racing Bead Locks
Tires: 30 X 9.50 X R15 BFGoodrich KR2 UTV Tires
5-Point Harness: Mastercraft Safety 3"
Brakes: Factory Polaris Braking System w/ Holz Racing Products Custom XP1K3 Hand Brake System
Engine: 200 Horsepower Muzzys Performance 1132cc Big Bore w/ K&T Performance RZR 1000 Turbo System (Tuned by K&T Performance & Redline Racing)
Intake: K&T Performance High Performance Intake
Exhaust: Muzzys Performance
Dash, Passenger Door Panel, Interior Trim & Grill: Next Level Motorsports
Dash Electronics: RacePak RZR Display & Data Acquisition and Power Commander DynoJet Pod 300 Display
Clutch: STM Powersports Rage 8 Primary & Secondary Snowmobile Clutch w/ Fuel Customs Oversized Clutch Cover
Graphics: ProLine Wraps Vehicle Wrap Designed by Mad Media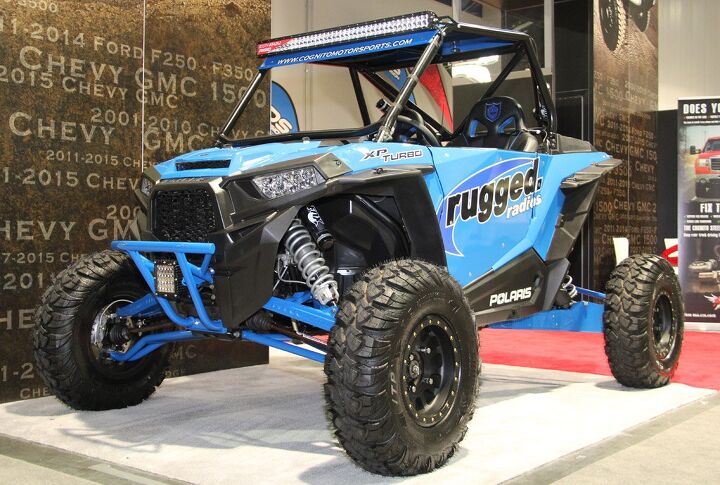 Rugged Radios Edition Polaris RZR XP Turbo
If we had to pick just one machine to top our list of the coolest UTVs at the show, this would probably be it. The Rugged Radios edition XP Turbo built by Cognito Motorsports was one of the same four identical UTVs built for the Sand Sports Super Show and Cognito Motorsports chose to feature this particular one in its booth. We love the bright blue color scheme coupled with the simple graphic and only the brand that it represents on the side. Apparently we weren't the only ones drooling over this machine as we were told someone came by the booth earlier in the week and asked if he could take it home with him. Unfortunately SEMA organizers have a strict "no removing vehicles during the show policy" so the gentleman ended up driving home with an empty trailer.
Builder: Cognito Motorsports
Cage: Cognito w/roof & light bar mounting option
Doors: Cognito Opening door kit
Suspension: Cognito Long Travel
Radius Rods/Cage: Cognito
Tie Rods: Cognito
Bumper: Cognito w/integrated Rigid Q2 Driving Light
Shocks: FOX OEM Internal Bypass Shocks with Cognito Long Travel Calibration & Dual Rate Spring Option
Exhaust: Sparks
Intake: Sparks
Tuner: Sparks
Seats: Pro Armori>
Harnesses: Pro Armor
Lighting: Rigid Industries 40" E2 Light Bar
Communication: Rugged Radios
Tires: ITP Ultra Cross
Wheels: Method 401 Beadlocks
3P Offroad Can-Am Maverick Max XDS Turbo
The award for biggest UTV influence at the SEMA show definitely had to go to 3P Off-road, as the up fitter from Tomball, Texas had a number of tricked out builds scattered throughout the show. In partnership with American Force Wheels, 3P Off-road had at least five different UTVs on display in two different booths. Amidst a sea of mud ready Polaris RZRs, we spied this Can-Am Maverick Max XDS Turbo with an incredible custom cage and some massive tires. Being located in Texas, most of 3P's customers are mud enthusiasts, so the rock crawler was outside of the box for them. Owner Josh Herzing told us the goal was a sort of southern rock crawler look with long travel suspension. It's definitely not what you would expect to see coming down the trail at Moab, but we imagine it looks right at home in the wooded rock crawling areas down south.
Builder: 3P Off-road
Suspension: CT Raceworx long travel kit
Cage: 3P Rock bouncer cage with light bar and sound bar mounts
Front Bumper: 3P Custom front winch bumper with winch mount
Rear Bumper: 3P Custom rear winch bumper with winch mount
Clutching: STM 3P Primary with STM Gen 2 Secondary
Exhaust: HMF Custom turbo straight pipe
Seats: PRP Custom Blue Suede
Winch: KFI Stealth 4500 Winch with Hawse Fairlead and mount
Wheels: American Force Beadlock brushed aluminum with blue rings
Tires: Super Swamper IROK 35×14.50×17
Paint: Eastex Hydrographics with pin striping from SDM Design
Battery: XS Power XS 3000 battery
Lighting
Heretic 40 inch Wraith LED light bar custom colored
Heretic 20 inch Wraith LED light bar custom colored
Audio
Wet Sounds Stealth 6 white sound bar
Wet Sounds Rev 8 with swivel clamps x4
Wet Sounds SD-6 Amplifier
Wet Sounds Under dash Sub box with 10 inch sub
Wet Sounds 1 amp wiring kit
Ride Controller 16t circuit
BTS Customs 2015 Polaris RZR with Matching Tow Vehicle & Trailer
Something you hear a lot from builders at the SEMA show is "we just wanted to do something different." That seems to be an ongoing theme, but in all reality, just how "different" is another modded out UTV with a ton of accessories and a custom wrap? Well, Rusty Montgomery and his team at BTS Customs decided they wanted to do something different and they found a customer with a big enough imagination to turn them loose and create it. This Polaris RZR with matching trailer and tow vehicle turned plenty of heads and caught the attention of both the automotive and UTV crowd. Not bad for a company that says it's only dabbling in custom built UTVs.
Builder: BTS Customs
Cage: Custom Bent & Chopped
Lift: BTS Customs 10" Suspension Lift
Axles: Turner Evo Axles
Gearing: Turner Gear Reduction & HD Reverse Chain
Wheels: 24×11 American Force Evo Wheels
Tires: BKT TR-171 40"
Exhaust: HMF Full Dual Exhaust
Lighting: 30" Rigid Industries SR Series Light Bar & 10" Rigid Industries SR Series Light Bar
Audio
Controller: Wet Sounds Bluetooth EQ
Speakers: Four Wet Sounds REV 10 Speakers W/ Color Rings
Subs: Two 12″ Wet Sounds Subs W/ Custom Hidden Boxes
Doors: Pro Armor Full Aluminum Doors
Wrap: Pixelwerks Media
Headlights: Custom by Plain An Simple
Accessories: VV Concepts Spiked Lug nuts
Published November 16th, 2015 5:34 PM
Top Brands
Popular Articles