1 View
Eight Innovative UTV Products From 2015 SEMA Show
November 23rd, 2015 2:58 PM
Share
We're committed to finding, researching, and recommending the best products. We earn commissions from purchases you make using links in our articles. Learn more here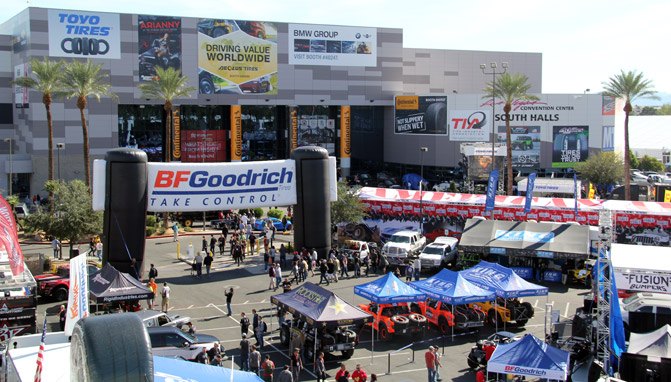 UTV aftermarket continues growth at SEMA
Although the SEMA show is known as an automotive trade show, that hasn't stopped the UTV crowd from infiltrating one of the enormous expo that takes over the Las Vegas Convention center every November.
Because most of the companies are automotive aftermarket suppliers, the majority of the products we found were adaptations of other products outfitted to work on UTVs. However, we found a few new products made specifically for UTV applications. The following is our list of top new UTV products from the 2015 SEMA show.
Gear Lift System by SxS Gear
Mud riders will love the new SxS Gear Lift System from SxS Gear LLC. This patented system uses portal box technology to provide 4" of lift while reducing the effective gear ratio by up to 30%. Every mud enthusiast knows a lift and bigger tires are pretty much standard protocol, but when you start going up in tires size, the engine has to work harder to turn the added weight. This puts additional stress on the engine, belts and axles. SxS Gear says its new Gear Lift System is the best of both worlds, providing 4" of additional lift while retaining the stock suspension geometry. The Gear Lift System does the work at the wheel, so the engine and drive axles can keep turning just like they had the original equipment from the factory. SxS Gear also claims the gear reducer can make your vehicle achieve max horsepower 4.5 seconds faster. For more information, check out SxSGear.com.
Bug Buster Windscreen
The name may be a bit misleading as splatting bugs isn't a common problem for UTVers (unless maybe you live in the deep south); however, racers and weekend warriors alike know what it's like to catch debris from following someone too closely. Windshields provide necessary protection, but they can scratch easily and tend to trap heat and dust inside the vehicle. This innovative new product from Rogue Powersports caught our eye as a practical solution for deflecting roost while keeping the occupants of the vehicle cool. The high-strength mesh material is ultra durable and can be installed without any tools. We think it might be of particular interest to desert racers who frequently find themselves caught in the roost of over vehicles. For more info on the Bug Buster Windscreen and to see it being torture tested, visit BugBusterWindscreen.com.
Gator-Jaw Shackles by Bubba Rope
Finding the right place to attach a tow strap or a tie down is sometimes more difficult than it should be. Either the hook of the strap doesn't open enough or you can't quite reach the optimal location to attach a tie down. The new Gator-Jaw Shackles from Bubba Rope make strapping or towing your ATV or UTV a snap as they can turn any location into the perfect hook for a tie down or tow rope. Constructed of braided plasma, the Gator-Jaw Shackles are available in three sizes with breaking strengths ranging from 11,000 lbs to 76,400 lbs. The lightweight shackles are more convenient to use than traditional D rings or carabiners and they are self tightening; just feed the Gator-Jaw Shackle around or through whatever you're connecting to, loop the open loop over the large knot and pull tight. The Gator-Jaw Shackle easily and quickly wraps around difficult pulling points with no pins to worry about and won't harm the finish on your vehicle. Learn more at BubbaRope.com.
Boondocker Pump Gas Turbo Kit
It's safe to say we've entered the age of the turbo. Now that UTVs are coming with factory installed turbos, it appears the rest of the world is discovering that adding a turbo isn't serving a death sentence to your machine's motor. The folks at Boondocker turbos have been developing horsepower and fine tuning snow machines for years and just recently jumped on the UTV bandwagon. The Boondocker pump gas turbo kit puts out an astounding 200 horsepower on 91 octane fuel. It is programmed to run 12 lbs of boost at sea level and 14 lbs at 4,000 ft elevation. One of the key features of the Boondocker kit is its EBC, or electronic boost control programmer, which gradually increases the amount of boost as the elevation increases. We asked the rep from Boondocker how factory-equipped turbos are effecting their business and he said if anything, it's shown the world that turbos aren't as big and scary as people thought and they have more people outfitting their current machines with turbos now than ever before. For more info on adding horsepower with a Boondocker turbo check out Boondockers.com.
DuneBlaster Onboard Air Compressor and Horn
If being prepared counts for anything, the new DuneBlaster onboard Compressor and Air Horn from Kleinn Automotive may be a big hit with adventure riders and desert racers. Having the convenience of endless air for reinstalling tires or running air tools while in the field away from support vehicles might be the difference between a win and a loss. And while a high-powered horn might seem overkill, if you've got a slower vehicle stuck in your path that just won't get out of your way, laying on a loud horn might be just what it takes to get them to move over. While the horn mounts under the front hood, the compressor and air tank tuck conveniently up inside each rear fender, completely out of sight. For more info on the DuneBlaster Onboard Air Compressor and Horn check out www.Kleinn.com.
Hiper Technologies by WELD
A week prior to the show, WELD Racing announced the acquisition of Hiper Technologies, a leader in carbon wheel technology in the ATV and UTV industry. During a press conference at the SEMA show, WELD CEO Norman Young expressed the company's excitement to be diving into the carbon composite wheel industry and promised big things for the future of the championship winning brand. The first new product born from the merger, a Hiper Carbon UTV wheel featuring a WELD billet center, was on display in the WELD Racing booth in the central hall. Young assured us that the Hiper brand will remain intact and we can expect to see its carbon technology reach into other markets currently serviced by WELD Racing. For more info on Hiper Technologies by Weld Racing visit Hiper-technology.com.
Tiger Lights Platinum Series Light Bar
Just because lights are intended for use at night doesn't mean they shouldn't look good during the day. While most light bars come in a standard black finish, Tiger Lights' new made in the USA Platinum Series light bar allows the user to customize the actual housing and mounting hardware of the light bar to match their individual vehicle. Tiger Lights says the Platinum series LED light bars are 100% made in the USA with all parts machined and assembled in their Tangent, Ore. headquarters. The housings, bezels and mounting brackets are machined, anodized and then finished with a clear powder coating to protect the surface and help dissipate heat. We get that the biggest reason people add a custom light bar to their vehicle is to improve the look or function at night, but the new Platinum Series light bar from Tiger Lights will have your light bar standing out and looking trick any time. For more info on the Tiger Lights Platinum Series light bar visit TigerLights.com.
Tough Country UTV Bumpers
If you're looking for a stout new bumper to protect the front of your UTV and help you get work done around the farm, check out the new line of heavy duty bumpers from Tough Country. Tough Country has been manufacturing bumpers, brush guards and accessories for trucks and other working vehicles for over 15 years and recently began manufacturing a line of heavy duty bumpers for UTVs. All Tough Country Heavy Duty UTV bumpers are winch ready, feature 12-gauge steel diamond plate, 2" receiver hitch, shackle mounts, and are powder coated for a durable finish. Current applications include Bobcat, Kubota, Gator, Mule, Ranger and Polaris RZR 800 and 1000 models. For a heavy duty bumper designed to work as hard as you do, check out ToughCountry.com. Seth Fargher
Growing up in Oregon, most of Seth's involvement in the powersports world was limited to what he saw in magazines and videos. Following a brief stint in the corporate world, Seth took a flying leap (literally) and moved to California to pursue a career in freestyle motocross. Though short lived, the opportunity immersed him in the industry and is now a well-established off-road writer.
More by Seth Fargher
Published November 11th, 2015 1:46 PM
Top Brands
Popular Articles