1 View
Ohio Fire Department Picks Up Honda Big Red
April 14th, 2010 3:24 PM
Share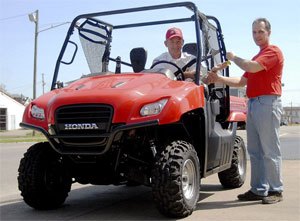 The volunteer fire department in Decatur Township in Southern Ohio received a $10,000 grant from the Ohio State Fire Marshal's Office to purchase a Honda Big Red MUV.
The area is popular among outdoorsmen and features heavily forested hills and ATV trails. The fire department will use the 4×4-equipped Big Red to get where regular vehicles can't go.
"The way it is now, we don't have anything. If someone gets hurt we either pack them out or call another department. And that can take time," Fire Chief Gene Cox told the Iron Tribune. "We had a forest fire once and we had to walk about three-quarters of a mile just to get to the fire because it was a ways back."
Cox plans to outfit the Big Red with a 100-gallon water tank and hose, in addition to other tools.
Published April 7th, 2010 12:13 PM