1 View
ATV Safety Law Enacted in South Carolina
July 5th, 2011 4:53 PM
Share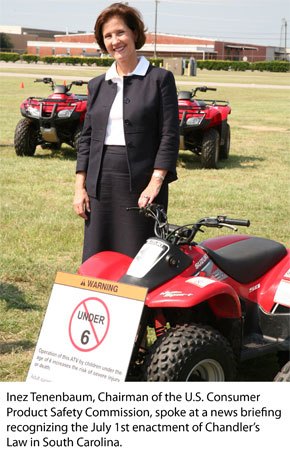 The ATV safety community recently marked the enactment of "Chandler's Law," which is aimed at protecting South Carolina's young ATV riders through rider training, parental supervision, the use of proper safety gear, and prohibitions on children riding adult-sized models.
The event in the state capitol included South Carolina native Inez Tenenbaum, chairman of the U.S. Consumer Product Safety Commission, Senator Brad Hutto of South Carolina, representatives from the ATV Safety Institute and Pam and Steve Saylor, whose son Chandler died in an ATV crash in 2003. Signed in May by Gov. Nikki Haley, the new law officially took effect on July 1, 2011.
"At the CPSC, we know that an experienced rider is often a safe rider," says Tenenbaum. "This is why the new training requirements in Chandler's Law – the training courses conducted by ASI – are so important."
Chandler's Law is based on Model State ATV Safety Legislation, created by the not-for-profit Specialty Vehicle Institute of America (SVIA). This model legislation has been promoted and proposed to South Carolina and states throughout America by the SVIA for more than two decades.
"We truly hope that ATV enthusiasts throughout South Carolina, and even across the country, abide by Chandler's Law, not only to honor his memory, but to dramatically increase their own safety," says Pam Saylor. "It's absolutely critical that ATV riders under 16 receive hands-on training by licensed trainers, ride the right size ATV and wear safety gear while operating these vehicles."
The ATV Safety Institute, the not-for-profit training and education division of the SVIA, hosted a news briefing at the event, held at the South Carolina State Fairgrounds. Licensed ASI instructors demonstrated important safety practices through abbreviated ASI RiderCourses, giving properly outfitted media and guests an actual hands-on experience.
Key among provisions contained in the SVIA's model legislation is the call for proper training for all riders, which is readily available. The ASI provides free instruction for all purchasers of new ATVs, and the major ATV manufacturers provide an incentive, up to $100, for buyers to complete the half-day training course.
"Chandler's Law is a major step in the right direction. It's something to be celebrated and we extend sincere thanks to everyone involved in its enactment," says Paul Vitrano, ASI executive vice president. "But there's much more work to be done in South Carolina and all over America. ATVs are safe when used properly, but they are not toys. No responsible parent would hand the keys to the family car over to their child and send them on their way. Our ongoing mission is to see that ATVs are being used in the right way so families can have a safe and enjoyable experience."
There are 635 ASI training sites nationwide and over 2,800 licensed instructors available to help riders learn how to safely operate their ATVs, whether they are purchased new or used. An online training course and much more safety information is available at www.atvsafety.org.
Published July 5th, 2011 4:53 PM