1 View
FRE/KTM Race Report: GNCC Round 12
June 19th, 2015 2:27 PM
Share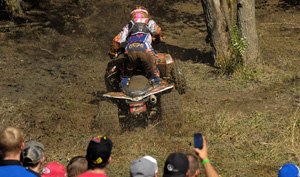 It was a rough weekend for FRE/KTM ATV GNCC rider Bryan Cook, who finished eleventh overall at the twelfth round of the GNCC ATV Series in Clairsville, Ohio.
Cook got off to a decent start and went into the woods in fourth position. Quickly into the race Cook got stuck in a mud hole while still on the first lap which cost him almost five minutes before he was able to recover. Cook was obviously fired up and rode strong for the remainder of the race but simply had too much ground to make up in the two-hour event. He was able to work his way up to eleventh place when the checkered flag flew. Reigning Champion, Chris Borich, took the win over the second place ride of Brian Wolf.
After twelve rounds, Cook sits sixth in the overall point standings. The next event will take place Oct. 22, 2011 in Crawfordsville, Ind.
Published October 13th, 2011 12:52 PM