1 View
Can-Am Race Report: GNCC Round 2, Mint 400
March 18th, 2014 5:10 PM
Share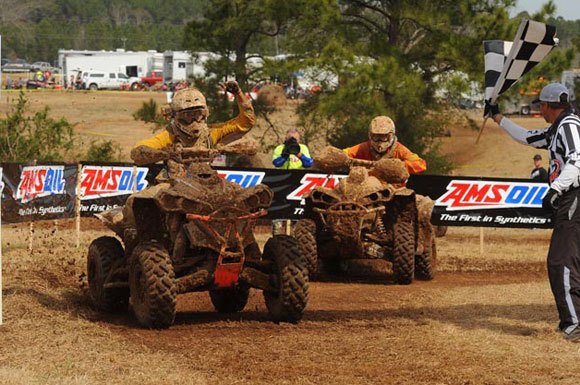 Can-Am Renegade 800R X xc racer Jordan Phillips won the 4×4 Pro class and took third overall at round two of the 2014 AMSOIL Grand National Cross Country series in Georgia. Can-Am 4×4 racers won all four 4×4 morning classes and earned nine total 4×4 class podium finishes out of a possible 12. Marc Burnett and Tim Farr each earned a second-place finishes with their Can-Am Maverick 1000R X rs side-by-side vehicles in the Best In the Desert Mint 400 race and GNCC XC 1 Modified class, respectively.
"The Can-Am racing team had a great showing at GNCC round two in Georgia and at the BITD Mint 400. Jordan Phillips' 4×4 Pro class and overall morning podium finish were big," says Jeff Leclerc, racing project leader, Can-Am. "Our racers continue to make great strides with the Can-Am Maverick 1000R platform, putting it on the podium in several different series. Marc Burnett and Tim Farr have their vehicles dialed in and it shows."
GNCC – Round 2
Round two of the AMSOIL GNCC series was held at Aonia Pass MX Park in Washington, Ga., in much drier conditions than the previous round. It featured both ATV and side-by-side racing. Phillips, coming off a fourth-place finish at round one, took advantage of fellow Can-Am racer Kevin Trantham's misfortune. The opening round winner, Trantham led the first three laps before a mechanical issue on lap four dropped him out of the lead and, eventually, the race (he took sixth). Phillips grabbed the lead during lap four and didn't look back. The Green Mountain, N.C., racer took his first 4×4 class overall win since round eight of 2012 in the U2 division. He also garnered third on the morning overall podium.
"This was the biggest win for me yet. The 4×4 Pro class has been an awesome challenge," says Phillips. "I have been racing and training all winter long to prepare for it and I am stoked to come out with a win. My Can-Am worked flawlessly and gave me an excellent start. The suspension was awesome and really smoothed out the rough Georgia terrain."
Bryan Buckhannon (ATV Parts Plus / Can-Am), who overcame an early dismount, rode his Renegade to a very close second-place finish behind Phillips. His two second-place finishes has him in the class points lead. BNR Motorsports / Can-Am racer Rob Smith finished fourth. Can-Am 4×4 ATV pilots also won three other classes, which included a podium sweep in the 4×4 Senior class. Tanner Bowles won the 4×4 A/B class and Nicholas Eichelberger secured the 4×4 C class win. Scott Wheeler edged fellow Can-Am ATV racers Terry Whiteside (round one winner) and Forrest Whorton (defending champion) for the 4×4 Senior class victory at round two.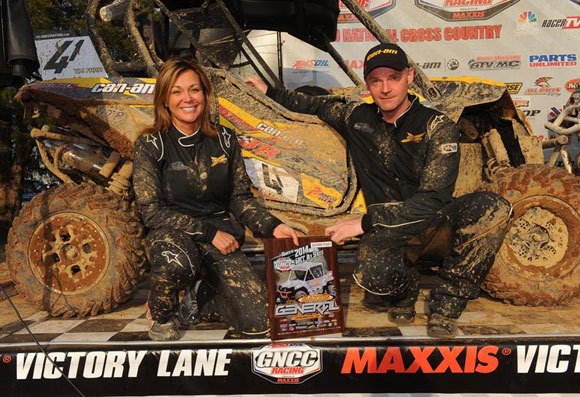 The Maxxis General GNCC SxS race featured a narrow course and a record number of entries with 86 in five classes. JB Off-Road / Can-Am driver Tim Farr and co-pilot / wife Julie finished second in the XC1 Modified class. Farr, who won the 2013 Ironman SxS race, has now posted two straight podium finishes. Team Game On Maverick 1000R driver Matt Rowell, who was in eighth place after the first lap of the five-lap feature, took an impressive third-place finish. Can-Am pilots tallied six of the top eight XC1 Modified class finishes in Georgia. Team Crash Addict / Can-Am racer Treavis Poynter was fourth.
BITD – Mint 400
The BITD General Tire Mint 400 desert endurance race has been running since 1967 and is often called America's toughest off-road race. More than 50 side-by-side vehicles were forced to complete two laps, along with two other classes, through the course's 100-mile loop of rock, sand, silt and gnarly desert terrain.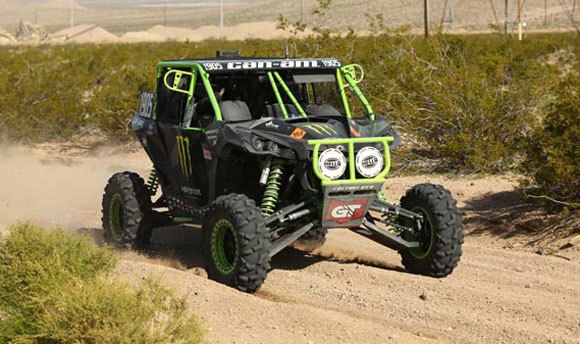 Coming off his historic San Felipe 250 victory, MB Motorsports / Monster Energy / Can-Am Maverick 1000R X rs driver Marc Burnett and co-pilot Fernando Flores took an impressive second-place finish in the1900P class and sixth overall. They were actually in the running for the class overall, but after being delayed 10 minutes to fix a flat tire, ended up roughly seven minutes behind the eventual 1900P class winner.
"This year has been great with the Can-Am Maverick. We won the San Felipe 250 and to get second here at the Mint 400 is just unbelievable," says Burnett, "so we are really stoked to be on the podium. The Can-Am was running amazing for the entire race, and you'd be amazed, it just kept right on going."
Despite battling with the leaders early on, Team Can-Am / ITP / Murray Racing's Derek Murray finished fifth in the class and 13th overall with the Can-Am Maverick MAX 1000R X rs DPS. Lacrecia Beurrier (Dragonfire Racing / Can-Am) took 11th and Desert Toyz / Can-Am driver Cory Sappington was 13th.
WORCS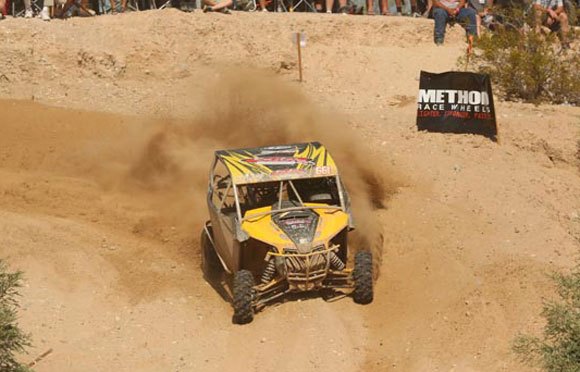 Round three of the World Off-Road Championships Series (WORCS) was also held this past weekend at Crazy Horse Campgrounds in Lake Havasu, Ariz. Can-Am racers competed in both side-by-side and ATV classes. Del Amo Motorsports / Can-Am pilot Kyle Melville earned the lone podium, taking an impressive second-place finish in the SxS 1000 class.
Published March 18th, 2014 5:09 PM
Top Brands
Popular Articles