1 View
ATV Motocross Honors Top Finishers and Special Supporters
November 2nd, 2011 2:03 PM
Share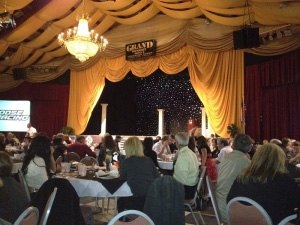 Over the weekend, the ATV Promoter's Group (ATVPG) and the AMA ATV Motocross Championship welcomed hundreds of members of the ATV motocross industry to the Grand Resort Hotel and Convention Center, in Pigeon Forge, Tenn., for the 2011 ATVMX Awards Banquet. The event honored this season's champions in the AMA ATV Motocross National Championship presented by DWT, in addition to the many individuals who played an integral part in a successful year.
The celebration on Saturday, Oct. 29 served as the final opportunity for all members of the ATV motocross community to come together as a whole and relive the moments that highlighted series this year. The top ten finishers from each of the 37 classes as well as the top three finishers from the North and South Challenge were given well-deserved recognition for their efforts at this year's banquet.
Florida's Mark Madl received top honors of the night, claiming the premier Pro Am Production Championship title and also taking home the Rider of the Year Award. Pennsylvania's Elizabeth Vogt took home an array of hardware after Saturday evening's celebration, including a top ten in the Girls (8-15) class, a Championship in the 90 CVT Limited (8-15) class and the coveted Youth Rider of the Year Award, amongst several talented young ATV racers.
In a highly competitive Production A class this season, Ohio's Tyler Hamrick claimed the title over 450 A Champion Dalton Millican of Tennessee. Hamrick was also chosen as this year's Most Improved Rider due to his steady progress on the track over the course of the season.
Thanks to the commitment of the series partners, the top finishing riders as well as several lucky banquet attendees, walked away with thousands of dollars worth of contingency prizes and other sponsor swag.
Specialty Awards presented on Saturday evening:
Rough 'N Ready Pit Crew: JB Racing
Most Improved Rider: Tyler Hamrick
Youth Rider of the Year: Elizabeth Vogt
Rider of the Year: Mark Madl
Team of the Year: Media Allstars
Hard Luck Award: Ricky Crosby
Sponsor of the Year: DWT
Good Samaritan Award: Jackie James
The 2012 AMA ATV Motocross National Championship Series presented by DWT kicks off March 24 and 25 at Millcreek Raceway in Pell City, Ala.
Published November 2nd, 2011 2:03 PM