1 View
RZR XP 900 Sleeper Project Part of Destination Polaris
December 21st, 2011 11:06 AM
Share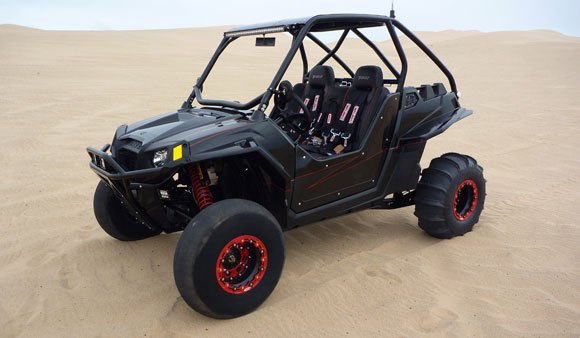 Destination Polaris has partnered with TMW Off-Road to build the "Sleeper!"
TMW Off-Road, located in Mesa, Ariz., took a RZR XP 900 and built one of the slickest sand machines on the market. The Project X machine comes complete with K & T Performance Turbo, Lonestar Racing suspension, Elka Shocks, TMW Intimidator roll cage and front bumper, OMF bead-lock rims and tires, plus tons of extras.
Doug Tyler of TMW Off-Road couldn't be more thrilled with the finished product.
"It's just an amazing machine, kind of our dream build to be able to take one of these RZR XPs and do what we want to it and then get to go out and play with it," says Tyler.
All new episodes Destination Polaris begin airing Dec. 26 on the Outdoor Channel and Wild TV.
Published December 13th, 2011 4:49 PM