8 Views
Polaris RZR XP 900 Project: Altitude Adjustments
June 17th, 2015 1:06 PM
Share
We're committed to finding, researching, and recommending the best products. We earn commissions from purchases you make using links in our articles. Learn more here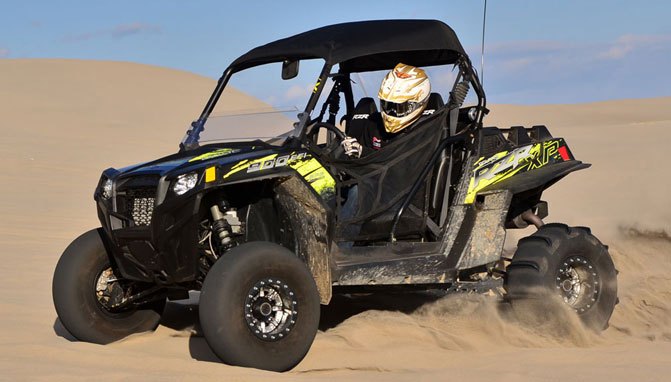 An understanding in clutching and tires
While the Polaris RZR XP 900 is all kinds of fun to rip around in, its performance left something to be desired by our Rocky Mountain test riders. Though the RZR's engine churns out awesome power at sea level, its clutching needs to be addressed for high-altitude riders. In a previous article, we grumpily spoke about the sea-level clutching in both the 2013 RZR XP 900 and our 2013 Can Am Maverick 1000R X rs. We noted when hauling the sport UTVs up a lengthy 20-degree sand hill at the St. Anthony Sand Dunes, St. Anthony, Idaho, the RZR and Maverick were each down approximately 600 – 800 rpm and quickly dropped off – with great suddenness – when load was introduced.We enlisted the help of Starting Line Products to help us take our RZR out of its low-altitude drive and driven clutch configuration and makeover these two clutches for high-altitude use. This two-clutch makeover included installing the correct high-altitude clutch weights, springs and helix into the RZR's primary and secondary clutches in order better drive the RZR's torque and horsepower to the wheels.
These stock RZR springs, driven clutch helix and drive clutch weights are matched for sea level to 1200- to 1500-foot altitude SxS riding. Beyond this elevation range, the two clutches can't efficiently harness the motor's horsepower and torque. In our experience, this reduced the RZR's ability to go long and high on a steep sand dune.We must state here that, proper clutching does not necessarily mean more ground speed when making ascents. For Rocky Mountain altitudes, drive and driven clutch efficiency translates to longer ascents up a sandy or rocky hill, and snappy throttle response from quick spooling clutches. But, ground speed may not be affected much. Ground speed and acceleration is largely dependent on traction, which we will also address in this article.
Using a Brower Timing System, we sent our RZR on 24 timed runs up a hill with a 20-degree angle at the St. Anthony Sand Dunes in Idaho. The distance from the starting electronic eye to the finish electronic eye was two-tenths of a mile (1056 feet).Our pilot was Eric Mathews, SLP ATV and Sport SxS technical consultant. Along with Eric was his brother, Jerry Mathews, SLP's general operations manager.This feature is about clutching efficiency, not a product review of SLP's clutch kit. With that said, we chose SLP due to its experience in high-altitude performance for snowmobiles, ATVs and Sport UTVs. The SLP clutch kit is simply known as RZR 900 SLP Clutch Kit (SLP part # 41-713). As part of the SLP kit, we used
Team Industries
' 52-74 gram Adjustable Shift Weight Kit – known as Rooster Weights.The SLP clutch kit comes complete with installation instructions for springs and helix and the Team weights. Configuration charts are part of the kit, which includes knowledge for a given elevation range and if the motor is stock or not.Being our RZR was in its stock factory setup, clutch spring was a gold/black; driven clutch spring green/silver with a 54-degree straight angle helix. Rooster weights were: inner hole, 0.8g pins plus two each 0.5g washers; middle hole, green 2.5g pin with no washers; and outer hole, red 3.5g pin plus one each 0.5g washer and one each 1.5g washer. Throughout the day, after our stock clutch speed runs, we adjusted the grams for the Rooster weights until we were satisfied we hit and maintained optimum engine rpm.
The Rooster Weights have weighted pins, which can be removed from or added to the drive clutch arms. This allows RZR owners and clutch tuners to configure the drive clutch weights for altitude.The first set of timed runs – 12 – consisted of three runs from a standing start in 2WD, three runs from a standing start in on-demand four wheel drive, three runs from a rolling 5 mph start in 2WD and three more 5 mph rolling starts in on-demand 4WD. The 3×4 timed runs were with the RZR's OEM installed, stock, primary clutch and driven clutch weights, springs and helix.The next set of timed speed runs – again 12 – followed same suit except with SLP's clutch kit.The next set of 12 time speed runs, our third, is after SLP techies adjusted the driven clutch Team Industries' Rooster weights to an optimum weight for this day's conditions.Following these 36 runs we installed paddle tires on the rear and baldies up front with the two clutches tuned for max efficiency. We did three runs in 2WD and three in 4WD. All six runs were from a standing start.Not to end there, we returned the Maxxis Bighorn tires to the RZR XP 900 LE with air pressure dropped to 4 psi for the rear and 3 psi for the front.One final thought, clutching for elevation is paramount as a motor loses three to four percent of its horsepower for every 1000 feet gained in elevation. Humidity and heat play into this as well, accounting for the one-percent range.Stock Clutching
| | | | |
| --- | --- | --- | --- |
| Standing start in 4WD | Standing start in 2WD | 5 mph rolling start in 4WD | 5 mph rolling start in 2WD |
| 11.92 sec. | 14.80 sec. | 11.20 sec. | 12.35 sec. |
| 11.68 | 15.80 | 11.01 | 12.91 |
| 11.62 | 16.77 | 10.84 | 12.75 |
| Average: 11.74RPM range: 7400 – 7600 | Average: 15.79RPM range: 7400 – 7600 | Average: 11.02RPM range: 7400 – 7600 | Average: 12.73RPM range: 7400 – 7600 |
Analysis: As the RZR traversed up the hill in 2WD, regardless from a rolling 5 mph start or from a standstill, each pass the RZR lost speed and added time. The opposite was true for on-demand 4WD, the RZR gained speed and cut time. The takeaway here is the RZR's on-demand 4WD system works well.
Using stock clutch settings, our RZR XP 900 could barely make it to the end of our timed course.In 2WD the RZR held its speed up to the timing light then fell apart and died. Only by inches did the RZR muster the strength to roll its rear tires past the ending timing light. On one occasion it punched in.In on-demand 4WD, the RZR would best the 2WD runs by about two lengths before the test driver had to pull a left turn and descend the hill.SLP Clutching – Unadjusted
| | | | |
| --- | --- | --- | --- |
| Standing start in 4WD | Standing start in 2WD | 5 mph rolling start in 4WD | 5 mph rolling start in 2WD |
| 11.71 sec. | 13.58 sec. | 11.12 sec. | 12.36 sec. |
| 11.94 | 13.41 | 10.89 | 12.68 |
| 11.61 | 13.28 | 10.98 | 13.11 |
| Average: 11.75RPM: 7800 | Average: 13.42RPM: 7800 | Average: 10.99RPM: 7800 | Average: 12.71RPM: 7800 |
Analysis: Here, the greatest benefit was seen in 2WD (particularly with a standing start) where the clutches squeezed the belt optimally and the motor held 7800 rpm. But more important than the improved time, the RZR (in 2WD) managed to pull itself beyond the finish line – about equal to the RZR in 4WD with stock clutching. Basically, it climbed higher.
With a driven clutch cam and spring compressor tool, we insert a new spring into the driven clutch before locking it down. The SLP clutch kit comes complete with the necessary springs and weights for both clutches; instructions are precise for DIYers.In on-demand 4WD, be it a rolling or standing start, the RZR doubled its ending distance from that of stock. Again, it climbed noticeably higher.The clutches and engine speed were engaged with increased efficiency while holding its rpm longer up the slope.SLP Clutching – Adjusted
| | | | |
| --- | --- | --- | --- |
| Standing start in 4WD | Standing start in 2WD | 5 mph rolling start in 4WD | 5 mph rolling start in 2WD |
| 11.70 sec. | 13.33 sec. | 11.00 sec. | 12.97 sec. |
| 11.60 | 13.33 | 11.03 | 12.75 |
| 11.56 | 13.61 | 11.07 | 12.60 |
| Average: 11.62RPM: 8100 | Average: 13.42RPM: 8100 | Average: 11.03RPM: 8100 | Average: 12.77RPM: 8100 |
Analysis: Not pleased with the 7800 RPM, SLP removed some weight from the Team Rooster Weights, freeing the primary clutch cam arms to swing up at a faster pace.Times did not show any significant change with the adjusted SLP clutching. However, Eric Mathews drove the RZR 900 XP LE further up the hill, doubling all distances from the previous runs first recorded for SLP clutching, and tripling the distance from stock OEM clutching for all distances in 2WD and 4WD – rolling or standing. In on-demand 4WD from the rolling 5 mph start, the driver had to turn out at the dune's top or he would have dropped over.
With optimized clutching, our test drivers were able to reach the very top of the hill.Here at 8100 RPM, the RZR pulled much longer runs with the clutches receiving the motor's torque and horsepower for longer and more efficient intervals. The RZR 900 XP LE was a wholly different creature as it climbed much higher and farther than when calibrated for sea-level play.Mission accomplished.Proper Sand Tires
| | |
| --- | --- |
| In 4WD | In 2WD |
| 10.16 sec. | 10.48 sec. |
| 10.11 | 10.49 |
| 10.01 | 10.41 |
| Average: 10.10RPM: 8100 | Average: 10.46RPM: 8100 |
Analysis: To take our RZR to the next level, we added rear Skat Track paddle tires and front Smooth Buff bald tires to our optimized SLP clutching and did six more runs, all from a standing start. In 2WD, the RZR 900 XP LE dropped its average time almost three seconds. The RZR blew by the timing lights where the pilot had to shut down the sport UTV before it tossed itself over the dune's backside.
Installing rear paddle tires made the RZR XP 900 feel much more powerful and cut down our times considerably.The paddle tires, with optimum clutching, seized the motor's power and delivered longer climb distances as if 30 horsepower was added to the motor. Likewise too, the tire and wheel combo provided much reduced rotating mass as mentioned earlier. We are not taking anything away from the Maxxis Bighorn tires, as these are superb mud- and dirt-specific meats, but paddles affect speed in positive manner when on loose sand.In on-demand 4WD, the speed increases were not as dramatic, as the front baldies did not bite the loose sand like a knobby tire, such as the Bighorn Maxxis. Perhaps the key is paddles in back, Bighorns up front? It's something to ponder.Reduced PSI Stock Tires
| | |
| --- | --- |
| In 4WD | In 2WD |
| 10.85 sec. | 11.95 sec. |
| 10.85 | 11.88 |
| 10.79 | 11.77 |
| Average: 10.83RPM: 8100 | Average: 11.86RPM: 8100 |
The stock Maxxis Bighorn tires performed very well in the dunes when we lowered the pressure.Analysis: Since not everybody wants to buy paddle tires (not ideal anywhere but in the dunes), we decided to test out the optimized SLP clutching using the stock Maxxis Bighorn tires with pressure reduced to 4 psi in the rear and 3psi up front. The Maxxis Bighorn tires did a remarkable job at ensuring the RZR climbed high and far. Compared to the paddle tires, in on-demand 4WD the RZR lost about 0.75 seconds and in 2WD it lost about 1.4 seconds. However, the reduced PSI numbers were considerably better than the tires performed at higher PSI.The take away here is the Maxiss Bighorn tires with pressure dropped (and we could have dropped another pound from the four tires) are a capable sand tire. We surmise if the Maxxis Bighorns were wrapped around some lightweight carbon fiber wheels, then the RZR would continue climbing higher. And, as in the paddle tires, Eric Matthews had to whip a hard left turn before dumping the RZR over the dune's apex.Be aware that when running extreme low pressures, we recommend beadlock wheels. Beadlocks will prevent the tire from rolling off its bead, especially when skating sideways, drifting, skidding, or cutting cookies/doughnuts.In ConclusionClutching for elevation is clutching for efficiency where efficiency translates to high marks on a tall sand dune. As SLP stated to me, they could clutch for speed, but this would require clutching for a narrow RPM band, which is not making efficient use of a motor's output.
With a few modest upgrades, you can easily turn your RZR XP 900 into a killer in the thin mountain air.Paddle tires, with spot-on clutching for sand dune use, really wake up a sport UTV.Knobby tires, when air pressure is dropped, are sound for sand dune use, provided clutching is dialed in. Published October 31st, 2013 11:15 AM
Top Brands
Popular Articles