1 View
Team ITP Race Report: Budds Creek MX
May 10th, 2012 12:10 PM
Share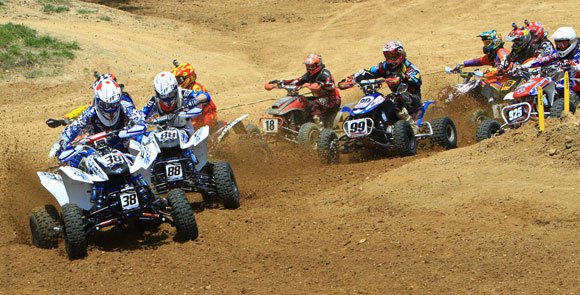 ITP has made available $128,750 in contingency for the 2012 AMA ATV MX National Championship Series and a good chunk of that had to be paid out after ITP racers found success in the third round at Budds Creek MX in Mechanicsville, Md. Dipping deeply into the ITP "MX Bucks" pool Team ITP riders Chloe Buerster, Mike Barnhart, Maci Devenport, Haedyn Mickelson, Sean Taylor and Samuel Rowe.
Rowe collected three moto wins on his way to overall victory in both the Schoolboy Jr. (13-15) and Schoolboy Sr. (14-17) classes. This put the Janssen Motorsports-powered Root River Racing rider in the points lead for the latter, and into third for the season in the former.
Root River Racing's Sean Taylor made a consistent day pay off as 3-2 moto finishes got him the overall win in the highly competitive Pro Am Unlimited class.
Haedyn Mickelson of Root River Racing continued his season's hot streak with fourth overall in the Schoolboy Jr. (13-15) and Super-Mini (13-15) classes, as well as a runner-up finish in Schoolboy Sr. (14-17). He currently leads the point standings in that last class, and is top-five for the season so far in the other two.
Enjoying her first win of the season was Maci Devenport, who swept the 90 Production (8-12) class with a perfect 1-1 moto score. She's now second in class points, as well as fifth in the Girls (12-15) standings.
Still running strong in the Veteran 30+ category is Root River's Mike Barnhart, who parlayed 4-4 motos into fourth overall, bumping him up into the top three in the class standings.
Fast lady Chloe Buerster continues to impress with 2-3 moto finishes for third overall in the Women's class, and then once again mixed it up with the guys in 4-Stroke B to claim seventh overall. The Janssen Motorsports/Roberts Racing Outlaws rider is third in the Women's point standings and sixth in 4-Stroke B.
The ten-event series now moves to Sunset Ridge in Walnut, Ill., May 19-20.
Published May 10th, 2012 12:10 PM
Top Brands
Popular Articles