1 View
Team UXC Racing Report: Big Buck GNCC
April 25th, 2013 2:45 PM
Share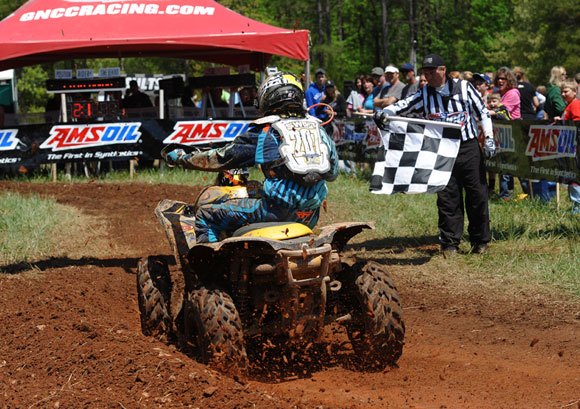 Coming off a successful weekend of racing at the Steele Creek GNCC, Team UXC Racing was amped up for the Big Buck GNCC in South Carolina. The rain had set in on Friday, but it was done by Saturday morning to build what would be epic conditions for a day of racing.
The U2 class lined up with Team UXC Racing's Michael Swift mentally prepared to get out front and keep the momentum up for the duration of the race. Leaving the line in second place, Swift began looking for his place to strikes.
"We had no issues all day," says Swift. "I walked the entire track Friday morning and knew we had very little places, except for maybe the field sections, to get around other riders as well as my competition."
Michael Swift (center) celebrates on the 4×4 podium.
Following the first place rider for the first two laps, Swift made a plan to take over the lead. He would not only take the number one spot, but he would also post the fastest lap time of his class.
"I knew I had to pace myself but I kept in mind that there were fast riders right behind me and I needed to stay on my game," says Swift.
Swift would go on to win his U2 class and take first overall in the utility ATV segment of the race. He would also post the third place position out of the entire field of 222 racers and 20 classes for the morning event.
Team UXC Racing's Don Higbee also had an impressive performance in the 4X4 Senior class. He is now second in points and with his third place finish he is set to head into Kentucky looking for a win.
"I had a terrible start and it was a task to work through the pack of riders to chase down my class but my UXC race machine worked flawlessly and I was able to get within striking distance," says Higbee. "Our machine impresses me each time I jump on the seat. The Maxxis Vipr tires provide the positive grip and predictable handling. You combine that with Custom Axis shocks, the very well prepared UXC race machine and it's unstoppable."
Tayton Swift had a very good morning in the Youth races. Tayton's Can-Am DS90X took him to an eighth place finish out of 13 in the 90 limited 8-11 year old class. Tayton and his father Michael have gotten the bugs settled in the young racer's machine and look forward to more finishes.
SXS racing resumed at this round of the GNCC series and with the 108 of Team UXC racing heading to the line there would be a new co-pilot. Kevin Trantham settled in the co-dawg seat to assist Swift on the wooded trails. Team UXC's Can-Am Maverick had a slow start but picked up the pace in the woods. Following a side by side in the woods is a lot different than following an ATV and with limited passing it made for and interesting race.
"We hope to do better each race as this is a total learning experience for us. The tire pressure may have been a little off but we will work on that as well," says Swift. "We followed a team for almost three laps before we could manage a pass. We just floated along and had a good clean race. The Maverick was rolling and with our sixth place finish we feel we were successful."
Team UXC Racing would like to thank its sponsors for the 2013 season: CAN-AM BRP – MAXXIS – ROX Speed FX – CAN-AMTALK.COM – CUSTOM AXIS Shocks – SSI Decals – EVANS Coolant – FLY – HIPER – RICOHETTE – LEATT – DP Brakes – FASST – CARBO ROCKET – HMF – MOTO CONCEPTS – KAL-GARD – SPIDER Grips – OUTERWEARS – DIRTWORKS – THERMO TEC – FOURWORX CARBON – SANTOR DESIGN – SCOTT – MOTO PRO – TWIN AIR – PIAA – HI-TEC – AMERICAS MOTORSPORTS – DRIVEN POWERSPORTS – TIRE BLOCKS – R+B COMPONENTS – MIKE PENLAND RACING – WALSH
Published April 25th, 2013 2:45 PM
Top Brands
Popular Articles