1 View
Kawasaki Teryx Overhauled for 2014
September 6th, 2013 12:03 PM
Share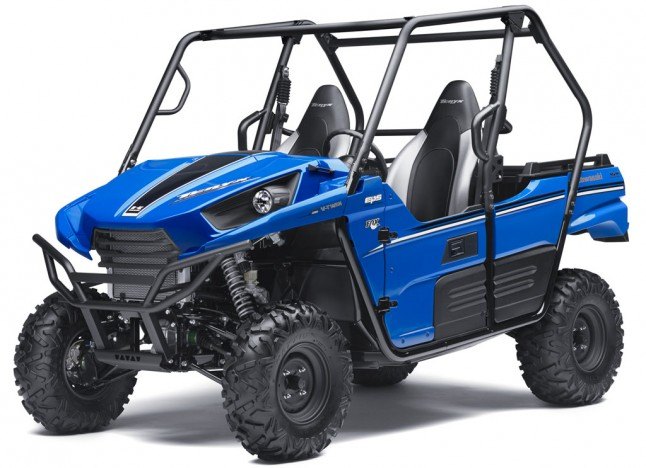 Ever since first laying eyes on the Kawasaki Teryx4 two years ago, we've been waiting for the two-seat Teryx to see a significant update. Kawasaki has done just that for 2014.
The list of updates for the 2014 Teryx is long, but the highlights are a more powerful engine, larger chassis, upgraded shock package and redesigned cockpit that is larger and more comfortable.
Kawasaki squeezed more power out of its beloved V-Twin engine thanks to a displacement bump from 749cc to 783cc. This results in a claimed 26% power increase and 12% more torque. We're not sure how an extra 34cc produces that kind of power boost, but Kawasaki credits optimized camshaft profiles and revised exhaust headers. Even with the additional power, Kawasaki boasts the 2014 Teryx delivers better fuel efficiency than the 2013 model.
Also new for 2014 is a Double-X chassis, featuring a rigid square tube frame designed to ward off flex. The chassis has two X-shaped cross members that bridge the frame's box structures from corner to corner. Reinforcement comes from an updated Roll-Over Protective Structure, which extends out to the edges of the bodywork.
Electronic power steering (EPS) comes standard on the 2014 Teryx. Built by Showa, the EPS system is designed to eliminate the power-steering pump so steering inputs don't rob engine power. As well, EPS is only activated when the engine is running, so there is no battery drain.
Suspending the 2014 Kawasaki Teryx at all four corners are FOX Podium piggyback reservoir shocks with 8.0 inches of travel up front and 8.3 inches of travel in the rear, along with 11.0 inches of ground clearance. All four shocks are adjustable for spring preload and 24-way compression damping.
Stopping power is provided by 200mm rotors gripped by dual-piston calipers in the front. The front brakes are recessed within the wheels to help keep them away from dirt and debris. In back is Kawasaki's sealed internal wet brake, which features internal components sealed from the elements. Connecting the Teryx to the ground are 26-inch Maxxis Bighorn 2.0 tires.
Kawasaki increased the wheelbase of the 2014 Teryx to 85.8 inches – nearly 10 inches longer than the 2013 model. Surprisingly, the total length of the 2014 Teryx was only increased by about an inch to 117.3 inches, while the width is now 61.6 inches – an increase of 3.1 inches.
While the tilting cargo bed is slightly smaller for 2014, it can now carry up to 600 pounds – a 100-pound increase. It features four tie-down points, removable tailgate and two-inch receiver hitch. Sitting behind the seats are two waterproof storage compartments offering 182 liters of total capacity.
Keeping rider and passenger shielded from the outside world are secure latching doors. Once inside the cockpit, users are treated to a roomier interior. The 2014 Teryx also features the same high-backed bucket seats found in the Teryx4. We've been waiting for these for two years, as the seats in prior year Teryx models didn't exactly scream comfort. Both seats are adjustable in one-inch increments.
To top off the changes for 2014, Kawasaki has given the Teryx a three-year limited warranty.
The base 2014 Kawasaki Teryx retails for $12,999 and comes in Vibrant Blue.
2014 Teryx LE
For those who want the best Kawasaki has to offer, the 2014 Teryx LE ($14,999) comes equipped with all the same features as the base model along with high-intensity LED headlights, steel brush guard, cast aluminum wheels, cab roof/sun top, premium candy-colored Lime Green bodywork with automotive quality paint, color-matched shock springs and suspension arms and three-tone high-backed bucket seat covers.
2014 Teryx Camo
For the true outdoorsmen, Kawasaki's 2014 Teryx Camo ($14,299) features high-intensity LED headlights, cab roof/sun top and Realtree APG HD camouflaged bodywork.
Published September 6th, 2013 12:00 PM