1 View
Yamaha Donates Viking to SEAL Foundation
February 24th, 2014 7:01 PM
Share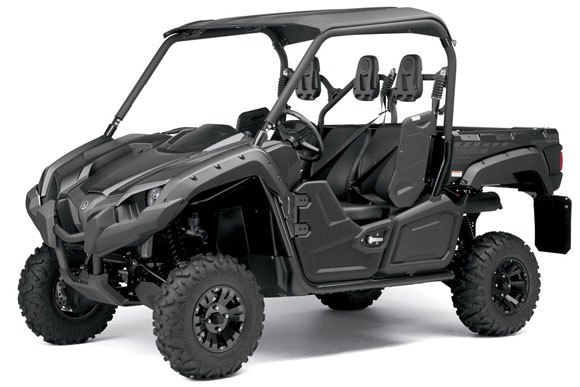 Yamaha Motor Corp., U.S.A., has donated a new Special Edition Tactical Black Viking EPS Side-by-Side vehicle to the SEAL-Naval Special Warfare Family Foundation. The Viking will be auctioned at an upcoming Foundation fundraiser near San Diego with proceeds going to the organization's mission of supporting SEAL members' families.
The SEAL-NSW Family Foundation is a San Diego nonprofit organization that raises awareness and funds for special programs in direct support of the Naval Special Warfare (NSW) families on a local, national and global scale. Details about the upcoming fundraiser on March 22 are at http://supportourwarriors.org/.
"The SEAL-NSW Family Foundation assists in supporting the families of the brave SEALs while they are protecting us, thanks to the generosity of companies like Yamaha who are committed to our military and the sacrifice our soldiers," says Leona Sublett, director of operations, SEAL-NSW Family Foundation.
"The SEAL-NSW Family Foundation has an important mission, and Yamaha Motor U.S.A. is proud to make this donation as well as help spread awareness of the Foundation, its mission and its needs," says Steve Nessl, Yamaha's ATV/SxS group marketing manager. "The people that this Foundation serves have extraordinary responsibilities in their daily lives, and their families deserve extraordinary support from the rest of us."
Yamaha introduced the new Special Edition Tactical Black Viking EPS SxS at the Shooting, Hunting, Outdoor Trade (SHOT) Show in Las Vegas earlier this month. The new SE Viking combines an aggressive flat black painted appearance and popular accessories – molded sun top, overfenders, mud flaps, an under-seat storage box, bed rail accessory mounts and exclusive black cast aluminum wheels – with classic Yamaha durability and off-road capabilities. The SE Tactical Black Viking 4×4 EPS will be available in the spring of 2014 with an MSRP of $13,749.
"Yamaha is proud to support American servicemen and women and their families whether through this donation, our sponsorship of the Honored American Veterans Afield or through our involvement in the Ride for the Military motorcycle safety training," says Nessl. "We encourage everyone to check out the SEAL-NSW Family Foundation to determine how they can also get involved."
Published February 24th, 2014 7:01 PM
Top Brands
Popular Articles