1 View
Yamaha Off to Fast Start in 2014 ATV Racing Season
March 28th, 2014 4:40 PM
Share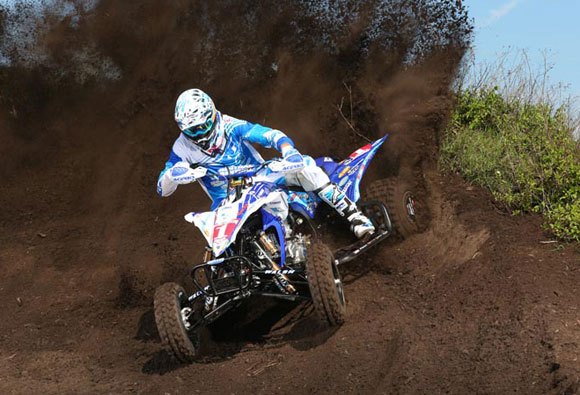 Following a banner season in 2013, the Yamaha ATV Racing team is off to a strong start in 2014 topping podiums and leading three major series across the country.
Reigning back-to-back AMA ATV champion Chad Wienen won the season opener at Aonia Pass MX atop his YFZ450R, while teammate Thomas Brown, who placed second overall in the 2013, finished fifth.
"We had good starts in both moto's last weekend, and that was key — the track didn't allow for much passing," says Wienen. "My new Wienen Motorsports YFZ450R was working great. We're very happy to come out with the win and start the season off with the red plate."
"Round 1 was a good start to the season, and my YFZ450R was working great," says Brown. "I'm looking forward the rest of the season."
Coming off a strong 2013 finish with three wins in the Grand National Cross Country (GNCC) series, Yamaha's Walker Fowler is tied for first place in the 2014 GNCC series XC1 standings after a win in Round 2 and third place finish in Round 1 aboard his YFZ450R.
Racing veteran and five-time QuadX Series champion Dustin Nelson won the 2014 QuadX season opener at Glen Helen Raceway and placed second in Round 3 of the World Off-Road Championship Series (WORCS) at Crazy Horse Campground in Lake Havasu City, Ariz.
"I couldn't be happier with our 2014 YFZ450Rs over the past two races," says Nelson. "We started with the QuadX at Glen Helen where having the power to get out front early is critical. My YFZR pulled both holeshots and took me to both 20-minute moto wins. Next, at the WORCS race in Lake Havasu, we were faced with a one hour and 45 minute final on the most grueling, whooped out sand track imaginable. Handling and energy conservation are everything in Havasu, and thanks to my YFZ450R we finished on the box in second place."
"Yamaha's ATV teams are racing the YFZ450R to the top of the podium in major series across the country — in MX and cross-country," says Steve Nessl, Yamaha's ATV/SxS group marketing manager. "The 2014 YFZ450R received significant updates when production moved to Yamaha's U.S. factory in Georgia last year, and it's exciting to see the race teams take full advantage of the new machine. Yamaha is looking forward to a great 2014 season with some of the best racers in the business and the best race quad in the world."
Published March 28th, 2014 4:40 PM