1 View
Yamaha Launches "Build Your Own" Viking VI Site
August 20th, 2014 3:32 PM
Share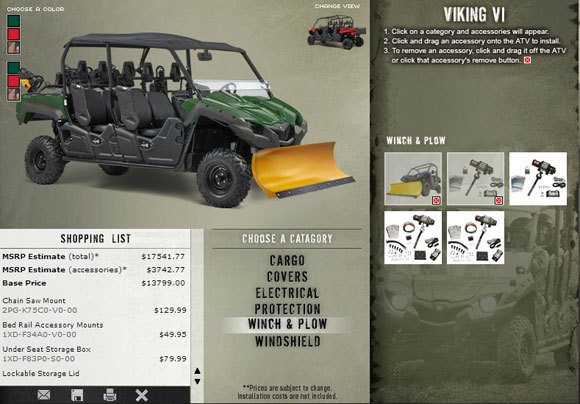 If you own or plan to buy a new Yamaha Viking VI, you'd be wise to check out Yamaha's new "Build Your Own" (BYO) site at YamahaViking.com. This site gives customers the ability to see what their machine might look like outfitted with a variety of accessories.
Yamaha currently has more than 50 accessories for the Viking VI. The new 2015 Viking VI model was announced in June 2014 and production is now in full swing with vehicles being delivered to dealers across the country.
"The Viking VI is an incredibly versatile machine made for farmers, hunters and recreational enthusiasts," says Steve Nessl, Yamaha's ATV and SxS group marketing manager. "Yamaha is helping customers personalize their vehicles with Genuine Yamaha Accessories that are developed in tandem with the vehicle to ensure the highest quality, durability and performance standards along with the best fit and finish."
The Yamaha accessories division is supporting that customization, and the versatility of the Viking vehicles, by developing and sourcing a comprehensive catalogue including popular products like roofs, windshields, storage boxes and sound systems that can be ordered directly from and installed by Yamaha dealers.
"Build Your Own" sites for other Yamaha ATV and SxS vehicles can be found at Yamaha-Motor.com.
Published August 20th, 2014 2:32 PM