1 View
Kawasaki Sponsors American UTV Team for Rallye Acha Des Gazelles
June 18th, 2015 4:09 PM
Share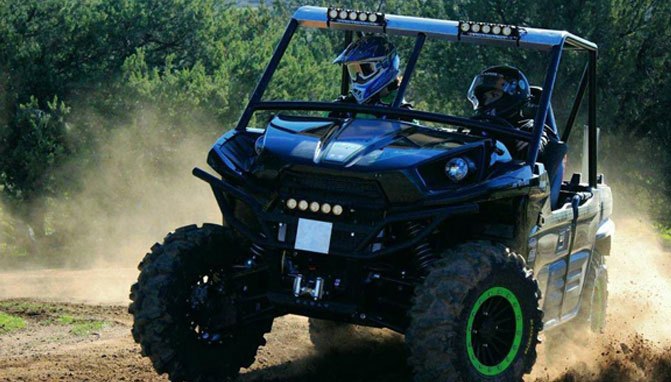 Team Kawasaki IMG Motorsports will support the first ever 'American Side X Side Team' to race in the 2015, 25th Anniversary, Rallye Aïcha des Gazelles. Sara Price and Erica Sacks will be tackling one of the toughest All-Female Sporting events on the planet in a factory supported Kawasaki Teryx Side X Side built by IMG Motorsports.
The Rallye Aïcha des Gazelles is a nine-day race located in Morocco, Africa where approximately 160 teams and 300 competitors come together to tackle the terrain without the help of GPS. Using nothing but outdated maps, teams are forced to navigate through the incredibly tough terrain with nothing but a compass and their will to succeed. This navigational challenge will be a true test for the Kawasaki IMG Motorsports team. They will navigate with the goal of traveling the shortest distance from Point A to Point B, ranging anywhere from 700 miles to 3,000 miles.
Emily Miller, former pro racer and one of the first Americans to participate in this race, is mentoring Sara and Erica along with Kirsten Kuhn, who is the US Team/Media Liaison for the Rallye Aïcha des Gazelles. Sara and Erica will have to overcome the challenges of a language barrier, an unvisited country, and unfamiliar desert.
Sara Price previously raced for Kawasaki as a professional women's motocross racer making history in 2010 as the first ever female factory supported racer in motocross. Sara also achieved over 16 Amateur Championships on a Kawasaki during her amateur racing career as well as medaling in X-Games. Sara crossed over into the Side X Side racing in 2012, racing many different disciplines in a UTV and fast became a force to reckon with. She is also going to be the youngest American to race in the Rallye Aïcha des Gazelles' 25-year history.
Erica Sacks has over 15 years of off-road racing experience. She has been all over Baja and has raced the longest race in the US, giving her the knowledge necessary to compete in this long race. She has raced in a variety of off-road cars from Trophy Karts to Class 1 cars, and has the experience and navigational skills required when racing in the most prestige races held in Baja. She recently finished second place in a UTV at the 2014 Lake Elsinore Grand Prix.
"Racing in the Rallye Aïcha des Gazelles has been a dream of mine to test my skill and also have this experience of a lifetime. Having a long history working with Erica from on-the-track to in the garage, I feel we couldn't be a better team to do this. I'm very excited to be back with Kawasaki and have their support and can't wait to make America proud" commented Sara Price. Erica's excited about this new partnership as well and commented, "When Sara came to me about being her teammate for the rally, I thought this is crazy, but what a fun experience! Sara and I have been friends for many years. This last year I have been involved as her spotter in her UTV racing and working together with her on her UTV. I'm looking forward to taking our racing friendship to Morocco as team USA, Kawasaki, IMG Motorsports."
Published January 9th, 2015 4:56 PM