1 View
2015 Gilbert National TrailFest: Day 1
October 10th, 2015 9:53 PM
Share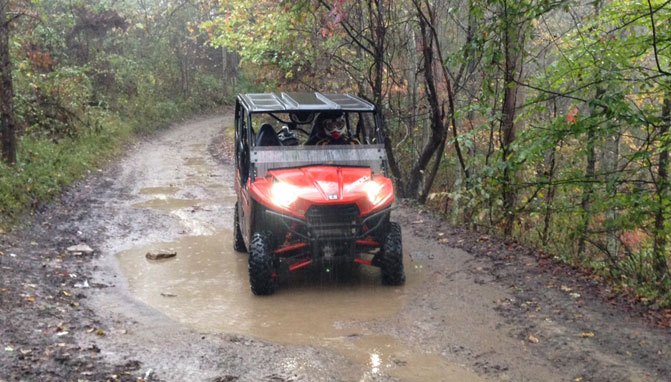 Rain, mud and music in West Virginia
ATV.com made the pilgrimage to Gilbert, West Virginia for the 2015 Gilbert National TrailFest. We arrived late on Thursday, but had enough time to get registered and check into the Stone Creek Lodge before grabbing some dinner and turning in relatively early. We had big plans for Friday (today).
The weather looked promising this morning, but the forecast was calling for rain in the afternoon. Our plan was to install a BOSS Rebel PowerSports sound system and spend the day testing it out. We were still waiting for one small part to ship, but decided to install the speakers and run wire to the amplifier before hitting the trail.
We entered the Rockhouse trail network on Trail 12 then did a short loop around Trails 37 and 17. While we saw dozens of other riders on the trails, everything moved along really well. Both 12 and 17 are really easy to ride, while 37 is a touch more challenging. All of the trails were slick with rain that fell overnight and we got good and muddy in our Kawasaki Teryx4.
The lunch bell was ringing, so we stopped in for fried chicken and calzones at Wally's Restaurant. After filling our bellies, we returned to home base to find the UPS driver dropping off the final piece of our sound system.
We spent the next hour or so finishing off the installation. We eventually solved the puzzle and the music was pumping. Primed to get back out for an afternoon ride, the sky opened up and started pouring down rain. Fortunately, the BOSS Rebel 800 amplifier and MRWT69 speakers are weatherproof.
Undeterred by Mother Nature tricks, we loaded up the Teryx4 and headed back to the Trailhead. We questioned the decision as it was really raining hard, but since we were already wet and the music was pumping, we soldiered on.
As we made our way up Trail 12, most everybody else was exiting down the same trail. This made for some slow going at times, but we wanted to see how the sound system would respond. Turns out it responded just fine. Even with helmets on and the Teryx4 V-Twin growling, we could hear the music providing a soundtrack for our rainy ride.
It's a good thing BOSS Rebel PowerSports equipment is weatherproof!
The sky was grey and darkness was setting in earlier than expected, so we drove to the end of Trail 12 before turning back and heading home to dry off and regroup for Saturday.
Not even rainy skies could put a damper on this view.
The plan for Saturday is to make our way further out a little further into the trail system. We also plan to take in the mud racing and check out the vendor area. Finally, we will pick a winner of the BOSS Rebel PowerSports sound system and give it away.
Published October 9th, 2015 8:20 PM
Top Brands
Popular Articles