1 View
2015 Gilbert National TrailFest Report
November 12th, 2015 4:45 PM
Share
We're committed to finding, researching, and recommending the best products. We earn commissions from purchases you make using links in our articles. Learn more here
Big fun at massive West Virginia ATV and UTV rally
As the editor of ATV.com, I've had the opportunity to enjoy some of the best riding areas in the world. That list includes West Virginia's Hatfield-McCoy trail system, but my only visit was very short. Wanting to get the full Hatfield-McCoy experience, I decided to take part in one of the biggest ATV rallies anywhere –the 2015 Gilbert National TrailFest.
The event is hosted by the town of Gilbert, WV, which is about 80 miles south of Charleston, WV. Though it's off the beaten path from the major highways, the drive into Gilbert is quite stunning as you wind through the Appalachian Mountains. Its location also means it is within a reasonably short drive of Ohio, Kentucky, Pennsylvania, Virginia, North Carolina, and Tennessee. Three friends and I decided to test the boundaries of reasonable and travelled down from Toronto, Ontario.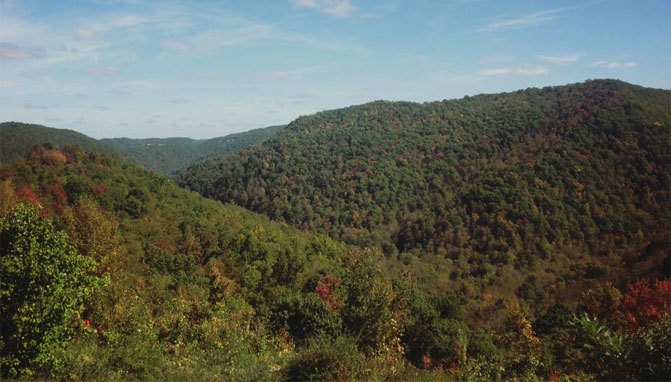 While the drive down to West Virginia was long, we were treated to scenery like this from the interstate.
About three months before TrailFest I decided to find a place to stay. While this would be plenty of notice to find lodging just about anywhere, I was shut out. Gilbert and the surrounding area is home to less than 1,000 people, but that population grows exponentially for TrailFest and accommodations are often booked a year in advance. Every place I called was booked solid. I put myself on many waiting lists and about a month before TrailFest, the Stone Creek Lodge in nearby Justice, WV got a cancellation and gave me a call.
We really wanted to stay in a place connected to the trail so we wouldn't have to trailer in and out. Fortunately, both Justice and Gilbert allow ATVs and UTVs on the roads, so we were able to ride directly from Stone Creek Lodge to the Rockhouse trailhead on the other side of Gilbert. Perfect!
We were able to ride from our lodge in Justice to the Rockhouse trailhead in Gilbert .
With accommodations set, all we needed was something to ride. Kawasaki was kind enough to lend us a Teryx4 four-seat UTV for the event, which we picked up from the mayor of Gilbert, Vivian Livingood. The major was one of many people on hand to help with registration when we arrived on Thursday evening at the Larry Joe Harless Community Center.
A Kawasaki Teryx4 was our chariot for TrailFest. It turned out to be a great choice. We had four adult riders, three over six-feet tall, all sitting comfortably. Thanks to its compact wheelbase, it's a great machine for tight and twisty trails like the ones in West Virginia.
The community center was the hub of activity for TrailFest. We were met at every turn by helpful people showing us where to park, where to register, where to ride, where to eat, where to find gas, and where to buy groceries. How this town of less than 450 handles thousands of visitors so smoothly I'll never know. All around the community center you could see ATVs and UTVs covered in dirt and ready to ride again. The area also hosted a variety of vendors, demo rides, motorcycle trials shows, Youth mini motocross track, drag strip, mud pit, zip lines, concert stage, and more.
The Larry Joe Harless Community Center was a hub of activity during TrailFest.
I wonder if we could do this in a Teryx4?
After completing registration and picking up the Teryx4, we headed back to the lodge and grabbed a bite to eat at The Justonian Restaurant across the street. A 20-something waitress said the four of us were "like the girls from Crossroad s." The youngest member of our group actually knew that was a road trip movie starring Britney Spears. I'm not going to say we all watched it on Netflix at the lodge, but let's just say the waitress was not wrong.
It rained overnight and more was on the forecast, so we knew early on that we were going to get muddy. We threw out any notion of remaining clean almost immediately as we hit deep puddle of standing water with a good bit of speed less than a mile after entering the trail. We spent the rest of the morning riding around Trails 12, 37 and 17. While there were a lot of other riders on the trails, we had no trouble keeping up a good pace.
Our new ATV.com jerseys were quickly initiated with a mud bath.
If you've never been riding in this area, the trails are absolutely worth 620-mile drive we took to get here. Because of the mountainous terrain, many of the trails are on the edge of steep drop-offs, producing some outstanding views. For inexperienced riders, it can also provide for some stomach-clenching moments. If you stick to the green (easiest) trails, the terrain is easy to manage and the blue (intermediate) trails are great fun. But you'd be wise to take it easy on the go pedal. You don't want to end up tumbling hundreds of feet down a tree-strewn hill.
This is the view from the edge of Trail 12.
We returned to the trails after lunch, but the rain was falling pretty had by then. By the time we got to the foot of Trail 12, there was a lot of traffic coming the other way as riders were trying to escape the rain. This led to some pretty slow going, as the trails are not particularly wide. Making room for a UTV going the opposite direction was difficult at times. It took quite a while to make it to the end of Trail 12 with all the traffic and the sky was getting dark in a hurry, so we decided to turn back. We had no traffic problems on the way back, as the majority of riders had long since decided to get out of the increasingly heavy rain. They may have stayed dry, but we had more fun.
A little mud is a sure sign you had a good time.
After drying off and cleaning up, we decided to celebrate our first day at TrailFest with a nightcap (or two) at Razzles, which is a bar connected to the Stone Creek Lodge. All in all, it was a pretty fantastic start to TrailFest.
Mother Nature was far more cooperative on Saturday, but while the rain was done the trails were still muddy. Undeterred, we decided to travel deeper in to the Rockhouse trail system. We had installed a BOSS Rebel PowerSports sound system in the Teryx4 the day before, so we had the music pumping throughout our ride. Trail traffic was noticeably denser than on Friday, but we were travelling in the same direction as the majority of the crowd so it wasn't too bad.
How many people does it take to read a trail map?
Feeling a little more confident, we wanted to test ourselves on a black (hardest) trail, so we made our way to Trail 32. We got about halfway up when we saw three Utility ATVs turning around. Apparently, things got pretty interesting ahead and they decided to turn back. Since we were using a borrowed machine that I wanted to return in one piece, we followed them back down.
We had music pumping through these speakers from BOSS Rebel PowerSports.
Back on the main trails, the plan was to push forward and ride for a couple of hours and come back for a late lunch. As luck would have it, I didn't tighten one of the speakers down properly and it started to come loose. That forced us to turn back and head for the lodge, which turned out to be a huge blessing. As we made our way through the trails, the temperature warning light came on. We stopped to investigate and discovered the radiator was completely covered in mud from the previous afternoon's muddy ride – I forgot to hose it down when got back to the lodge! The radiator was sealed with mud and we limped home with the coolant bubbling. That loose speaker saved us a whole lot of trouble and taught us all a very valuable lesson about properly cleaning our machine after a muddy ride.
We certainly weren't the only ones playing in the mud on Saturday.
Once we were back at the lodge, I gave the Teryx4 a good bath and we replaced the coolant. Then it was time to head back to the community center to check out the vendors and find a good spot for the highlight of TrailFest – the parade.
Hundreds upon hundreds of ATVs and UTVs were lined up and ready for the parade through Gilbert. Even better, because it was so close to Halloween, a lot of people dressed themselves and their machines up in costumes. Far and away the coolest was a Can-Am Maverick dressed up like a dragon – complete with the ability to breathe fire!
If your Can-Am Maverick doesn't breathe fire, you need to bring it back to the dealer for service.
Everybody's favorite video game plumber was part of the parade.
There are no words…
Following the parade we headed back to the community center to check out some live music and mud pit action. Thanks to all the rain and some devious designers, the mud pit was a massive challenge. We didn't see anybody make it through the other end without a tractor pulling them out.
Anybody want to play some MX vs. ATV?
This rider gave it his all before having to get helped out by the tractor.
A fellow Teryx4 rider gave the mud pit a go. It did not end well.
Here's the only person we saw make it through the mud pit.
Feeling worn out from two big days of riding and having fun, we called it a night. Sadly, that marked the end of our TrailFest experience, as we had to pack up the truck and drive back to Toronto the next day.
Despite the weather and self-inflicted mechanical issues, the 2015 Gilbert National TrailFest was one of the highlights of the year for us and we have every intention of returning again and again. The 2016 edition is scheduled for Oct. 6 – 10. Click here for more information or to register. And book your rooms early! Lucas Cooney
I have been working exclusively in digital media since 1997. I started out with TSN.ca, spending nearly nine years creating and editing content on Canada's leading sports website. I left to join VerticalScope, Inc., one of the world's largest online publishers, to start a number of powersports publications. While at VerticalScope, I've helped create and oversee content for a wide variety of different publications, including ATV.com, Off-Road.com, ArcheryTalk.com, Tractor.com, RVGuide.com, and many more.
More by Lucas Cooney
Published October 15th, 2015 11:22 AM
Top Brands
Popular Articles