1 View
Yamaha Giving Away Kodiak 700
January 20th, 2016 12:59 PM
Share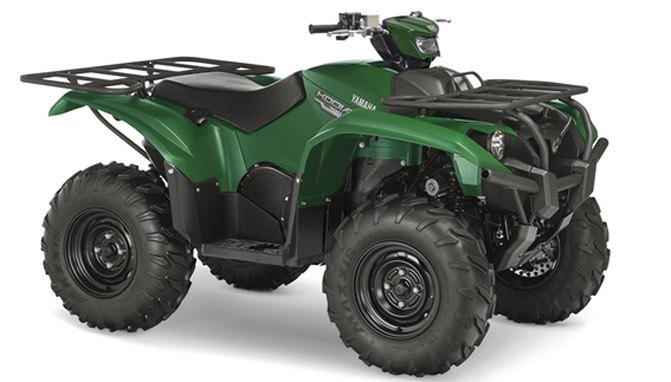 Giveaway part of 2016 National Hunting and Fishing Day sweepstakes
Yamaha is once again supporting the National Hunting and Fishing Day (NHF Day). This year Yamaha will give away a new Kodiak 700 ATV with Electric Power Steering (EPS) through an online sweepstakes at www.yamahaoutdoors.com/nhfday.
This is the ninth year Yamaha is sponsoring NHF Day and working to raise funds and awareness through the sweepstakes. The giveaway is being promoted online and at NHF Day events nationwide. Outdoorsmen and women, 18-years-of-age or older, can enter to win by simply registering online through the end of October 2016.
"Everyone at Yamaha is proud to continue our support of NHF Day and its mission by giving away an all-new Kodiak 700 ATV," said Steve Nessl, marketing manager for Yamaha's ATV/SxS group. "Partnering with key organizations like NHF Day is integral to Yamaha's conservation efforts and outreach to outdoor recreational enthusiasts, and this being our ninth year furthers that point."
According to Yamaha, NHF Day serves as the most effective grassroots effort ever taken to promote outdoor sports and conservation.
"We're delighted to have Yamaha as an important supporter of NHF Day for almost a decade now," said Misty Mitchell, director of conservation programs for America's Wildlife Museum and Aquarium in Springfield, Mo. — the official home of National Hunting and Fishing Day. "I'm excited for NHF Day entrants this year, as the all-new Kodiak 700 is an ATV that's great for the outdoors, and we're looking forward to another incredible turnout on the online sweepstakes and at our events in September."
One lucky entrant, 18 years-of-age or older, will win a 2016 Yamaha Kodiak 700 EPS in Hunter Green, a vehicle Assembled in USA. Total approximate retail value is $8,199. No purchase necessary. Sweepstakes ends 11:59 PM Pacific Standard Time on October 31, 2016. Winner will be determined by random drawing.
For more information on National Hunting and Fishing Day, visit www.nhfday.org. Complete rules, entry details and additional information are available by visiting www.yamahaoutdoors.com/nhfday.
Published January 20th, 2016 12:59 PM
Top Brands
Popular Articles