1 View
Fowler Continues Hot Start With Win at FMF Steele Creek GNCC
April 14th, 2016 3:00 PM
Share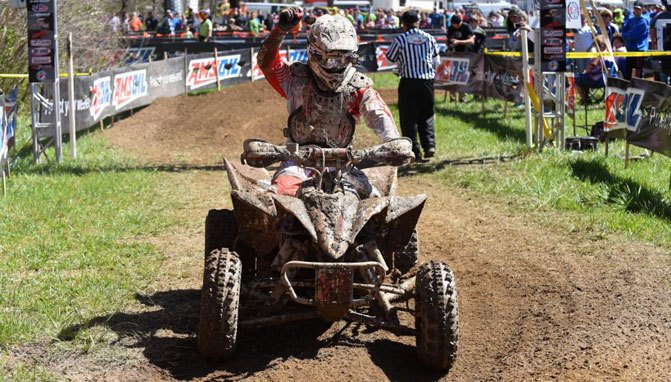 McGill, Neal join Fowler on XC1 Pro podium
(Press Release) The 2016 AMSOIL Grand National Cross Country (GNCC) Series presented by Maxxis, an AMA National Championship, continued today with the 16th Annual FMF Steele Creek GNCC located at the popular Steele Creek Campground in Morganton, North Carolina. Yesterday's rain left the track a bit muddy to begin the day, but it did not take long for the track to dry out and create near perfect track conditions by the time the 1 p.m. pro race took to the North Carolina woods.
At the end of the two-hour race it was N-Fab/Maxxis/AmPro Yamaha/Lonestar/MXP's Walker Fowler who emerged victorious setting himself up for a three-race winning streak. Fowler jumped out to the early lead claiming the $250 Wiseco XC1 ATV Holeshot Award while starting to slowly pull away from the rest of the pack. However, Precision/Axis/Maxxis-backed Jay Shadron was following closely in second.
Overall Podium: (2) Adam McGill, (1) Walker Fowler, (3) Brycen Neal (Photo by Ken Hill)
As the first lap wore on, Fowler and Shadron began to separate themselves from the rest of the pack while the racing tightened up behind them. CST/LSR/Induction Solutions/DeRisi/SG/Tire Blocks' Adam McGill and Maxxis/Fly Racing/HMF/Ye Olde Cycle Barn/Suzukis Chris Borich began the fight for third.
On the second lap of the four-lap race, Fowler had pulled a twenty second lead on Shadron who still maintained the second place position until McGill was able to work his way around him. The racing action really heated up during the third lap where the top three racers were suddenly wheel-to-wheel all battling for the lead. With reports of Fowler looking down at his quad, the crowd anticipated an extra pit stop but was shocked when he decided to keep pushing.
"My quad was starting to run hot," said Fowler. "After the race we pulled the cover off and noticed a lot of leaves and mud. The lapped riders were brutal this race and I got a little close a couple of times and it just packed the radiator in, but Moto-Xperts and Evans Cooling Systems held everything together."
The decision to keep racing and avoid an extra pit stop paid off in the end when Fowler crossed the finish line first. He was followed by last year's Steele Creek GNCC winner, McGill, who made his first podium appearance of the season.
McGill made his first podium appearance of the season with second overall. (Photo by Ken Hill)
"It feels great to be back on the podium," said McGill. "I felt like the bike was there the whole time this season and I just personally haven't been ready, but now it's all fitting together and it's good to be back where I know I'm supposed to be."
Unfortunately, Shadron suffered a mechanical issue on the last lap ultimately putting him out of the race. Coastal Racing/MSR/Maxxis' Brycen Neal capitalized on Shadron's misfortune and moved up into the third place position. As he crossed the finish line third overall, Borich was right on his back bumper in fourth.
CST/LSR/Induction Solutions/DeRisi/SG/Tire Blocks' Cole Richardson had his season best finish crossing the line in fifth, followed by BNR/Moose Racing/Maxxis-backed Josh Merritt in sixth and Show Hauler/Canyon Motorsports/GBC's Landon Wolfe in seventh overall.
In the XC2 Pro-Am division, it was New Jersey's Randy Hamilton who shot out to secure the $100 All Balls Racing Holeshot Award and the early lead. As the checkered flag waved it would be BNR Motorsports/GBC/Moose Racing's Kevin Yoho to see it first. Yoho was followed by current points leader and Hygear Suspension/Waynesburg Yamaha/FLY Racing/Moto-Xperts/Spider Graphix-backed Greg Covert in second and Pierce Performance's Cody Collier in third.
Randy Hamilton grabbed the $100 All Balls Racing Holeshot Award. (Photo by Ken Hill)
"I had to make my way through the pack today," said Yoho. "I kept swapping positions back and forth with Marty Christofferson, but overall the whole XC2 Pro-Am class rode great today and I'm just happy to take the win."
Ithaca Recreation Sports/Maxxis/Seat Concepts/Quad Tech/Stormpeak Crossfit's Hunter Hart not only won the College A (16-21) division, but also finished 20th overall where he was named the overall amateur of the day.
After adjusted time, Schoolboy Sr. (14-17) competitor John Glauda Jr. came out with top amateur honors taking home to overall and class win in the 10 a.m. race. Super Senior (45+) class winner Bryan Hulsey placed second, followed by the 4×4 Pro Class winner Jordan Phillips.
The 4×4 Pro podium consisted of North Carolina native Jordan Phillips, Team UXC Racing's Michael Swift in second and Can-Am/QuadBoss' Bryan Buckhannon who claimed the third place position.
4×4 Pro Podium: (3) Bryan Buckhannon, (1) Jordan Phillips, (2) Michael Swift (Photo by Ken Hill)
In the WMX division it was Ye Olde Cycle Barn/Maxxis/Fox Shocks' Alicia McCormick who claimed gold with Houser Racing/Root River Racing/Motowox's Megan Shepherd in second and Precision Racing/Maxxis/Pro Graph-X's Cheyanne Shadron in third.
The 8 a.m. youth race took to the North Carolina woods to begin the day. At the end of the muddy hour-long race it was Haden Nicholson who took the overall win, marking his first ever overall youth win. Indiana's Michael Myers and Yamaha rider Tyler Valentine rounded out the podium.
Overall ATV Youth: (2) Michael Myers, (1) Haden Nicholson, (3) Tyler Valentine (Photo by Ken Hill)
The 1 p.m. race was broadcast LIVE in its entirety on RacerTV.com and can be viewed as an archived video now online by visiting the GNCC LIVE page online.
The 2016 AMSOIL Grand National Cross Country Series resumes April 16 and 17 with the VP Racing Fuels Big Buck GNCC in Union, South Carolina.
For more information on the series, visit the official website at www.gnccracing.com or call (304) 284-0084. Join the conversation on the series Facebook page, follow us on Twitter and Instagram, and be sure to always hashtag
2016 GNCC Championship Standings
Walker Fowler (90)
Brycen Neal (67)
Chris Borich (64)
Adam McGill (59)
Josh Merritt (44)
Landon Wolfe (38)
Cole Richardson (38)
Greg Covert (37)
Jarrod McClure (34)
Johnny Gallagher (32)
Published April 4th, 2016 3:59 PM