1 View
Fowler Continues Hot Start With Win at FMF Steele Creek GNCC
April 1st, 2019 10:13 AM
Share
We're committed to finding, researching, and recommending the best products. We earn commissions from purchases you make using links in our articles. Learn more here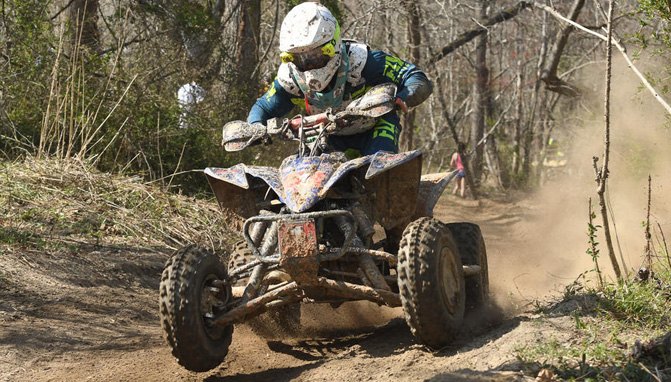 Neal, McClure join Fowler on XC1 podium
The 2019 AMSOIL Grand National Cross Country (GNCC) Series presented by Specialized, an AMA National Championship headed to North Carolina for round three, the 20th Annual FMF Steele Creek GNCC. After two hours intense racing, it was WFR/GBC/Fly Racing/Yamaha's Walker Fowler taking his third-straight win of the season.
Fowler would make his way into the lead after Yamaha/AmPro/Action Offroad/GBC's Cole Richardson grabbed the $250 Wiseco XC1 holeshot award. Richardson found himself running in a podium position throughout the first couple laps, however after completing the third lap of the race Richardson would be unable to finish after a crash caused his ATV's A-arm to break. For Fowler it was a different story, leading from lap one until the checkered flag flew at Steele Creek.
After a rough start to the season LanMills XC/CST Tires/Houser/Yamaha's Brycen Neal battled back, earning his first podium finish of the season with a second overall. Neal and Richardson would swap the second and third place position multiple times on the opening laps, but Neal would have the consistency throughout the two hour race to land himself in the top three.
Brycen Neal made his comeback after a rough start to the season, finishing second overall. (Photo by Ken Hill)
Maxxis/Elka/Moose Racing's Jarrod McClure came through timing and scoring fourth on the first lap of the day, but it wouldn't take long for McClure to make his move for a podium finishing position. McClure also had a bumpy start to the season, but has shown that he has put in the work and is ready to contest for the win after earning third overall in North Carolina yesterday.
OBOR/Moose Racing/Parts Unlimited/McGill Mafia Adam McGill found himself engaging in some heated battles as he worked his way through the pack. McGill started the race back in sixth, but put his head down and pushed for the duration of the race managing to work his way up to fourth overall. McGill currently sits second in the points standings, 29 points behind Fowler.
Jarrod McClure put in the work, and made his way to third overall in North Carolina. (Photo by Ken Hill)
Unfortunately for Maxxis/Fly Racing/Ye Olde Cycle Barn's Chris Borich, his podium finish streak came to an end this weekend. However, Borich did remain consistent finishing fifth overall on the day and earning valuable points towards the championship as he currently sits third in the standings.
Maxxis/Ithaca Recreation Sports/Fly Racing's Hart came through just outside the top five, with a sixth overall on the day. Hart is currently in his XC1 rookie season, but has shown tremendous patience and consistency at the first three rounds of the 2019 season. GBC/Fly Racing/HMF/Yamaha's Johnny Gallagher fought his way back from a 10th place start. Gallagher steadily worked his way through the riders as he climbed to seventh overall by the time the checkered flag came out.
BNR Motorsports/GBC Motorsports/HMF Racing's Joshua Merritt came through eighth in XC1 and ninth overall on the day. While Spider Graphix/GBC Motorsports/Moose Racing's Martin Christofferson earned ninth in XC1 and finished just outside the top 10 overall with an eleventh. Coming in 10th in his class was Ryland Johnson Racing/GBC Motorsports/Ye Olde Cycle Barn's Westley Wolfe.
John Glauda Jr. (center), Drew Landers (right) and Wyatt Wilkin (left) rounded out the XC2 Pro-Am podium. (Photo by Ken Hill)
North Carolina native Pierce Performance/Maxxis/Waynesburg Yamaha's John Glauda Jr. earned his third-straight XC2 Pro-Am class win of the season in front of his home state fans. Along with the class win Glauda Jr. earned eighth overall on the day. After grabbing the $100 All Balls Racing holeshot award, LanMills XC/CST Tires/Moose Racing's Drew Landers found himself battling back to challenge for the class win. Landers would manage to earn another second place finish and continues to sit just 15 points behind Glauda Jr. in the points standings. Honda's Wyatt Wilkin was a new face on the XC2 podium this weekend, as he finished third in the XC2 class.
As the 11 a.m. race took off Can-Am's Robbie Pecorari found himself leading the way, but as Pecorari headed out on the third lap a mechanical issue would make it impossible for him to finish the race. As Can-Am/CST Tires/Tire Spine's Dwight Pollard took over the lead on lap three, Can-Am/OBOR Tires/Derisi Racing's Landon Wolfe was .764 seconds behind him.
Landon Wolfe had a close battle all day long, finishing first overall with 1.115 seconds to spare. (Photo by Ken Hill)
Wolfe would make the pass on Pollard, but the two would make it a battle to the checkered as they came in each lap seconds apart. Wolfe would manage to hold off Pollard by 1.115 seconds as the checkered flag flew. Phoenix Honda Racing's Haedyn Mickelson would earn his first 4×4 Pro class podium after coming through third in his class, but fourth overall. Schoolboy Sr. racer, Layne McCormick came through with an impressive third overall, earning his second class win of the season.
At the conclusion of the race it was GBC Motorsports/Yamaha/Fly Racing's Traci Pickens coming through fifth overall and taking her second-straight WXC class win of the year. Ye Olde Cycle Barn/Pierce Performance/Hammer Nutrition's Alicia McCormick battled her way through earning second in WXC, followed by Honda's Megan Shepherd rounding out your Steele Creek GNCC WXC top three.
As the 8 a.m. racers took to the course first it was the Kentucky boys, Damien Hawkins and Bryce Husband coming through first and second overall and in the YXC1 Super Mini Jr. (13-15) class. Parker Henderson earned his third-straight podium finish of the year with a third overall and in the YXC1 class. Charlie Stewart took his third consecutive YXC2 Super Mini Jr. (12-13) class win of the year, earning sixth overall in the youth race.
Damien Hawkins (center), Bryce Husband (right) and Parker Henderson (left) made up the youth overall podium at Steele Creek. (Photo by Ken Hill)
In the Micro (50cc) ATV racing, West Virginia's Garrett Cox and Bodie Buckhannon came through first and second overall and in the MXC1 (8-9) class. Tyler McLaughlin raced to his second MXC2 (6-8) class win of the season, and a third overall. In the Micro (50cc) Bike racing it was MXC1 competitors Brian Poindexter, Hunter Porco and Colby Goodman rounding out the top three overall. Morganton's own Maddox Moretz came through in fifth overall, while earning his second class win of the season.
Round two of the Specialized Turbo eMTB GNCC National Championship took place at the FMF Steele Creek GNCC on Saturday afternoon. As the racers took off it was Charlie Mullins with the early lead. Mullins was on a mission once again as he led every lap of the eMTB race, earning the round two overall win ahead of Specialized's Seth Stevens and mountain bike hall of famer, Nat Ross.
Charlie Mullins earned the win at round two of the Specialized Turbo eMTB GNCC National Championship Series. (Photo by Ken Hill)
Out of 44 nominations, the FMF Steele Creek AMSOIL Moto Hero was awarded to Kristin Power of Salisbury, North Carolina. Power is a third year old US Navy Veteran. She served from 2012-2018 as a Sonar Technician on the USS Porter in the Sixth Fleet. She was deployed out of Rota, Spain, and completed four patrols in the Mediterranean, Aegean and Black Seas. Her main mission was Ballistic Missile Defense, with the focus on anti-submarine warfare. She tracked submarines in Russia, France, Turkey, Israel, The Netherlands, United Kingdom, United States and Spanish Naval Forces. Power raced in the 11 a.m. Women's ATV class
The 2 p.m. ATV Pro race was broadcast LIVE in its entirety on RacerTV.com and can be viewed as archived video online by visiting the GNCC LIVE page online. A highlight show featuring the event will be aired on the NBC Sports Network on Saturday, June 15 at 2:30 p.m. EST.
Kristin Power was recognized as the FMF Steele Creek AMSOIL Moto Hero, and awarded a set of GBC tires and $250 AMSOIL Shopping spree. (Photo by Ken Hill)
The 2019 GNCC Series returns in two weeks, April 13-14, with the CST Tires Camp Coker Bullet in Society Hill, South Carolina. This event will host a handful of special events throughout the weekend for everyone in the family. Be sure to keep an eye on the event page for up-to-date times and events.
For more information on the GNCC series, visit the official website at www.gnccracing.com.
XC1 Pro Event Results
Walker Fowler (YAM)
Brycen Neal (YAM)
Jarrod McClure (HON)
Adam McGill (HON)
Chris Borich (SUZ)
Hunter Hart (YAM)
Johnny Gallagher (YAM)
Joshua Merritt (YAM)
Martin Christofferson (HON)
Westley Wolfe (SUZ)
Overall National Championship Standings
Walker Fowler (90)
Adam McGill (61)
Chris Borich (58)
Brycen Neal (46)
Hunter Hart (45)
Cole Richardson (43)
Johnny Gallagher (39)
Jarrod McClure (36)
John Glauda Jr. (36)
Westley Wolfe (34) Published April 1st, 2019 10:13 AM
Top Brands
Popular Articles