1 View
New HD5 Beadlock Bronze UTV Wheels From STI Unveiled
February 23rd, 2017 5:07 PM
Share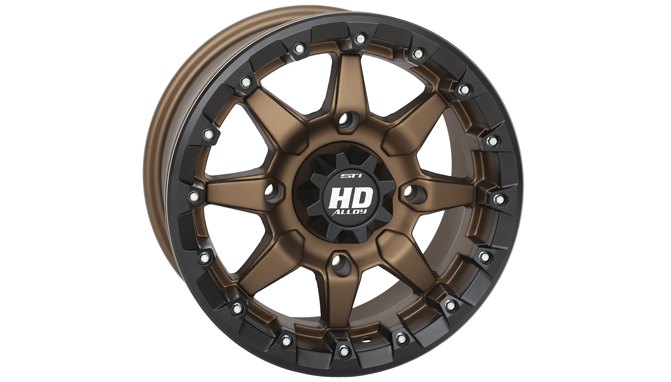 UTV wheels available in 14- and 15-inch sizes
The strongest wheel in the STI HD Alloy Beadlock lineup gets a new look for 2017; introducing the HD5 Beadlock Bronze UTV wheels. The rich bronze style of these beadlock wheels is durable and adds unique appeal to any UTV.
Available in 14-inch and 15-inch sizes, the new HD5 Beadlock Bronze UTV wheels are manufactured with a 5+2 offset for optimized handling, and to help 50-inch wide UTVs maintain their trail stance. Heavy-duty beadlock rings are secured with strong, reinforced hardware to deliver increased tire-clamping pressure for the ultimate beadlock security. The wheels also feature a reinforced inner bead lip to maintain wheel strength.
Along with the new matte-finish Bronze style, the HD5 Beadlock wheels are available in Machined with Gloss Black, and Matte Black finishes. To help owners customize the style, STI beadlock rings are available in several machine-matching colors, including the new bronze, plus orange, yellow, green, red, blue, black, grey, white, pink, candy red, candy blue, and a raw finish for special customizing.
The 14×7 HD5 Beadlock Bronze has a suggested retail price of $151.13; and the 15×7 retails for $169.34. All STI tires and wheels are distributed in the U.S. by MTA Distributing, and in Canada by Motovan.
Published February 23rd, 2017 5:07 PM