5 Views
Backcountry Riding in Madawaska Valley, Ontario
September 1st, 2017 4:03 PM
Share
We're committed to finding, researching, and recommending the best products. We earn commissions from purchases you make using links in our articles. Learn more here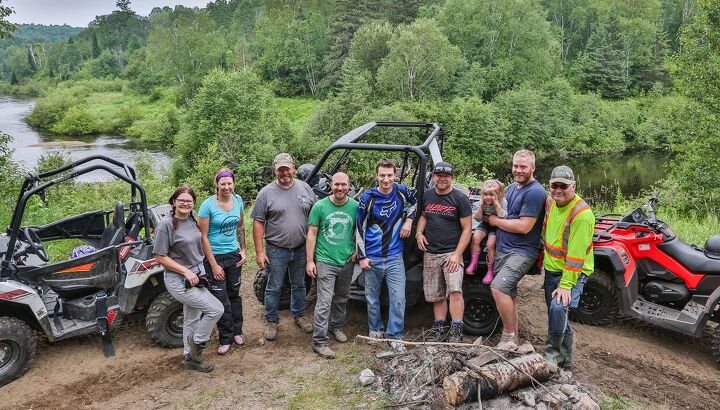 I recently went on an awesome ATV adventure on the backcountry trails of the Madawaska Valley in Ontario, Canada.
I love ATVing in Ontario, Canada – the trails here are quiet, the volunteers are passionate and take trail maintenance seriously, and you can visit parts of the country that would otherwise be completely inaccessible.
I spend most of my time in Northern Ontario – I truly believe it is one of the most special destinations in the world. I've been all over the world, and although every country, continent, and city has something special about it, Northern Ontario is truly different. The difference is access to remote spaces.
While you could take the Road of Bones through Madigan in Russia, you'd be doing it at a snail's pace and would struggle the whole way along. While in Northern Ontario, you can drive hundreds of miles into the wilderness on paved roads with electricity and cell service, and then dive into the bush on backroads and be out in time for dinner at a cozy local diner (or a Tim Horton's).
ATVing in Madawaska Valley on the Renfrew County ATV trails is very much this experience. In the area surrounding Barry's Bay, Combermere, Wilno and Killaloe (pronounced Killaloo), there are few people and lots of space. There's no major 400 series highways in this neck of the woods, so the roads and towns are pretty and quiet.
The trails here are close in proximity to Algonquin Park – some big and small hills, lots of trees and lots of rock. These trails also stretch all the way to the Ottawa River and the border of Quebec, with some talk floating around of trails even reaching the legendary Mattawa VMUTS trails in the future.
Barry's Bay is an ATV-friendly town
For my one day trek through the area, me and few buds (Ryan Tarrant and Shelby Mahon) staged out of Barry's Bay – about 20 minutes away from our trailhead. We stayed at the Pinewood Inn, an ATV-friendly motel, but we would have had an incredible pick of accommodations as almost every other place in the valley caters to powersports – notables including the Ash Grove Inn, where we had breakfast and dinner most days. They even have a dock for people who want to boat in for their meals.
Over the next 24 hours would did a decent sized loop that took us to just a few of the killer features throughout the trail system; an outlook over a river with an industrial era boiler sitting mid-river, a climb to a big vista of one of the many valleys in the area, and a challenging water-crossing.
The trailhead had plenty of parking for five big trucks and trailers, and we all unloaded without incident – we took a peek at the water crossing about five minutes down the road to make sure the water wasn't too deep and ran into a couple camping on Crown Land – another incredible thing you can do wherever you find a spot in Northern Ontario. They had a full off-grid RV setup and were enjoying some time by the river.
We headed over to the lookout over the boiler, but there were a few trees freshly down. The trail patrol made quick work of this and we were back on our way. It's a testament to how well kept these trails are that we didn't see another tree across our path for the rest of the day.
The lookout at the boiler was great – a perfect place for a quick stop to appreciate the backcountry. This is exactly what I mean when I say these trails allow you to see parts of the country that would never be seen otherwise. We all took a deep breath and started on our ride in earnest.
Over the next section we rode close to some big lakes and marshes. We met a few other ATVers who had portaged a canoe into these quiet, unpopulated lakes. A few tossed their lines in the water and were likely richly rewarded given the remoteness of these waterways. It's not often you get to ride with lakes right beside the trail.
We reached the first part of an ascent that would take us to a major lookout in the area, and we all had a great time bouncing our way up the rocky trail. The tall trees right around the trail made the whole thing feel like even more of an adventure – almost like something out of a movie.
There were two paths up to the lookout, both well signed and easy to follow. Unlike other parts of Ontario, the Renfrew ATV Club shares a lot of its trails with the snowmobile clubs – a great idea, and puts a smile on my face to see powersports clubs cooperating. We took the easier path as there were a few UTVs with us that day, but I'm eager to go back with my quad and tackle the harder challenge one day soon.
I'd been to this lookout before, in the winter, and it's majestic even with all the leaves off the trees. But this was a brilliant sunny day, with only a smattering of clouds in the sky, and the forest was at its most vibrant with a narrow band of blue water winding its way through the deep green of the boreal forest, framed by another big hill in the distance.
It's safe to say that everyone quickly took out their cameras to try and capture this epic scenery. We reluctantly mounted our quads and jumped back on the trail with a lunch destination at Spectacle Lake Lodge. I've known owner/operator Sharon Muhassier for a long time, and I like to think the warm welcome is something that is reserved especially for me, but who am I kidding. She treats all of her guests with incredible warmth, and there's a reason Spectacle Lake is a go-to for thousands of guests and families every year.
After a killer lunch (I had the burger and fries and they were just the way I like them) we headed back to town, but not before cooling off with a little water crossing.
The Renfrew Country ATV Club is part of the Eastern Ontario Trail Alliance. An annual pass is $150 and helps keep the trails in amazing condition all season long. I can personally attest to that – but perhaps what's most important to share about this trip is just how incredible the connection to the natural world is – and that all types of riders are welcome here; backcountry campers, paddlers, anglers, technical ATV riders. There's tons of space for everyone.
For more information about the area, visit MadawaskaValley.ca. Published August 29th, 2017 5:10 PM
Top Brands
Popular Articles