1 View
Passenger Grab Bar Patent Provides Another Look at Kawasaki Sport UTV
August 14th, 2019 6:39 PM
Share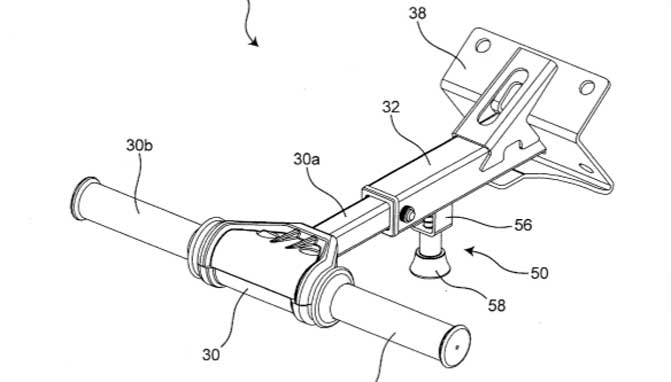 Official unveil of the vehicle slated for this October
We've been waiting impatiently for the release of the new Kawasaki Sport UTV this October. And while we still haven't seen a good picture of one, a patent application for a passenger grab bar did provide another look at what is to come.
For those interested, the grab bar is reminiscent of the T-style "oh s@#%" bar you'd find in a Polaris RZR or Honda Talon. Here is how Kawasaki describes it in the patent application.
A utility vehicle includes a passenger grip including a handle grip having an arm part extending from a dashboard toward the passenger seat, and a grip part at the arm part and gripped by the crew seated on the passenger seat, a holder outserted to the arm part of the handle grip and holding the arm part movably forward and backward in an extending direction of the arm part, and a single-action lock mechanism at the holder and fixing the handle grip to the holder. The single-action lock mechanism includes a lock pin having a distal end penetrating a through hole at the holder and engaged with an engagement hole at the arm part, a spring biasing the lock pin toward the arm part, a housing fixed to the holder and accommodating the lock pin and the spring, a knob outside the housing and connected to the lock pin.
Talk about this at KRXForum.com
Not exactly riveting stuff, but at least it gives some insight into what is to come with the Kawasaki Sport UTV we've all been waiting so long to see.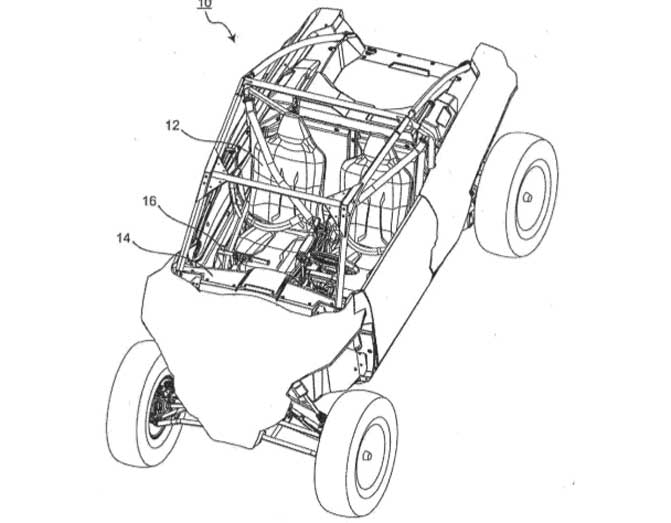 The patent application also includes a variety of drawings depicting the grab bar, as well as some drawings of the vehicle in general, which showcase the curved ROPS we've talked about before.
Kawasaki will officially take the covers off the new machine on October 7, which is now less than two months away!
Also discuss this story at our 2020 Kawasaki KRX Forum
Published August 9th, 2019 1:27 PM
Top Brands
Popular Articles