1 View
Check Out This New Flying UTV Patent
May 13th, 2020 3:30 PM
Share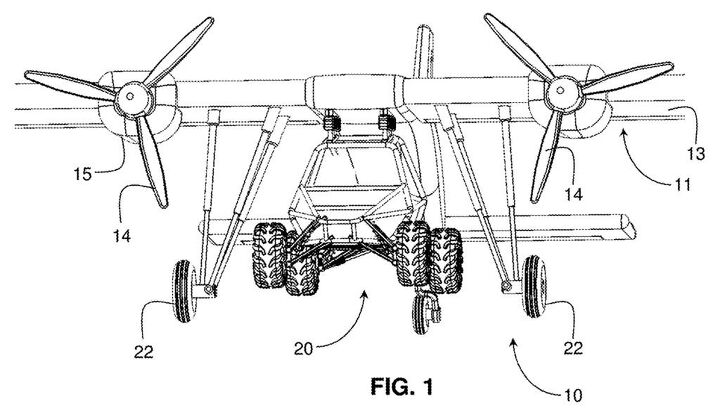 Patent documents show two versions of a UTV that takes to the skies
A flying UTV, while certainly a bit strange, is not entirely unheard of. In fact, we've even gone for a ride in such a machine ourselves a while back, which you can read about here.
That SkyRunner that we tested looks a lot different from the Flying UTV we found in a recently published patent application. Check it out for yourselves right here.
Where the SkyRunner got itself airborne thanks to a large fan and a parachute, this patent application shows a vehicle with attachable wings and another with four horizontal propellers like you'd see on a modern drone.
Here's how the inventor, Moshe Levy, describes invention in the patent application abstract:
A universal aerial platform [that] supports lift elements, thrusters, landing gear and a fuel supply and has a coupling mechanism external to the aerial platform for coupling to a terrain vehicle [utv] so as to convert any suitably adapted terrain vehicle to a flying vehicle. The terrain vehicle forms the cockpit of the flying vehicle. The terrain vehicle includes flight controls that are automatically coupled to the airplane structure either wirelessly or by wires when the terrain vehicle is coupled thereto.
As it appears in the drawings in the patent application, the "terrain vehicle" appears to be a two-seat UTV and the airplane structure attaches to a mounting location on top of the ROPS/roll cage.
In the patent applications summary, the inventor says his idea is to "provide a universal airplane structure that may be coupled to any suitably adapted terrain vehicle and thereby convert it into a flying car."
Looking at the drawings, one concern is how large of a footprint this vehicle would have. The version with the drone-like horizontal propellers looks absolutely enormous. Even the version with airplane-like wings is huge. While it looks like you can drive this like a regular UTV when you don't need to fly, we can't imagine that hooking everything up safety and securely would be a fast process.
The other major concern of a vehicle like this is cost. The SkyRunner seems a lot more simple in design and if you want to order one of those now, it will cost you $230,000. While it will obviously be a niche vehicle, just how expensive would this particular flying UTV cost?
Whether or not this flying UTV ever results in a working prototype, let alone reaches production, is unknown. But it sure is fun to think about the possibility.
Check out the full patent application for more detailed descriptions of this proposed invention.
Published May 13th, 2020 3:27 PM
Top Brands
Popular Articles