1 View
Check Out These Kawasaki Sport UTV Patent Drawings
August 14th, 2019 6:37 PM
Share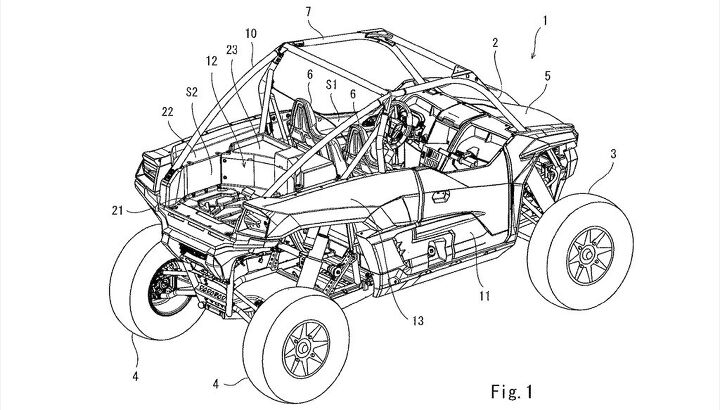 We unearthed some drawings from an approved patent application for a Kawasaki Sport UTV, which lends some credibility to the long-rumored vehicle. Check out the patent here.
While this doesn't mean a Kawasaki Sport UTV is guaranteed to be coming to a dealer near you, it is certainly a big step in the right direction for Team Green loyalists who've been waiting for Kawasaki to challenge the likes of the Polaris RZR and Can-Am Maverick.
Looking at the illustrations, we are seeing elements of a curved roll over protective structure (ROPS). We were the first to write about Kawasaki's curved ROPS back in December of 2019, which you can read about here. We found further information and drawings of the curved ROPS design a few months later. The idea is that the curved design will make it easier to flip the vehicle back onto its wheels in the event of a roll over.
Kawasaki KRX?
Should this Sport UTV ever come to market, our best guess is it is going to be called the Kawasaki KRX. That name has been trademarked (along with Teryx KRX) by Kawasaki in Europe and the United States.
Talk about this at KRXForum.com
Features
While the illustrations are subject to change, we are seeing what appears to be two heavily bolstered seats for a driver and passenger.
The bed looks quite compact, which is not entirely unlike the Teryx4 or just about any other Sport UTV on the market.
As for shocks, on the rear is visible and it looks significantly beefier than what we've seen on the Teryx.
Bottom Line
Sadly, that is all the information we have at the moment. We wish we could tell you that the Kawasaki KRX is in the pipeline and ready for production soon, but it could be many months or even years away – if it happens at all. We will be on the lookout for any further information and share it as comes.
Also discuss this story at our 2020 Kawasaki KRX Forum
Published February 14th, 2019 4:06 PM
Top Brands
Popular Articles