1 View
2018 Can-Am Commander Mossy Oak Edition vs. Polaris General Hunting Edition: By the Numbers
October 13th, 2017 3:59 PM
Share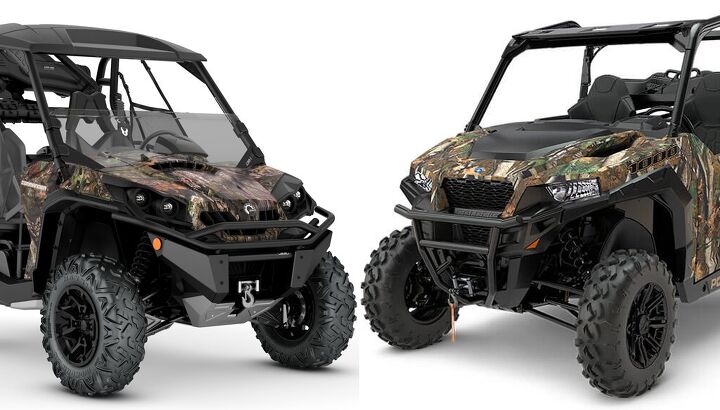 The 2018 Can-Am Commander Mossy Oak Edition and Polaris General Hunting Edition are a pair of Sport-Utilty UTVs ready for action in the woods. Let's see how they compare…by the numbers.
Now that we're into fall and the hunting season, a lot of UTVs are getting pressed into service as hunting rigs as well as utility machines. But what if you don't want as much utility as a Polaris Ranger, or Can-Am Defender, but still want a capable hunting machine? There are a lot of UTV owners who want more recreation than utility functionality, and for those buyers, Polaris makes the General and Can-Am has long had the Commander.
Both of these are amazing trail machines and a lot of fun to drive. They are also both offered up as hunting editions that make them perfect rigs for the adventuring outdoors person looking for the fastest way to the hunt. Which is better for you? Let's take a look by the numbers.
| | | |
| --- | --- | --- |
| | 2018 Can-Am Commander Mossy Oak Hunting Edition | 2018 Polaris General Hunting Edition |
| Price | $18,899 | $18,999 |
| Engine | 976cc Rotax V-Twin | 999cc ProStar twin cylinder |
| Horsepower | 92 | 100 |
| Driveline/Differential | 2WD / 4WD with Visco-Lok QE auto-locking front differential | On-Demand True AWD/2WD/VersaTrac Turf Mode |
| Transmission | CVT, L / H / N / R / P, standard engine braking | Automatic PVT P/R/N/L/H; Shaft |
| Wheelbase | 75.8 in | 81.0 in |
| Overall Dimensions (LxWxH) | 120.2 x 62.5 x 72 in | 118.2 x 62.5 x 73.8 in |
| Weight | 1,291 lbs | 1,491 lbs |
| Front Tires | Maxxis Bighorn 2.0 27 x 9 x 14 in | 27 x 9-14; Maxxis Coronado |
| Rear Tires | Maxxis Bighorn 2.0 27 x 11 x 14 in | 27 x 11-14; Maxxis Coronado |
| Ground Clearance | 11.0 in | 12.0 in |
| Fuel Capacity | 10.0 gal | 9.5 gal |
| Front Suspension | Dual A-arm; 10 in. Sway bar | Dual A-arm 12.25 in. |
| Rear Suspension | Tortional Trailing independent ar,; 10 in; Sway bar | Dual A-arm, IRS 13.2 in. |
| Front /Rear Brakes | Dual 220mm disc front, Single 214mm disc rear | 4-Wheel Hydraulic Disc with Dual-Bore Front Calipers |
| Bed Capacity | 600 lbs / dual level | 600 lbs |
More Power
With hunting, it used to be simple and laid back. Now there is a definite level of athleticism involved. Take a look at what companies like Sitka and Under Armor are doing on the hunting clothing market to see that. Performance hunting is a thing, and, luckily for us, it extends into the UTV world, too.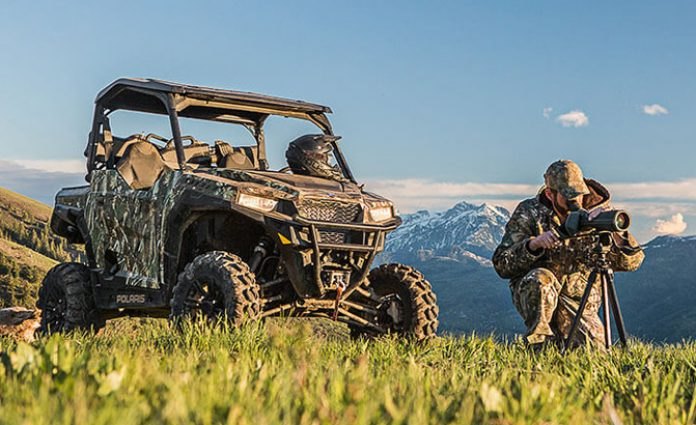 Both of these machines have a more powerful engine than their utility cousins. The General runs Polaris' 999cc ProStar Twin cylinder that pumps out 100 horses. This platform is proving to be a favorite with consumers and is proof that you'll never run out of ponies when riding with the General. New for 2018, Can-Am bumped up the horsepower of the Commander. The new model has a 976cc Rotax V-Twin that produces 92 horses of extremely torquey power. Anyone who has driven a Can-Am gushes about the engine being awesome, and the additional power of the 2018 model is sure to be a hit with buyers.
Special Editions
So what separates these models from their base models? With the General, there are only a few things, but they are bigger things. Most notable is the Polaris Pursuit camo the General comes in. This is a great looking pattern that Polaris really should offer in more clothing. Polaris also added a low-profile sport bumper, 4,500-pound Polaris winch, and Polaris' Lock-n-Ride gun scabbards. It also has EPS and 27-inch Maxxis Coronado tires. The Polaris General Hunting Edition starts at $18,999 U.S.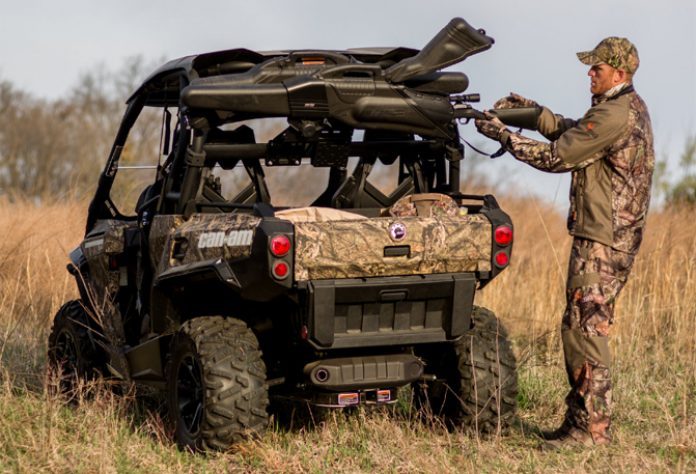 With the 2018 Commander, there's a lot that has been added over the base model. Can-Am adds Mossy Oak Break Up Country camo for the color scheme. Other additions include extreme front and rear bumpers, bed rails, mud guards, full aluminum skid plates, 4,500-pound Can-Am winch, dual Kolpin gun scabbards, half-windshield and roof. The Commander has Tri-mode power steering, and 27-inch Maxxis Bighorn 2.0 tires. The Can-Am Commander Mossy Oak Hunting Edition starts at $18,899 U.S.
So…
Overall the machines are very close dimension wise. The Commander has a 75.8-inch wheelbase and the General has an 81-inch wheelbase. The General has one more inch of ground clearance than the Commander's 11 inches. They both can tow up to 1,500 pounds and both have two-inch receivers.
It's a pretty close call between these two extremely capable hunting rigs. So close that, in the end, it will most likely come down to your personal preference as to which one is best for you.
Learn more about the 2018 Can-Am Commander Mossy Oak Hunting Edition by visiting your local dealer, or by going to https://can-am.brp.com/off-road/side-by-side/commander/commander-mossy-oak-hunting-edition.html . If the 2018 Polaris General Hunting Edition catches your eye, drop in to your local Polaris dealer to check one out. You can also find more info at https://general.polaris.com/en-us/general-1000-eps-hunter-edition/specs/.
Published October 13th, 2017 3:51 PM
Top Brands
Popular Articles