25 Views
2018 Yamaha Wolverine X4 vs. 2018 Kawasaki Teryx4: By the Numbers
September 15th, 2017 2:13 PM
Share
We're committed to finding, researching, and recommending the best products. We earn commissions from purchases you make using links in our articles. Learn more here
When the Yamaha Wolverine X4 was unveiled earlier this week, the multi-passenger UTV drew comparisons to the Kawasaki Teryx4.
With its short wheelbase and Twin-cylinder engine, it would seem (at least on paper) that the Kawasaki Teryx4 is the most logical comparison. Time to take a closer look…by the numbers.
Before we start, there's something you should know. We've spent a lot of time in the Teryx4. And while we haven't spent any seat time in the Wolverine X4 as of this writing, we had the chance to sit and chat extensively with the guys at Yamaha who designed it from the ground up.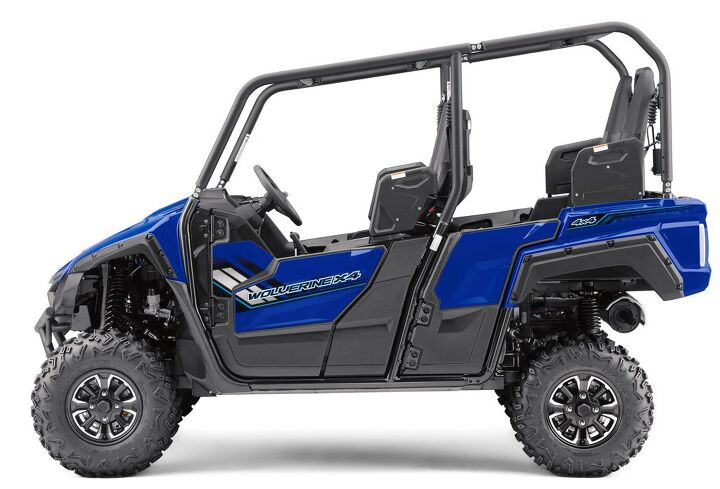 It's not really fair to compare these two machines based solely from the specifications. Yamaha didn't set out to design a new machine to go head-to-head with the Teryx, and unless you haven't been paying attention to what Yamaha has done over the past several decades, you'd know that Yamaha never sets out to create a machine to compete directly with any specific model. It's much like Kawasaki, which didn't design the Teryx to be another RZR. These machines fit different niches, just as they were intended.
| | | |
| --- | --- | --- |
| | Yamaha Wolverine X4 | Kawasaki Teryx4 |
| Price | $15,999 – $16,899 | $15,799 |
| Engine | 847cc Inline-Twin | 783cc V-Twin |
| Horsepower | 69 | 57.6 |
| Driveline/Differential | On-Command 3-way locking differential; 2WD, 4WD, full diff-lock 4WD | Selectable 4-wheel drive with locking front differential, shaft |
| Transmission | Yamaha Ultramatic V-belt with all-wheel engine braking | Continuously Variable belt-drive Transmission (CVT) with centrifugal clutch |
| Wheelbase | 82.7 in | 85.6 in |
| Overall Dimensions | 122 x 59.8 x 77.2 in | 125.4 x 61.6 x 77.8 in |
| Weight | 1,666 lbs | 1,604 lbs |
| Front Tires | AT26 x 8-12 Maxxis MU75 | Maxxis Bighorn 2.0 26×9-12 |
| Rear Tires | AT26 x 10-12 Maxxis MU76 | Maxxis Bighorn 2.0 26×11-12 |
| Ground Clearance | 10.7 in | 11.2 in |
| Fuel Capacity | 9.2 gal | 7.9 gal |
| Front Suspension | Independent double wishbone w/anti-sway bar; 8.7 in travel | Dual A-arm Fox 2.0; 8 in |
| Rear Suspension | Independent double wishbone w/anti-sway bar, self-adjusting shock absorbers; 8.9 in travel | Dual A-arm Fox 2.0; 8 in |
| Front /Rear Brakes | Dual hydraulic disc | Dual disc front; Sealed oil-bath multi-disc rear |
| Bed/Rack Capacity | 600 lbs | 249 lbs |
| Towing Capacity | 2,000 lbs | 1,300 lbs |
| Turning Radius | 177.2 in | 200.4 in |
Engines
Yamaha has long used the 700-class single-cylinder motor, so when it dropped the 847cc, liquid-cooled, DOHC, 8-valve, Inline-Twin cylinder motor on us, it was a bit of a shock. This is a 100% new motor designed using technology from the YZF motocross bikes. It is more compact to keep the engine low in the frame and reduce engine noise, vibration and space. Having heard it run, we can attest, it is one of the quietest engines in production. Power-wise, expect a lot of torque and a strong, usable powerband. It produces a claimed 69 horsepower.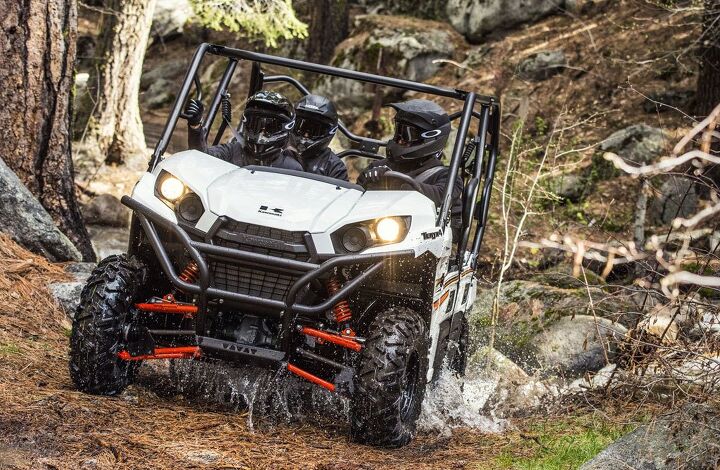 Kawasaki's V-Twin, 783cc motor has built a solid reputation for excellent power delivery, gobs of torque and reliability. The engine got a boost of a few cc a few years ago, but has been around for some time. It makes a healthy V-Twin growl, appealing to those that like the sporty sound of the engine. It produces a claimed 57.6 horsepower
Classy Chassis
The X4 has very little in common with the two-seat Wolverine. Wait, what? Did we just say that? Yeah, we did. Yamaha designed the X4 as a new machine, meaning the frame is completely new. In fact, if Yamaha hadn't called it the Wolverine X4, it could have easily gotten away with calling it something else entirely. It does, however, make it easier to transfer technology from the X4 over to the Wolverine lineup. Wink-wink, nudge, nudge… The Wolverine X4 has a compact 82.7-inch wheelbase and is only 122 inches long. It has four high-back bolstered seats, making it pretty comfortable for four adults, although the back seats do have a bit less floor space for your feet. This means less cargo space, but the seats do fold forward for a decent amount of cargo area. Plus, you can fold just one, so if you have two passengers, you can still haul some stuff.
The Kawasaki Teryx4 has an 85.6-inch wheelbase. Like the X4, there is limited cargo space, with a cargo box that measures out at 17.9 in x 47.6 in x 8.7 in. The frame of the Teryx is legendary, especially amongst true off-road enthusiasts. Can you say over-built? The Teryx is one tough machine and it inspires confidence when you drive it. It uses a double-X cross-member design that reinforces the frame at key points. The result is a stiff frame that can be hammered through the nastiest of terrain. And the Teryx4 comes backed by an industry-leading three-year limited warranty.
Odds and Ends
There's more we can talk about with regards to the new Yamaha. The load-leveling rear suspension system is intriguing, as it self-adjusts as you drive to account for the weight of the passengers in the back seats. You know, being a Yamaha, that it will have the excellent Ultramatic transmission, engine braking, power steering, locking differential and reliability. For all those details, check out the overview here.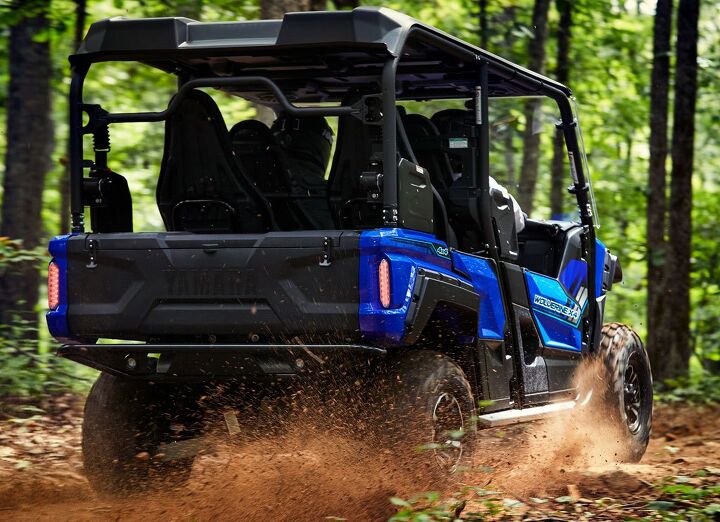 You can learn more about the Kawasaki's fox shocks, Maxxis tires and extremely comfortable, high-back seats, by going here.
These are two amazing machines geared for the adventure minded driver who wants to share the great outdoors with up to three passengers. Do yourself a favor, and don't compare them directly. These are two very different machines aimed at different types of enthusiasts. The only thing they have in common is the adventure, and that is up to you to supply. Derrek Sigler
Derrek's love for all things ATV started when he was a mere 11 years old, growing up on his family farm. His mom gave him and his sister a choice - get a horse, or a three-wheeler. The sister wanted the horse, and Derrek wanted the ATV. Luckily he won out, and was soon burning up the trails on a Yamaha Tri-Moto 200. By the time he was 14, he had saved enough of his own money by working on the farm and in his folks restaurant to buy a new 4-wheeler. That happened the day he and his mom were driving past the dealership and saw 1987 Banshee. His mom had no idea what he was buying, and he never looked back. He's been riding ever since, and been writing professionally for many years. He has ridden all over North America and been behind the controls of just about every machine out there. And yes, he still has his 1987 Yamaha Banshee.
More by Derrek Sigler
Published September 8th, 2017 11:19 AM
Top Brands
Popular Articles