1 View
Borich Tops Field at Loretta Lynn GNCC
April 26th, 2010 11:39 AM
Share
McGill, Ockerman round out podium
The Acerbis Loretta Lynn GNCC in Hurricane Mills, Tenn. was wet and muddy after an all-day rain pummeled central Tennessee; however, the racing couldn't have been more exciting, as Chris Borich emerged from a four-rider battle to make a last-lap pass to claim his fourth win of this year's Can-Am Grand National Cross Country Series.
Borich grabbed the holeshot to start the race, putting his Yoshimura Suzuki at the front of a tightly-packed group that included Ballance Racing/ Yamaha's Taylor Kiser, Warnert Can-Am's Adam McGill and Yamaha rider Don Ockerman. For most of the first lap the front-runners played it safe, checking out lines and waiting for someone to make a mistake. McGill got tired of the game, however, and made a move near the end of the opening lap, taking the point and leading Borich, Kiser and teammate Chris Bithell across the finish line to complete the opening lap.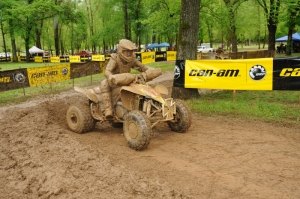 "I just had to start making some moves," says McGill. "That first lap was pretty much total chaos. It was just a freight train out there, nobody wanted to pass, and so I just made a move."
Borich dropped back even further when he stopped for goggles, but as he has done so many times before, the defending series champ was able to fight his way back to the front on the final lap.
"I worked back up behind McGill, and I picked a line that he looked like he was going right and then he came back the other way and we kind of came together and I was able to get around him," says Borich.
All Borich had to do from there was hold off the feisty McGill. In the end, Borich did just that, crossing the finish line with just three seconds to spare over McGill to take a thrilling win.
"It's great to get another win, and I had a lot of fun battling these guys," says Borich. "I got the holeshot and led most of the first lap, it seemed like nobody wanted to pass so I was the guinea pig going up the hills, but it all worked out."
McGill claimed his best finish of the year and was pleased to have led the race at one point.
"It was crazy out there," says McGill. "Someone would go up a hill and the mud would fill in the ruts and you couldn't tell how deep they were, so it was kind of scary, but it was good to get out front and be in the hunt."
Ockerman rounded out the podium for his best finish of the year, as well.
"I'm excited," says Ockerman. "This makes it worth cleaning up after a mud race."
Fourth place went to Kiser, who ran in second for most of the race, but slid over a berm on the last lap and dropped down the order.
"Me and Borich were riding together for most of the race, but on the last lap Donnie [Ockerman] and Adam [McGill] got by me on a better line," says Kiser. "I got back by Donnie and I caught Adam and then a couple of lines merged and he got in front of me and I got into him a little bit and it threw me over a berm."
Despite finishing off the podium, Kiser still sits in second overall in the series standings, 22 points behind Borich.
Fifth place in the XC1 division went to Honda rider Ryan Lane, ahead of Yamaha rider Johnny Gallagher. Yamaha riders Brandon Sommers and Jeffrey Pickens were seventh and eighth, while Sloan Jackson (Hon) and Todd Demaree (Suz) rounded out the top 10.
After five races, Borich tops the standings with 145 points, followed by Kiser with 123 and McGill with 93.
In the XC2 race, series points leader Brian Wolf grabbed the holeshot on his HMF Honda, but a derailed chain on the first lap spoiled his chances for a third win of the year. In the meantime, a bevy of Yamaha riders took advantage of the situation, with Gabe Phillips coming out on top of a three-way battle with Eric Hoyland and Kevin Yoho to take his first-ever win.
"I honestly didn't know where I was running, but I ended up taking the lead with about three miles left to go," says Phillips. "Hoyland and Yoho were in front of me and I got them up a hill – I took a better line and got the lead."
Another Yamaha rider, Walker Fowler, was fourth, with FRE/KTM's Josh Kirkland in fifth and Yamaha rider Mark Notman in sixth. Ian Laufersweiler rode a Honda to seventh, with Suzuki rider Blake Kramer finishing eighth ahead of Honda riders Nathan Beyers and Michael Lancaster.
The win moved Phillips into fifth position in the XC2 series standings; meanwhile Wolf still maintains the points lead despite his DNF.
In the morning race, Dave Simmons once again won the GT Thunder ATV Amateur Overall Award after battling for much of the race with Yamaha rider Traci Cecco and FRE KTM's Angel Atwell.
Cecco finished second overall and won the Women's class, while Atwell was third overall and second in the Women's division. Atwell led Cecco until the two entered the motocross track for the final time, at which point Cecco passed Atwell to win the division.
"It was so muddy you couldn't tell who you were battling with but it was great fun racing with Dave and Angel up and down the hills," Cecco said of the race.
XC1 Standings
XC2 Standings
Pos.
Rider
ATV
Points
Pos.
Rider
ATV
Points
1.
Chris Borich
Suzuki
145 (4 wins)
1.
Brian Wolf
Honda
110 (2 wins)
2.
Taylor Kiser
Yamaha
123 (1 win)
2.
Kevin Yoho
Yamaha
101
3.
Adam McGill
Can-Am
93
3.
Walker Fowler
Yamaha
95 (2 wins)
4.
Don Ockerman
Yamaha
73
4.
Josh Kirkland
KTM
92
5.
Jeffrey Pickens
Yamaha
72
5.
Gabe Phillips
Yamaha
88 (1 win)
6.
Bryan Cook
KTM
69
6.
Parker Jones
Honda
68
7.
Johnny Gallagher
Yamaha
67
7.
Eric Hoyland
Yamaha
66
8.
Chris Bithell
Can-Am
66
8.
Blake Kramer
Suzuki
63
9.
Bill Ballance
Yamaha
58
9.
Dustin Canipe
Kawasaki
59
10.
Brandon Sommers
Yamaha
54
10.
Mark Notman
Yamaha
54
Published April 26th, 2010 11:39 AM
Top Brands
Popular Articles