2 Views
Fowler Earns First XC1 Win at Ironman GNCC
October 22nd, 2012 4:19 PM
Share
We're committed to finding, researching, and recommending the best products. We earn commissions from purchases you make using links in our articles. Learn more here
Mother Nature made things interesting in Indiana
With nearly 10,000 spectators cheering on the four-wheeled racers at the Amsoil Ironman GNCC (Round 12 of the 2012 Can-Am Grand National Championship Series), it was Ballance Racing Yamaha's Walker Fowler who took home his first XC1 Pro class win in Crawfordsville, Iind. Heavy rains leading up to the event made for an unpredictable 11-mile course, filled with plenty of deep mud pits and rocky hill climbs, ultimately leading up to a five-way battle for the lead in the final moments of the intense two-hour race.
Indiana's very own Craig Bowman grabbed his first $250 Motosport.com Holeshot Award of the season, leading a stacked field of competitors on the opening lap. Bowers/Coastal National Guard/Yokley Racing's Jarrod McClure was the first to take over the lead on Lap 1, beginning a constant trade-off that would highlight at least four different leaders throughout the afternoon.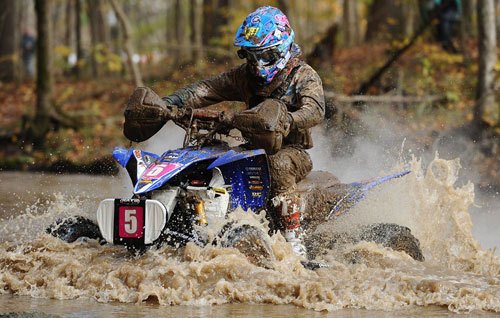 Although Motoworks/ Can-Am's Chris Bithell got a back-of-the-pack start, he was able to make his way into the lead by Lap 2 after McClure dropped back, battling with Maxxis/Yoshimura's Chris Borich for second place. Meanwhile, the Ballance Racing Yamaha duo of Taylor Kiser and Walker Fowler tailgated the leaders and slowly inched their way towards the front.
"I really didn't want the lead early on, it's easier to follow on a day like today [muddy conditions] where you let these guys make a mistake in front of you and you learn from their mistake," says Bithell
Fowler then grabbed the lead around the halfway point with Kiser close behind and the running order continued to shift even more. McClure, Bithell and Borich battled back and forth, where they all tried different passing lines through the woods. Heading into the final lap, it was a five-way battle for the race-win and the rough and tumble obstacles of Ironman proved to be most difficult after two hours of racing. McClure was the first to fall victim to the hill climb on the last lap but several Indiana race-fans quickly pulled him up, allowing him to salvage a top three position in the final stages.
"The last lap there were lines and swamps everywhere and I'm not sure exactly where I made the pass for the lead," says Fowler. "I took the long way around the mud pit behind pro pits and I think I may have passed Jarrod [McClure] there."
However, Kiser and Borich were not as fortunate on the final lap as they both lost substantial time getting stuck on the hill climb. Bithell took full advantage, though, powering his way back into the top three despite facing problems with his machine.
"I started losing my brakes at the end and I couldn't hold on very well because my hands were so dirty and wet," says Bithell. "I got stuck twice on the last lap and then I got to the big hill climb and Borich and Kiser were stuck so I took the long way around and held on to the end."
Fowler was able to cleanly make it through the final lap of chaos, grabbing his first-career XC1 win at the Amsoil Ironman. "This feels so good! It feels like it's been forever since I've gotten a win but it's only been just over a year," says Fowler. McClure held on to secure a season-best second place finish and Bithell held on for third.
With the help of spectators and fans, Borich and Kiser were finally able to get past the hill climb, coming in fourth and five respectively. BNR's Kevin Yoho and GBC/Cernics/HMF/Yamaha's Johnny Gallagher came through the finish only one second apart, with Yoho taking sixth and Gallagher seventh. Bowman came in eight place, while Jeff Pickens and Mark Notman rounded out the Top 10 in XC1.
Round 11 winner-Precision Motorsports/Lonestar Racing/Moto X Perts' Adam McGill-experienced mechanical issues on the opening lap, eventually re-entering the track to salvage points and finish the race. JG Offroad/FRE/American Honda's Brian Wolf and DeRisi Racing's Eric Hoyland also experienced issues that kept them from finishing the race.
The XC2 Pro Am class experienced excitement of its own as DeRisi Racing's Braden Henthorn took over the points lead with his fourth win of the season. Wisconsin's Bill Berger grabbed the $100 Motosport.com Holeshot Award but it was New Jersey's Randy Hamilton who took over the early lead. Hamilton led a majority of the first half, but encountered some issues around the halfway point that knocked him outside of the Top 10.
The XC2 Pro Am podium celebration saw two fresh faces as West Virginia's Michael Lancaster finished a season-best second place and Indiana's Nathan Wallpe took home his season-best finish of third place in front of friends and family in his home state.
Tireballs-backed Patrick McGuire, previous points leader, experienced various issues throughout the afternoon, where he finished 13th place. Henthorn and McGuire sit less than 10 points apart with one round left to go in the series championship. Next month's finale at Loretta Lynn's will determine the 2012 champion.
Ohio's Brycen Neal finished an impressive 11th place overall in the afternoon race, giving him the Top Amateur Award, as well as the College A (16-24) class win. Junior A class winner Dustin Hendershot missed the Top Amateur position by less than one minute, finishing 13th overall for the day.
While Indiana's Kevin Cunningham topped the morning overall podium in the non-points paying Sportsman A/B class, it was once again GT Thunder's Dave Simmons with the morning overall win. Second overall went to U2 class winner UXC Racing's Clif Beasley, and third overall was former Women's class champion Angel Atwell, who grabbed her fourth Women's class win and her second overall podium of the season.
Beasley topped the 4×4 podium, just ahead of U2 runner-up Jordan Phillips from North Carolina. After winning the 4×4 Novice division earlier in the season, West Virginia's Tanner Bowles entered the Open class for the second time this season and was able to take an impressive class win, as well as the final spot on the 4×4 podium.
The morning podium concluded with two of GNCC Racing's most accomplished racers announcing their retirement. One of the sport's top 4×4 competitors, Clif Beasley, was the first to announce his retirement on the morning podium. Soon after, nine-time champ Traci Cecco accepted the Women's class championship plate before announcing that 2012 will be her final season as a full-time racer as well. Congratulations to both racers on a very long and successful career in ATV racing!
The 90 Open (12-15) division once again dominated the ATV Youth overall, as South Carolina's Zachary Jones (Apex) grabbed his fifth overall win of the season. Defending Youth champ Hunter Hart (COB) finished second overall, followed by Ohio's Cody Collier (Yamaha) in third.
The final round of Side-by-Side competition took place on Saturday, where Team Polaris National Guard took the overall win and claimed the 2012 championship. Heading into the final round, Coastal National Guard held a three-point advantage over their Polaris teammates, but a few issues on the course ultimately placed Coastal National Guard in fourth overall and outside of championship status. Jacks Excavating 3 took second overall for the day and Team Big Country Powersports rounded out the XC1 Modified podium. Team Jacks edged out Team Travalena in the final moments of racing to claim the XC2 class win.
2012 GNCC XC1 Standings
2012 GNCC XC2 Standings
Pos.
Rider
ATV
Points
Pos.
Rider
ATV
Points
1.
Chris Borich
Suzuki
316
1.
Braden Henthorn
Honda
267
2.
Walker Fowler
Yamaha
246
2.
Patrick McGuire
Yamaha
261
3.
Taylor Kiser
Yamaha
220
3.
Matt Hanna
Yamaha
204
4.
Chris Bithell
Can-Am
207
4.
Eric Hoyland
Honda
193
5.
Adam McGill
Honda
200
5.
Gabe Phillips
Yamaha
174
6.
Jarrod McClure
Honda
188
6.
Michael Lancaster
Honda
151
7.
Kevin Yoho
Yamaha
163
7.
Blake Kramer
Yamaha
147
8.
Johnny Gallagher
Yamaha
157
8.
Josh Merritt
Yamaha
139
9.
Brian Wolf
Honda
155
9.
Nathan Wallpe
Honda
138
10.
Jeffrey Pickens
Yamaha
142
10.
James Green
Honda
109 Published October 22nd, 2012 4:19 PM
Top Brands
Popular Articles