1 View
Guthrie Wins His Fourth King of the Hammers UTV Race
February 8th, 2013 10:40 AM
Share
Only three of 35 UTVs finish the grueling race
Mitch Guthrie earned his fourth win at the 2013 HCR King of the Hammers UTV race in Johnson Valley, California, but it was by the slimmest of margins. He earned the win over Jon Crowley by a mere 16 seconds – impressively close considering the racers were on the course nearly eight hours.
"It feel great," Guthrie said at the finish line. I definitely couldn't have done it without my son. He worked his butt off. We had to winch a lot. It was tough."
Like most teams, they weren't without trouble during the race.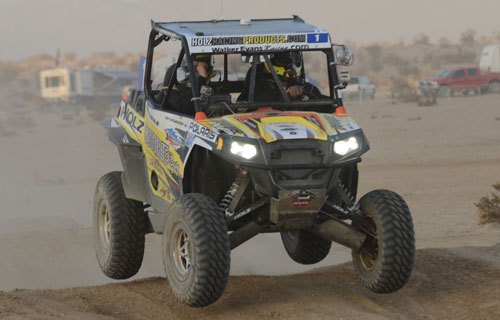 "[We had] a fluke accident – we broke a ball joint on Wrecking Ball, and we had the parts to fix it so we did," Guthrie said. "We had zero brakes from Wrecking Ball on the way back to [the finish]."
Third-place finisher Matt Enochs was only two minutes and 33 seconds behind Crowley, completing a very close podium. What's most impressive for the top three finishers is they were the only racers to complete the race in the UTV class! Thirty-five vehicles began the race.
Our sister site, Off-Road.com, has full coverage from the 2013 King of the Hammers.
King of the Hammers UTV Results
1. Mitch Guthrie 7:51:52
2. Jon Crowley 7:52:08
3. Matt Enochs 7:54:41
Published February 8th, 2013 10:40 AM
Top Brands
Popular Articles