1 View
2017 Brimstone Paragon Report
October 3rd, 2017 12:48 PM
Share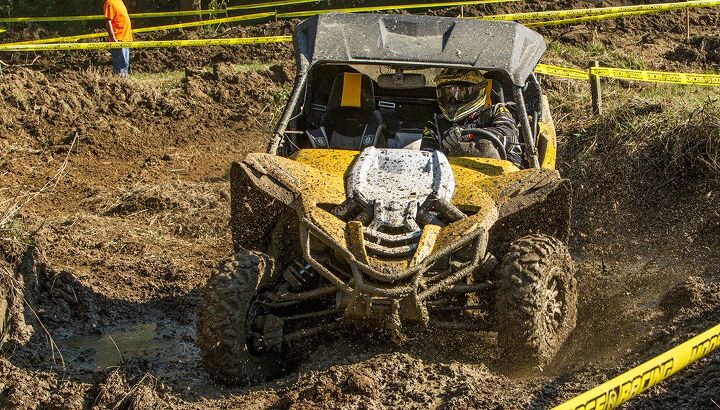 We made the trip to Huntsville, Tennessee to take part in the Brimstone Paragon event at Brimstone Recreation.
One of the great things about riding off road is the number of trail-based events that stretch across the eastern Unites States. One spot that comes to mind is tucked into the Cumberland Mountains in a little town known as Huntsville, Tennessee. This is the home of Brimstone Recreation and here is where you can not only ride for days, but enjoy the majestic views at most any ridge you put yourself on.
During the month of September each year Brimstone hosts the Brimstone Paragon. This event is a culmination of riding, racing, obstacle course challenges, many other contests, as well as several incredible concerts. This is where not only national acts get in on the show, but you as a park attendee can sing your heart out on stage if you so please. In fact karaoke has become one of the favorites for park goers and this year there was a slight twist to the entertainment.
Brimstone organizers brought out a great singer and song writer by the name of Craig Cambell to start off the Friday night follies at the shed. This guy not only warmed up the crowd, but his soulful sound and original music captured a few new fans by surprise. His T-Shirt read "make country music great again" and it was our personal opinion that with talent like his, country music is heading in the right direction. The karaoke crowd lit it up after Cambell's performance and well into the night.
One thing that we had missed on Friday night due to being in awe of the fine singers at the Shed was the Brimstone Paragon drag races. Many of the brave and potentially over confident ATV and UTV pilots had gathered on the drag strip to show off their talent and machines before it ran out. It wasn't until we stepped away from the stage that we realized we had missed this part of Paragon. Next year for sure!
On Saturday morning, many were still pouring into Brimstone and activities had been scheduled for most of the day. Before stepping out into the trails, though, we had heard that Yamaha was offering up demo rides of its new Wolverine X4 machines and we had to see how that was going. Yamaha had plenty of potential test drivers hanging around and signing up to get a chance to see how they liked the newest Wolverine. Yamaha even had a "ladies only ride" and any lucky participants garnered a prize bag of goodies. It was good to see the excitement, but we figured we had better get up on the big hill and come back later to before it got too late.
Brimstone has many little contests going on in the web of events and up on the overlook where the original "WKE" White knuckle event had been held in years past a young lady had been waiting for someone to try their hand at "Tennis Ball Cornhole – with a Twist." In this year's contest "Wild Mountain Rampage" you would ride around finding certain things and stop in at this game to get points to potentially win prizes. You had to get the tennis ball to drop in various sized holes to get points and of course the smaller holes would get you more points. It seemed a bit of a challenge, but we did see several actually get the bouncy ball in the smallest holes.
As for the race events at Brimstone Pagaron, Saturday evening would start off with the obstacle course, but just before the action started Congressman Chuck Fleischmann had stepped out to give away a very nice cooler to one lucky spectator!
The obstacle course was been largely the same as in years past, but a great challenge for some indeed. The Side-by-Side riders would test their luck first and with such a tight course the massive power of some of the machines was of no use. Turbo powered? Not gonna lie here folks, it is of no use in this race as there's barely enough room to get it spooled much less under control. The most interesting part of this race is the "Technical Teeter" as the announcer called it. This set of ramps is just like a seesaw on a playground that you simply drive over. But if you are in a Side-by-Side and you try to jump over or if you stand up on your ATV when crossing you could be docked valuable time on your run. This did get a few participants who were just rocketing around the course. Great fun not only for a racer but also for the spectators as they witnessed the carnage.
The biggest draw to most of the events like Brimstone Paragon is, in our opinion, the great riding and contests, but there is one other item that gets the eyeballs and that is the great live music on the center stage. This year's event had hoped to have Brothers Osbourne as the headliner, but due to sickness they had to reschedule to October 6th. Matter of fact if you had attended Brimstone Paragon to see them then you simply return October 6th free of charge and ride as well as relax and listen to the performance!
In light of the cancellation the tunes of an Alabama singer named Scott Stevens was enjoyed by all and Cadillac Three brought the house down as the headliner.
In between these two, though, the biggest giveaway of the night took place and a young man from Brandenburg, Ky. named Adam Giles won the 2018 Yamaha Wolverine X4 for his very own! This was the final giveaway in the Wild Mountain Rampage contests that folks had been earning entries and points for all weekend long. We'd say he was excited and many were excited for him.
Yamaha Wolverine X4 winner
Big events like Brimstone Paragon get people out in the trails and allow them to have more than just riding to do on weekend trips. The team here has put together something special for every off road enthusiast and you owe it to yourself to take advantage of it soon!
Published October 3rd, 2017 12:48 PM
Top Brands
Popular Articles