5 Views
A Newbie's Guide to ATV Riding in Glamis + Video
July 3rd, 2015 11:58 AM
Share
We're committed to finding, researching, and recommending the best products. We earn commissions from purchases you make using links in our articles. Learn more here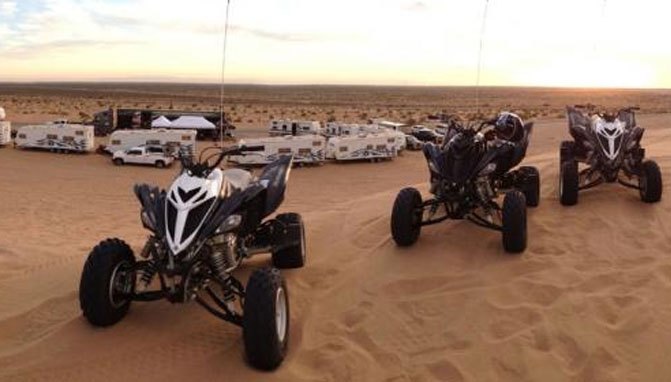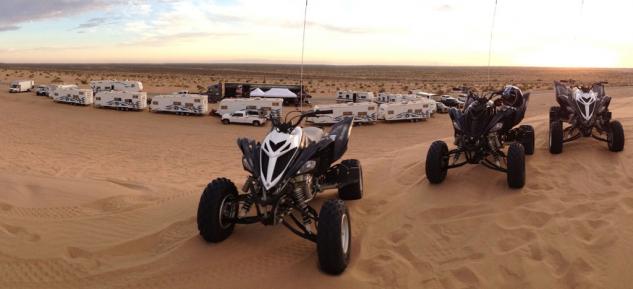 Yamaha teaches us the dune riding ropes
I am not what you would call intimately familiar with sand riding or Sport ATVs. Yamaha has been trying to change that for the last five or six years with invitations to its annual Special Edition Sport ATV event at the Imperial Sand Dunes (Glamis).
After years of letting a busy schedule and more than a little bit of fear coerce me to assign this event to a number of willing (and sometimes downright excited) freelance writers, a brutal and seemingly endless winter had me thinking a few days in comparatively balmy Southern California might not be such a bad idea.
For the uninitiated, Glamis sits about three hours southeast of Los Angeles. The drive itself was an adventure for anybody not familiar with the area. While Los Angeles is a mass of human congestion, once you get past the Palm Springs area things start looking a lot different. The highway cuts through a massive forest of windmills at one point and we eventually made our way past surprisingly huge and mostly abandoned Salton Sea – a strange sight in this otherwise dry desert area.
The last stop for food or gas before Glamis is the town of Brawley. We took advantage of that before the trekking the last 20 miles or so, after which we were essentially cut off from the rest of the world. Normally this would concern me, but I knew that Yamaha would coddle us genteel and fragile media types.
Read our feature on Raptor Riding In Glamis
Upon arrival at camp, Yamaha showed off its fleet of Special Edition YFZ450Rs and Raptor 700Rs. You can read more about the SE models here and in future reviews. GoPro was also on hand to show us how to use the new Hero 3+ and you can see some of that video in this story.
The camp itself was really impressive. Yamaha had a big site lined with Camp 'N Style trailers for us to sleep in and a big Yamaha tractor-trailer manned by two truck drivers who also acted as our chefs. These two would be everybody's favorite people while at Camp Yamaha, as they made sure the ATVs were always gassed up and we were always well fed. They cooked everything on an assortment of Camp Chef cooking gear. The first day we even got to make our own pizzas and watch them crisp up in a Camp Chef pizza oven…in the middle of the desert! It should be noted that if you rent a trailer from Camp 'N Style they will deliver it full of gas and water right to your camping spot at Glamis – an amazing service for anybody who doesn't own a trailer.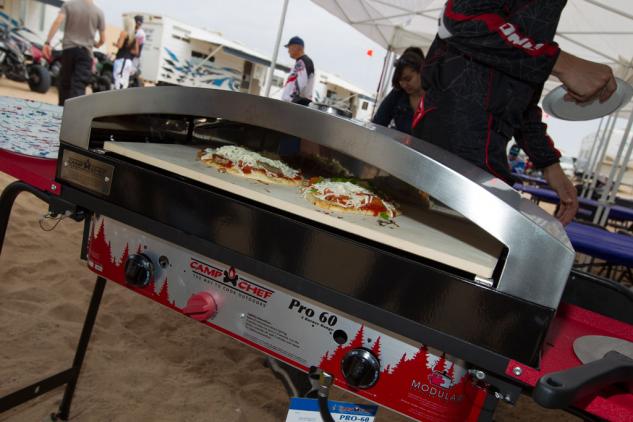 Nothing to see here…just a pizza oven in the middle of the desert.
Saving me from possibly embarrassment in front of my fellow editors, Steve Nessl, Yamaha's ATV/SxS group marketing manager, graciously offered to take me to what amounted to the bunny hill to teach me the ropes of sand riding.
Rule number one of riding ATVs in the dunes is don't stop on an uphill. Despite Nessl's clear warnings, I managed to break this rule more times than I care to remember. On the bright side, lifting up the rear of my ATV and turning it around again and again meant I had no need to go to a gym for the foreseeable future.
Motorcycle.com's Top 10 Glamis Tips
Nessl led me to what he called a worm track, which was a steep-banked short course worn into the sand by some enterprising riders. Despite my inexperience, it was great fun navigating the track with its many left-right-left S-turns. Figuring out how to handle the steep banks turned out to be great practice for tackling the bigger hills in the dunes.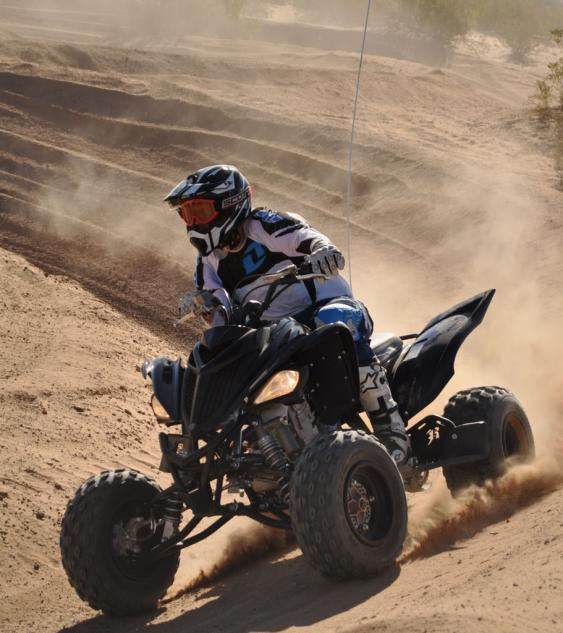 The worm track was my first experience riding sharp, banked corners. A fun find close to our camp.
After he was relatively confident I wouldn't destroy one of Yamaha's ATVs, Nessl and another rider led me to the big sand. Though I was clenched up tight enough to bend the handlebars, I managed to follow Nessl as he carved through the dunes. The toughest moments for me, at least psychologically, happened when we were riding up to the top of a hill, cresting the razor-like lip and turning down the other side. More than once I chickened out and just turned back down the hill I was climbing. It just felt like I was going to go tumbling down the other side – even though it never happened. For some reason it was almost always a nerve-wracking maneuver – especially on any of the many larger hills at Glamis. Check out the click below to see one of my sketchy moments cresting a hill. It doesn't look like much, but it was the biggest mental hurdle for me to clear in the dunes.
The Yamaha Raptor 700R SE was far and away the best choice for me at Glamis. It's a torque monster, so you can basically play around in second and third gear all day and handle any hill in your path. I had a chance to ride one equipped with a GYTR exhaust and it only made it more fun. Quite frankly, the YFZ450R SE is too much ATV for me. While I like big bore Utility ATVs and any UTV, I'm essentially a novice on Sport ATVs and the YFZ requires a more experienced hand to get the most out of it.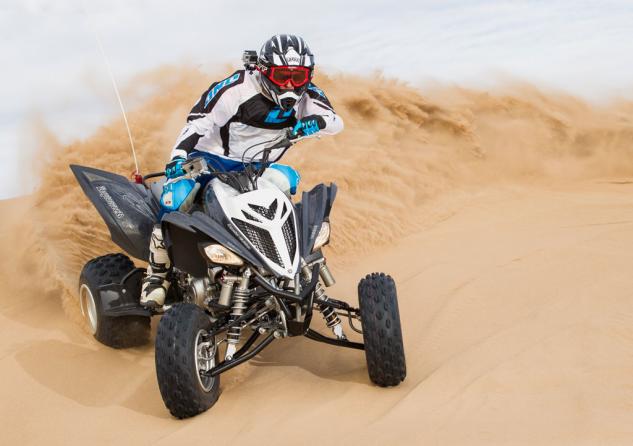 For my skill and experience level, the Yamaha Raptor 700R SE was ideal for cruising the dunes.
Perhaps my greatest concern before I'd set foot in the Glamis sand was sidehilling. My first (and only) dune experience on an ATV happened about six years ago near Las Vegas. I was on a Sport ATV for the first time and tried to sidehill and ended up rolling the ATV. Fortunately, my time in the worm track (along with some advice from other riders) showed me that I just had to keep up my speed and I'd be fine. This alone made the Glamis trip worthwhile for me as it tamed my fear of the sand and made the whole experience way more fun. Sidehilling along a steep hill and kicking up a wave of sand as you turn back down is one of the greatest feelings I've ever had on an ATV. The more I did it, the more I wanted to do it again – only faster and higher!
Read our feature on How to Ride the Dunes
My confidence continued to climb and soon enough I wanted to get all four wheels off the ground. Fortunately, when you are riding with a group of ATV editors, one of them is sure to find something to jump. While the Raptor 700 SE is not athletic leaper the YFZ450R SE is, its cushy suspension worked great for soaking up the impacts from my modest jumps.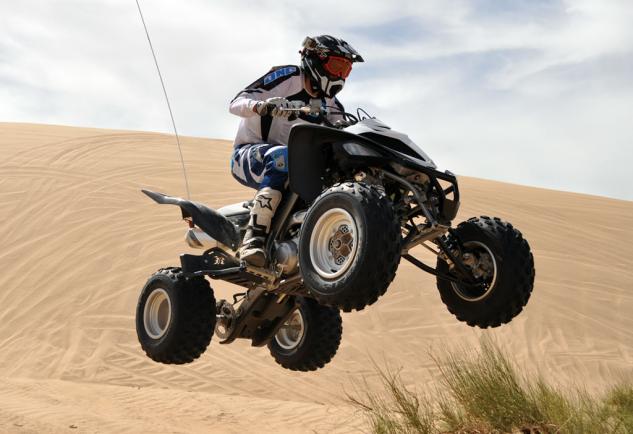 It didn't take long to find a place to get all four wheels off the ground. It's a feeling I could get used to.
As this was my first time in years on a Sport ATV, jumping did take a little getting used to. My biggest mistake – and one I made several times – was taking my thumb off the throttle after takeoff. As any experienced rider will tell you, this will make the nose your ATV point down in a hurry. In the clip below I almost take a bite out of my handlebars after a particularly harsh nose-first landing. You can clearly hear the engine go quiet when I back off the throttle. You can also hear my reaction to the landing. Not a proud moment.
The last big challenge for me was the China Wall. I'd only heard rumors of its existence and seen clips on YouTube, but the afternoon of our last day at Glamis I finally got to see it in person. It actually snuck up on me, as we approached it from the top side. It wasn't until my front wheels were about to roll over the apex that I realized I had a very long, very fast descent on my hands. Forget every video you've seen – this hill is far bigger and steeper than you think. It feels like a roller coaster. Fortunately, I remembered to slip the Raptor 700R SE into second gear and let engine slow me safely down.
Read our reviw of the 2013 Yamaha Raptor 700 + Video
Once we were all at the bottom of China Wall, it wasn't long before people started to make their way up. I nervously gave it a go, but a whooped out section at the base of the hill scrubbed away too much of my speed. Instead of simply turning down the hill, I panicked and stalled the Raptor – in the middle of China Wall! Who does that? Embarrassed, I started the Raptor up again and coasted back down.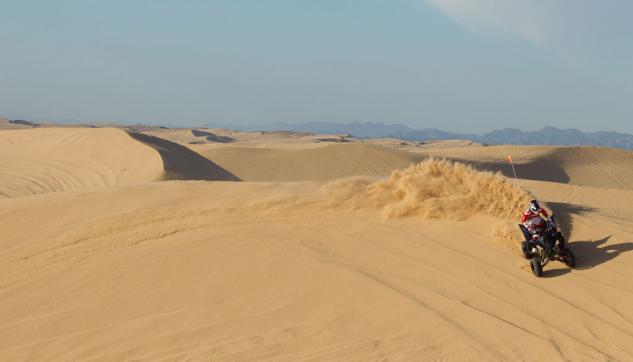 The vastness of Glamis was surprising. It's so massive and was basically empty for the two days we were there.
Undeterred, I gave it a couple more tries before realizing I needed to be humming along in third gear to have a chance. After that, I just let the torque-filled Raptor pull me up and over the crest of China Wall. It was a great feeling and I repeated the process again and again like an excited kid learning to wheelie his Huffy. Check out the clip below for one failure up China Wall followed by my first success. The video just doesn't do justice to how steep that climb is!
As my first Glamis experience came to a close, I was tired and sore and ready to sleep in my own bed again. However, I regretted turning this trip down so many times. While I've still got a lot to learn about dune riding, it's crazy fun. While it may make some of my freelancers upset, I'm looking forward to doing this again…maybe next year.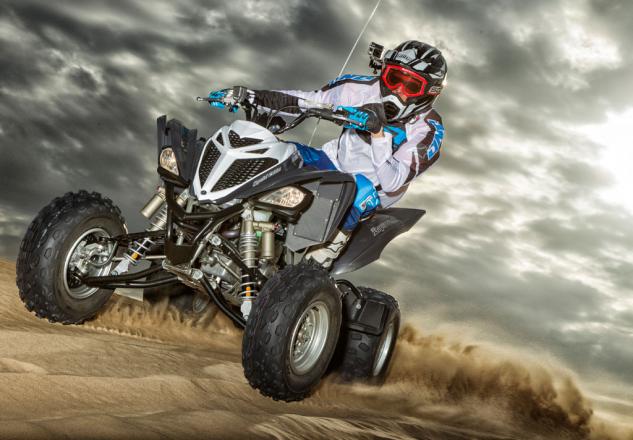 Lucas Cooney
I have been working exclusively in digital media since 1997. I started out with TSN.ca, spending nearly nine years creating and editing content on Canada's leading sports website. I left to join VerticalScope, Inc., one of the world's largest online publishers, to start a number of powersports publications. While at VerticalScope, I've helped create and oversee content for a wide variety of different publications, including ATV.com, Off-Road.com, ArcheryTalk.com, Tractor.com, RVGuide.com, and many more.
More by Lucas Cooney
Published March 24th, 2014 2:04 PM
Top Brands
Popular Articles