1 View
ATV AnswerMan – February 2015
June 17th, 2015 11:20 AM
Share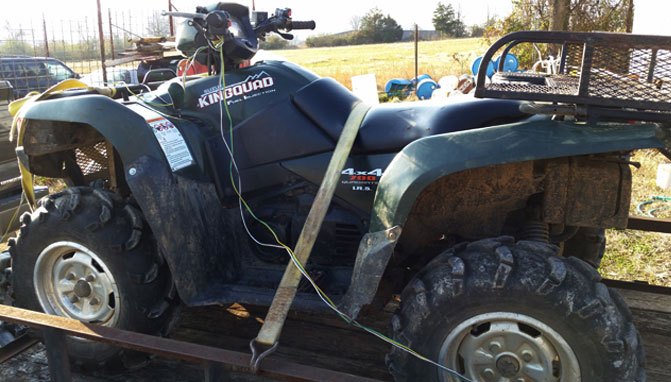 Answers to your ATV and UTV questions
Have an ATV or Side-by-Side tech question for the AnswerMan? Send an e-mail with your name, vehicle year, model and a detailed description of the problem to answers@atv.com, Attn: ATV AnswerMan. Just be sure to watch your spelling and write clearly, because it will be out there for the world to see.
This month our the AnswerMan tries to solve problems with a pair of Suzuki KingQuads, Yamaha YFZ450R, Honda Foreman, Honda Rancher, two Polaris Sportsmans, and more.
Question of the Month!
I'm having trouble with my KQ. It starts great but after 10-15 minutes of riding it just dies. It will start right back up, run for another 5 minutes or so then die again. Crank up, run for 3 minutes, die. Once it does that a few times it only runs for a minute or two before it does it again so I park it. I've checked the fuel injection, sensors, wires, cable's and everything I can think of. Other than that one issue it runs great. I don't have many tools since the ex-husband felt the need to take mine when he ran off with a stripper, but if you can explain in detail what I should do, this dumb blonde will figure it out! I don't have any manuals for my bike, not even sure what year it is…2005-2007 I'm guessing. Thanks for any assistance you can provide!
Happy New Year!
Bella
I like when readers send in specific details with their questions, but the details about their personal lives are a first. As for the ATV, first look for a fueling issue. Drain all of the gas, into an approved container of course, and start fresh. This eliminates about 95 percent of possible water contamination. This can be done using the fuel pump, but it really requires some attention as the last thing you want to do is spray gas everywhere. A simple Siphon would work nicely. If there is an inline fuel filter installed, be sure it is changed not just checked. The final order of business with fueling issues is the fuel pump itself. If the pump has sat in ethanol fuel for any period of time and varnished over, it is possible that the pump is heating up and restricting or even stopping fuel flow altogether. This could be the reason it is intermittent. This is really a dealer item and since your ex hubby ran off with all of the tools, I wouldn't attempt the repairs yourself.
Spring into Action
Hi would you by chance have the OEM spring rates for 2014 YFZ450R fronts and rear? And also is it true the front shocks are 3mm longer than the 2013 model?
Thanks, answers
Mo
Hi Mo. I do not keep the spring rates for shocks of any kind in my pocket. It's just too much information and essentially irrelevant unless you are working on suspension tuning and internal dynamics yourself. The spring rate can be determined by a performance ATV shock service shop, such as DeRisi Racing, if you really need to know. If you are tuning your shocks for racing or fast trail riding they can get the proper spring rate closer to your body weight to help with overall shock performance. As far as the length of the shocks, that's a subject I may be able to help you with. It is true that the front shocks are 3mm longer in 2014 models and the dampening has been adjusted as well. Hope this helps.
Come Again?
I have recently bought a Honda Foreman I think S with electric gear shift. Old model 2002. It runs well I've just changed the oil in the engine brakes are good. The main problem I have with the ATV is that the front wheels have stopped turning it's rear wheel drive. I hear a few clunks an then no more front drive? Also finally occasionally when I leave it in neutral fatter it's been running it can start running really hard reving.
Anyway please help, very kind.
Patrick
I am hoping this was a translated question as it's a bit confusing. If the wheels will not turn up front then something is either out or on its way out. Drain the front differential and see what the fluid looks like. This would be a huge indicator. Next, try putting the machine on jack stands or stabilize it on a jack and see if you can physically spin the front tires. Since I do not know the exact model I will say that depending on the model some 2002 Foremans have selectable 2wd/4wd so it may be an electrical issue not allowing the diff to engage. If all else fails take the beast to the dealer and get a second opinion.
Start Me Up
Hello, i have a 2003 Polaris sportsman 500 ho. it will turn over all day long with the key and wont start but with the pull start it will start on the second pull. Any ideas why it wont start with the key?
Grant
Your not holding your tongue right man! Left cheek half out only on Polaris ATV's! Are you sure the starter is even spinning the motor? It has to turn the engine to start it and it sounds like the starter is just making a lot of noise. No mystery here; just be sure the engine is spinning along with the starter and you will have your answer.
Serious Head(gasket) Ache
I have a 2003 Polaris Sportsman 600. It has been sitting outside and last night I started it up. After it ran for awhile I noticed the temperature light coming on. I saw it was low on anti-freeze so I added some. After starting the machine the antifreeze level dropped again. When I pulled the Oil Dip stick I noticed the oil was a milky white color. Do you think I have a bad Head Gasket or something worse? Also how hard is it to replace the head gasket if I discover that's the problem?
Thanks,
Randy
This is definitely an internal issue, man. Sorry to break the news to you but if you are not mechanically inclined or do not own a comprehensive set of hand tools this could get ugly quick. I'm not in front of the machine so I cannot say 100 percent, but if I were a gambling man I would say you are in need of a head gasket or more. With an inline twin cylinder machine things aren't very hard to service, but if you are not absolute in your mechanical skills I'd drop it at the dealer or local mechanic.
When Smoke Gets In Your Eyes
I have a 93 Suzuki lt280. It runs good but when I'm on an incline or going it will start smoking white smoke really bad and even blowing oil out the exhaust. It really doesn't seem to effect how it runs, doesn't foul the plug. If I keep it on level ground it will stop smoking after a while. I had a guy work on the carb and it's done this since. Any ideas? Thanks
Terry
Dude, It's a 93 and its tired. I'd look towards the piston rings and an overhaul of the top end if I were you. Burning oil only happens in the cylinder and it's not supposed to smoke dramatically, especially only on hills, out the tail pipe unless you are storing spare oil in the exhaust pipe.
It's Not As Hard As You Think
How do you change the fuses on a 350 Yamaha moto4
Bruce
Well Bruce, you pull the old ones out and put new ones in. And then, have a sip of sweet tea (this only applies if you live in the south where you can get good sweet tea) to absorb your achievement and let it digest a second or two. Then crank the beast up and go out on the trail. Finally, put the sweet tea back in fridge so it's cold and delicious when you return from your ride. That is all.
Vague Question of the Month
I have a 04 Honda 350 rancher and I'm not getting fire. What could be my problem?
Chase
Hell, I'm not sure Chase. The quad isn't in the mood to haul you around today? Maybe? Is the key turned on? Is the engine kill switch in the off position? Are you sitting or standing when you are pressing the switch? Is the sun up or just going down? Do the chickens crow just after you try to start the machine, if so it's too early to be trying to start it. I just need a bit more information. For now just try adding a new plug and if that isn't the culprit maybe look for grounded wiring along the frame or around the coil. If you could tell me exactly, in sequential order, what lead up to this I can try to get closer.
Carb Crimes
I have an Arctic cat 2004 250 4×4. It was cutting out and bogging down & cutting off. I had the carburetor re-built, but it is still doing the same thing. What could be going on?
Do you trust your mechanic? If he was supposed to fix it and its still giving you fits take it back to him. If you are the mechanic then bravo for the attempt but it's a big fat ZERO for you and now stand in the corner for 10 solid minutes to think about your mistake! Meanwhile, Here are a few things I'd look for. Is good non-contaminated fuel getting to carburetor? Were all of the jets really cleaned out properly or just made to look pretty? The primary source for start up and bottom throttle fuel supply is the Primary jet. Change this jet with a brand new one and see if that makes a difference. I bet you'll find it might just be a bad mechanic on the other end of the carb overhaul.
Working on your machine the minute your buddies come over for the weekend ride is not fun at all. So why not take time to repair the beast on a regular basis instead of letting problems just get worse. If you love to ride, have some pride in the fact that you are blessed enough to have a quad and show it some love.
Peace out Peeps!
RS
Published February 4th, 2015 8:00 AM