1 View
ATV AnswerMan - February 2016
March 3rd, 2016 1:41 PM
Share
We're committed to finding, researching, and recommending the best products. We earn commissions from purchases you make using links in our articles. Learn more here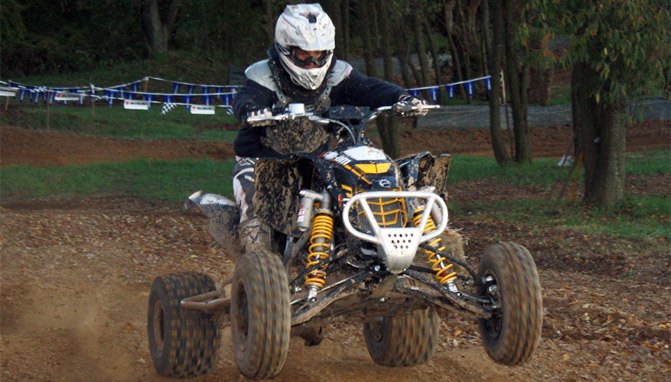 Fueling trouble and ATVs that just don't want to move
Have an ATV or Side-by-Side tech question for the ATV AnswerMan? Send an e-mail with your name, vehicle year, model and a detailed description of the problem to answers@atv.com: ATV AnswerMan. Just be sure to watch your spelling and write clearly, because it will be out there for the world to see.
DS 450 Not Cooperating
Hi, I own a 2010 Can Am DS 450 mx. The problem I am having is that the quad isn't getting fuel and I know it isn't the fuel pump relay, but it still isn't getting fuel, also when the pump is plugged in the starter won't continuously run it starts and stops. Do I need to replace my fuel pump or is my wiring bad? Also the pump is getting about 12 volts.
Wow, Sounds like quite a few issues that you are sure of but not so sure of. My first reaction would be to service or replace the fuel filter on the machine. But you may have already replaced it. The filter part number is 715900063. The next step, if it were mine, would be to pull the battery and place it on a trickle charger for a few days. Be absolutely positive that the battery is very well charged, holding a charge and then put it back in the machine to try to start the bike again. The fuel pump only runs on demand for a few seconds when you switch the key on. This means it starts and primes the lines then stops, but will actually run when the engine is running. Sounds to me like you may have a bad or low charge on the battery. Also be sure the kill switch isn't causing the no-start issue.
Whoa, Mule!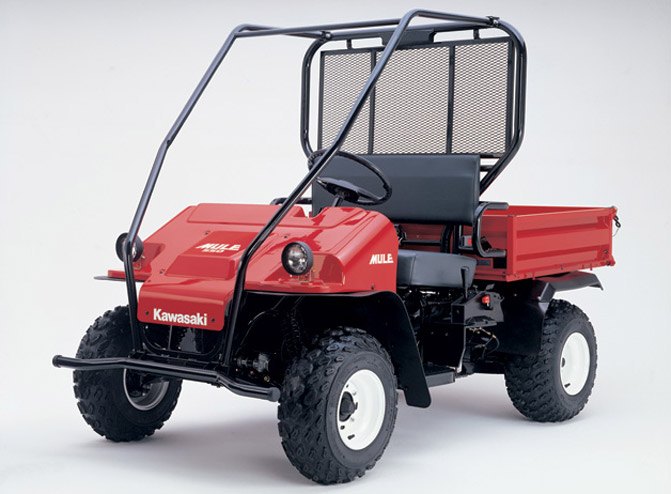 I recently purchased this Mule 550. Before I purchased it the owner had put a new carburetor on it. The mule runs no more than 10 mph. It still has power for going thru mud or up hills, but no speed. I am pretty sure it should run at least 20 mph. What can I do to correct the speed. Thank you for any help.
There are a couple of things that can prevent the machine from speeding up. Most Mules will not go very fast, but you are right that 20mph is not unreasonable for this rig. My gut tells me to check the clutching first to be sure both the primary and secondary clutches (also known as Drive or Driven Converters) are working properly. If there has ever been an issue with a broken belt, the sheaves of either clutch could be hanging up and causing the slower speeds. Having these properly cleaned/serviced may be the best bet. Jetting the carburetor might also help, but I would look at the clutching as the primary source.
Cobra With No Bite
I have a 2002 Cobra TX 220. I'm having trouble starting it. I changed the oil and gas. It needed a front sprocket, but I replaced that already. The battery is good, but when I try to start it, it won't turn over.
My first question would be: How do you know the battery is good? Simply showing 12 volts does not mean your battery is a good part. Have the battery load tested at an auto parts store to be sure it can handle a load draw. If the battery checks out then move to any fuses that the machine has just in case you have popped a fuse somewhere.
What's a Coolster?
2014 Coolster atv
I'm sorry but I don't know the model, think it's a 3125xr8. Anyways I have been having a problem with sluggish performance forward but not in reverse. I got stuck in a small muddy ditch at my house and when I put into drive, the motor would bog down and wouldn't spin the tires but once I put into reverse, I can spin tires all day. Any ideas or tips would be greatly appreciated.
What the hell is a Coolster 3125xr8? Never heard of it and I'm not even sure where to start! The lower gearing in reverse may be why the engine seems to perform better while in reverse. I would be sure you have quality fuel (93 Octane), spark and required compression as a rule to eliminate these items that effect performance. I would also place the machine in a low forward gear for muddy situations. That's all I have, good luck.
The Shop Talk Game Is Strong In This One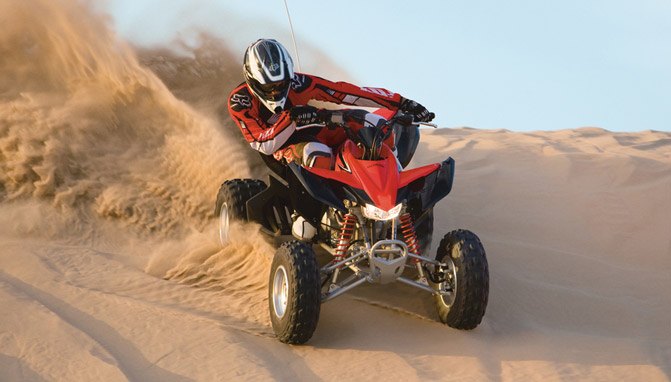 I have a Honda 400ex with a 89mm 12:1 pop up piston stage 3 hot cam port and polished head Yoshimura full exhaust. I bought a used lectron carb that in the description come off a 400ex when I put it on the throttle cable where it comes out the carb is to high so I had to extend it from the head so the gas tank would sit down correctly I got it to fire up and run once by removing the k&n and cuffing the rear of the carb. It run good I got it to idle but can't get it to crank back I miced the metering stick to 2.040 and it will fire once when I completely cuff the rear of the carb and then nothing until it sets for 5 or so minutes and then 1 little spark it's a brand new spark plug and I've tried leaning the metering rod but it seems like it's giving it more gas
Whoa, that's a new type of shop talk. You miced the metering stick? Never do that! Why not just buy a Honda 400EX carburetor, install that in the factory position, jet it properly so everything works as it should instead of installing some crazy fancy named hunk of metering hell and get back to riding?
'97 Honda Recon 250
I just finished rebuilding my motor and engine will run but atv will not move. The lights will light up to let me know when in neutral or reverse. I put the back wheels on jack stands and they will turn but turn slowly. Nothing sounds strange when shifting which I think is a good thing but the atv will not go forward or reverse.
Ah the old, done it myself, job that hasn't turned out as well as planned. Well, I would say you need to be looking into the clutch system on your Recon and make sure it is either all the way together correctly or adjusted correctly. These engines have multiple clutch parts and two in particular will keep you from rolling out with your posse. The clutch pack, fibers and metal plates might be worn out or out of adjustment. Also, the clutch weight set could be worn past its functional limits. Get into those and let us know how it turns out
Big Bear In Permanent Hibernation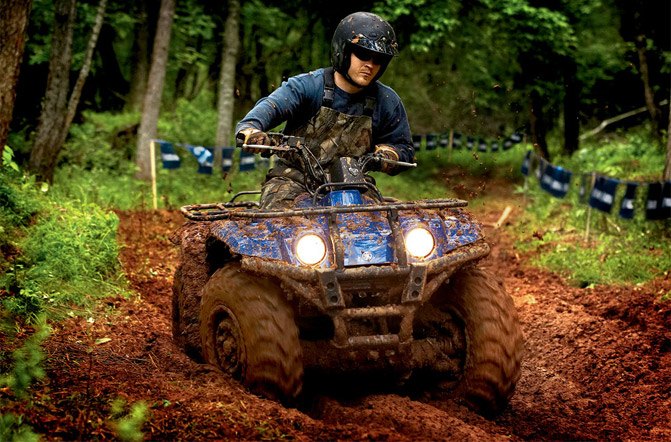 I have a yamaha big bear 400, it is a 2003 or 2004 model and it ran great when we first started it a few days ago. I took it through some mud but nothing heavy at all and washed it after. Now when i try to start it it doesnt want to really start and when it does, it idles fine until I switch into gear, then it bogs down and cuts off.
My gut instinct tells me that during the wash job you may have gotten a little water into the fuel tank via the tank cap vent line. I would first turn off the gas, drain the carburetor bowl into an approved container and inspect that fuel for water or trash. Another item that could cause you problems is any vent lines from the carb that may have gotten mud in them. These run from the carburetor down underneath the ATV.
Mystery Plug
2014 Yamaha Grizzly 350 Wire/Plug Question
I just bought a real nice/clean 2014, looks new. Don't know why anyone would have brought it back and traded it in. Anyway, was going thru it and noticed on the driver side under the rear fender, towards the front, there is a wire/plug hanging, doesn't connect to anything. I didn't see anything close it, that it could possibly connect into. Everything seems to work and function fine, what is this wire/plug for? An accessory? Searched all over the net and u-tube, nothing out there on this. Looked at the wiring diagram, but can't read it. Or understand it.
Does the machine have a working taillight and has it been unplugged or disconnected due to damage? Is it possible there is a battery tender cable hooked to the machines battery and this may be the plug it connects to?
Sportsman Takes A Hit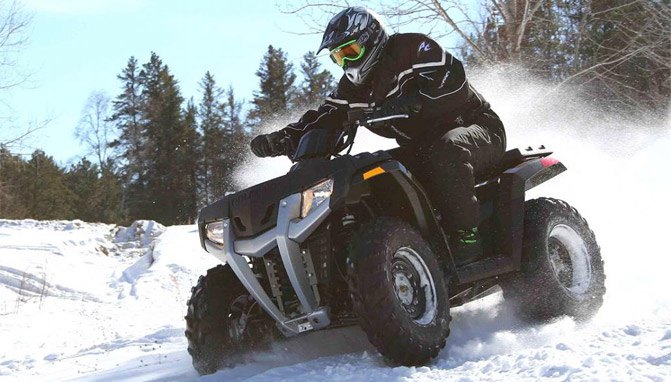 Hello,
I have an 04
Polaris Sportsman 400
4×4. It has always been a great workhorse. Until my last hunting trip when a large rock to the front tire stopped my forward progress. When I tried to continue up the trail the bike wouldn't move, and smoke came out of the clutch housing, along with a loud squeaking sound. I changed the belt and with the cover off I see that the secondary clutch isn't spinning, and the belt is slipping on it. Also the bike is very hard to push around when in neutral in 2 or 4 wheel drive. I hope you can help. Thank you very much for taking the time to read this.
Sounds to me like you have damaged the strut or components there on the side of impact. I would jack the machine up on the side of impact and try spinning the front wheel. This should give you a clear indication of the issues that are slowing the forward progress. As for your belt issues, it sounds like you burnt the belt up trying to go forward and the same issue holding the machine still is going to ruin the second belt. The secondary sheaves will not spin unless the primary sheaves spin them, if that makes sense. It takes RPM from the motor to engage the belt and thus spin the secondary clutch.
Rincon Engine Won't Turn Over
I have a Honda Rincon with a bbk and mud buster cam in that was installed at a atv shop and now it has a hard time turning over. The starter seems to hit real hard but wont turn engine over real good the problem got worse in the cold weather I got a new battery but same thing any help would be greatly appreciated thanks
High compression can be tough on the stock battery, but to eliminate that as a problem I would pull the spark plug and try to spin the engine over again. If the motor spins freely then you may need a better battery to start the machine. If the battery is new like you say, I would load test it to be positive that it isn't the problem. If the battery is not getting a good charge from the engine then you have other issues. I would also be sure the Voltage regulator is working properly. These can go bad and not allow the stator to charge the battery. When the engine is running you should see a good fluctuation in the voltage from 13-14 volts as you rev the motor.
Time To Take Advantage Of Your Warranty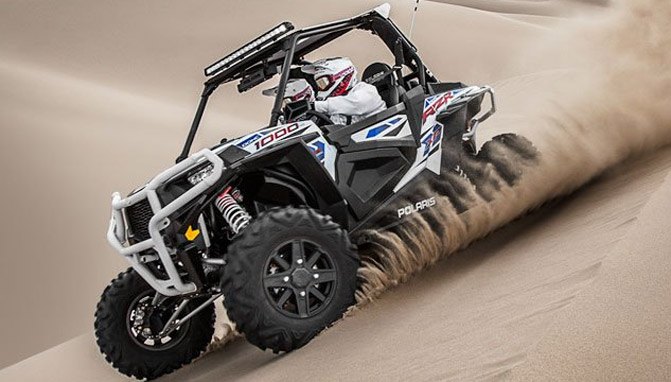 I have a brand new 2016 RZR XP1000 EPS. It only has about 5 hours on it.
Anyhow, when I accelerate rapidly it starts hitting the rev limiter intermediately from 40- To the top speed. I took it to my dealer who changed the belt and said it was fixed.
After having it back for a week and then riding it for about 3 hours its back at it again.
I've looked on the forums and found that this is a very common problem with no clear-cut solution. Any help you can provide would be greatly appreciated.
I'm wondering if the driven or drive clutch isn't having some kind of issues once they heat up. Slipping generally happens when the clutches are not pinching tight enough to the belt. It is also a warranty issue that should be handled by your dealer, providing you are not out of the six-month factory warranty. My advice is to allow the dealer to fight this fight for you instead of digging into the machine and voiding a free fix!
Replace Your Jets
Just bought a 1987 trail boss 250 starts and idles fine but breaks up when throttled. I had the carb cleaned, still the same. The oil injector is disconnected could that be a problem if so how do I know if pump is good?
The oil injector would only be an issue if you were not premixing your fuel as a replacement for the injector. The most common cause of off idle bogging with carburetors is the primary or starter jet. This is the smallest jet in the carb and it gets plugged up when varnish forms in the carburetor. I'd replace the jets inside the carb and try again.
Grumpy Cat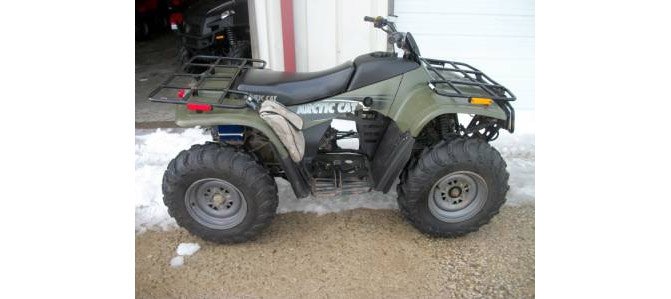 I have an 01 arctic cat 250 4×4. It will crank right up and idle perfectly in neutral. When i put it in gear it will stumble and sputter and hop and will die when throttle pressed all the way down? Could it be the flywheel? I already cleaned the carb, replaced the coil, spark plug. And its still doing it
I am not sure why you would think it is the flywheel. It sounds completely fuel related to me. My idea of cleaning the carburetor and others idea of the same thing is a bit different, so my advice is to replace the brass jetting inside the carb and try again. The off idle fuel issues you describe are very similar to a plugged primary jet.
Ranger Won't Run
2012 Polaris Ranger 4×4 EFI side by side two seater. It is idling high and when you drive it and stop it cuts off. It has been at the dealer 4 weeks and they haven't been able to fix it. They say Polaris has been contacted. Any help would be appreciated. Thanks
My first instinct tells me to check the T-MAP sensor wiring, which could be an issue. Being fuel injected it has many sensors that affect the idle and throttle delivery of the machine. The T-Map sensor is on the air induction tube between the throttle body right in front of the engine head. I would search the wiring for cuts or chaffing to eliminate any issues. Sometimes the wiring frays or could be broken inside the plastic sheathing that the copper wire runs through. This can be difficult to diagnose if you do not have experience with it and can be hard to really see, but has been an issue in the past. Published February 9th, 2016 11:38 AM
Top Brands
Popular Articles