1 View
ATV AnswerMan - April 2016
April 18th, 2016 2:06 PM
Share
We're committed to finding, researching, and recommending the best products. We earn commissions from purchases you make using links in our articles. Learn more here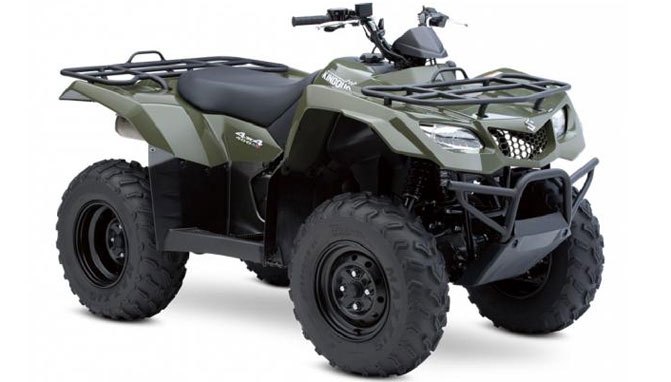 Noisy ATVs, electrical issues and more in this month's AnswerMan
I bought a king quad back in may of '15. Around late August or September I noticed what seems like a grinding noise. Its most noticeable after 20 – 25 kms. This sound is most noticable after trail riding for a while. I brought it back to the dealer as it was under warranty but they said it was "normal" for the 400. Funny thing is that the bike did not make that noise when I bought it. There is less than 500 kms and less than 50 hours of use on it. I checked the diff levels and had to add quite a bit of oil to the front diff. I have drained the oil to check for any wear from components.
If it is under warranty let the dealer struggle with it. If you feel like you just have to find out for yourself, then I would change the engine oil as well as the front and rear differential gear oil after a good day's ride and save each individually. You will know immediately if there are any issues in any of these three sections of the machine. If this leads to nothing substantial maybe jack the front and then rear of the machine up and spin the wheels. Its not likely, but you could have a bad bearing somewhere.
Another Noisy Machine
Hello,
I have a 2002 Suzuki Vinson quad runner automatic electric 4×4. I bought this used works well, however I noticed when I start the bike it has a tick/knock noise in or around the engine area, I can't locate it, only happens at idle even when the choke is on and at home idle it seems less and when I drive there is no noise, the tick only very apparent at low or regular idle, just wondering what it could be , I was told it's normal however I just want to make sure and fix it while it still could be cheap. Thank you
I would probably look at the valve clearance as they may need to be adjusted. These 4-strokes do rattle a little but should not be overly noisy. Judging by the age/year of the machine id say you may need a good service.
Bayou Has Gas Problems
Can the blown gear case gasket make or let my 2006 Kawasaki bayou 250 mix oil and gas together?
The fuel has to get into the gear case somehow and it is not going to simply be pulled in by a blown gasket. My suggestion would be to look at the Carburetor as a sticky float needle or one with varnish built up on it will be the likely culprit. This would allow fuel to run into the cylinder, past weak rings and into the motor oil.
More Information, Please
I have a 92 Honda trx250x it would overheat and stall then not start again I took in in to a hands dealer and they said to replace the solenoid so I did. I didnt have a problem for a little while but then all of a sudden it wouldn't start but only ounce it did in warm weather so i took it back in and the guy said to replace the CDI Box and I never did I just wanted to know if that's the real problem because the cdi box brand new online is $200 if you have any idea will help me out
I wish I knew if it was turning over and not starting or just not turning over at all. If the machine is turning over and not starting I would most likely perform a compression test once the engine gets warm. The vacuum of the cylinder is what pulls fuel through the carburetor to the combustion chamber. If the compression is low this will greatly hinder this process. If the machine is having trouble turning over then it would behoove you to perform a load test on the battery to be sure it does not have a bad cell or is simply getting too old.
Look at the Service Manual!
Foul wheeler will not rev over 3600 rpm only go 8 miles per hr and will not go in 4×4 we put new coil computer and new belt and Cdi box it a 360 Kawasaki prairie 4×4
I would get into the factory service manual and look up the actuator reset on the belt/CVT cover. I bet this could be the issue. Look at it this way; at least you didn't throw more money at the problem!
English is a Tricky Language
I have a 2012 Suzuki 400 Kingquad. My friend replaced the fuel pump and said he cheated out my gas tank (old bad gas was in it). It's running find now, but my "gas level indicator" on my dash isn't working correctly. It's digital and it used to show me how much gas I had inside the tank. But now it just cycles through the gas levels on the screen constantly. The indicator scrolls from empty to full and then repeats.
Any ideas?????
I cannot believe your buddy would cheat out your gas tank. What is this world coming to! I bet your buddy also jacked the sensor inside the tank and I'd be even more pissed about that. Check to be sure the sensor is plugged in as well. The computer may be searching for a level and cannot get info from the sensor.
Do You Even Google, Bro?
hey Man My Names Alex I was Having A Problem with My 2003 Raptor 660 , The Rear left wheel Has 3 broken Lugs where would i be able to get Them?
Dude, it's a dealer part and you can buy them by the handfuls. A quick online search is all you need, but eBay is a good resource as well. These should simply knock out the back side of the hub and the new lugs simply get hammered back in. This should be the correct Yamaha part number: 90114-10009-00
Water Problems
Hi,
I have a 06 yamaha bruin 350. On Sunday I went down to an off road park and accidentally went into deep water. My atv shut off right at that moment. As soon as I pulled it out I turned it on and it turned on like nothing. I then noticed it was leaking water from one of the snorkels I took the plug off and about 2 gallons of water came out. The atv would turn on and stay on without a problem, now I'm a mechanic and I know i shouldn't of turned it on at all but I decided to still take a risk so we wouldn't have to come back home early. After maybe 1hr the carburetor dried up and it started spreading so I decided to start riding it around it ranned great but at certain points it'll feel like it'll loose a bit of power. Can u please help me out here I'm new to the atv industry and I would like to know, is there a chance my motor might still be good?
I'm glad your machine "ranned" good, but please tell me what started "spreading"? If the belt is wet or even damp you will have trouble building any power as the belt slips on the CVT sheaves. If the entire machine was submerged in the water I would not be riding it around until I did these few things:
Drain the CVT housing and allow the belt to dry out.
Check the oil for any signs of water or chocolate milk looking oil.
Open the air box to be sure there is no water inside.
Buying a Used Machine
My friend wants to sell his Kubota RTV 900. It has 1553 hrs and is in good shape (from photos). What is the value or what site can tell me. Also, what do I watch for when I go see it?
If it were me, I would just look closely at the axles, performance while driving in the steering etc. Ask for service records and hope your buddy has kept them. Maybe even take the machine to the local Kubota dealer and have them give you an opinion. It's hard to say what a good price would be because its only worth what you want to pay. Get more tips on buying a used ATV or UTV here.
Carb Concerns
I have a 99 big bear 350 2×4. It cranks and idles like a dream, but just doesn't seem to want to throttle up. Removed and cleaned the carb several times but to no avail!
When most people write in and say "I cleaned my carb several times" I get a little skeptical. The easiest way to "clean" a carburetor is to not clean it. Simply run out to the dealer and spend $20 on all new jets for the carb. Replace all of them or anything that's brass! The primary jet is the biggest culprit in the mix because the opening in the jet is extremely tiny and clogs up easily but the main jet can also be trouble. I would replace the needle valve set as well to prevent trouble with a leaky carburetor.
Replace Your Jets
Having problem with my Arctic Cat 300 4×4. It's a 2003 model. Started running rough when I would give it gas. So I cleaned the carb and new plug drain all old gas out clean tank with ethanol free gas added a filter in the gas line, using ethanol free gas now. But still when I give it gas it spit and sputters and cuts off but will idle fine. I give up. What do you suggest?
Fuel delivery is limited by varnish covered jetting and I'd say it you still have some varnish in the smaller holes in the carburetor. As I had suggested above in a previous question, simply replace the jets. Run a chemical cleaner like Ethanol Equalizer in the gas and that will help in getting the remaining varnish out.
"Snap" is a Bad Sound
Hello, I have a 2012 King Quad 400asi Straight Rear Axle with a 2in lift, 28in Outlaws and HMF exhaust. It does pretty good in the mud but yesterday I went into a mud hole on 4×4 and I heard a loud snap on my four-wheeler. As I come out of the hole I notice my back left tire isn't spinning. All tires spin now except my back left. Can you help and tell me what could've possibly happened? Thank you
I'd say you have a broken prop shaft or possibly broken the axle in half. This is going to take some investigating on your part. Jack the rear of the beast up and invite a buddy over to help. Hold the right wheel and see how difficult it is to spin the wheels in opposite directions. That will give you an idea of the potential damage. If both rear wheels still turn together then look at the shaft between the engine and the rear differential.
Bigger Tires
I have a Polaris Ranger 500 EFI and have to change tires. In all the brands I want they don't have the 25x11x12 size. Can I put the 26x11x12 on the rear and 26x8x12 on the front?
I think you would be able to get that size on the Ranger pretty easily. I'd just be sure of how the steering and machine handles overall before ripping off through the woods. You may notice a little reduction in power as well but it shouldn't be much.
Solving an Electrical Issue
07 sportsman 800 2x deluxe
Just got it. Need new from bumper and plastic. The gages don't work. I turn key on and can't get it to do any thing. I jump the starter with screwdriver it will turn over but it will not start. I check to see if there was a spark on one of the spark plugs I didn't see any thing. I was told might be the ECU but I don't Want to buy one till I have another opinion. Thanks
Seems to me that you have an issue with power to the dash etc. Jumping the solenoid is easy because the battery is hooked straight to the starter, but this machine is not going to start without power to the ECU. Look for any fuses that might be blown or even simply corroded to the point of no contact. A good service manual with a wiring diagram will be priceless as you look for the root of the electrical gremlin. Published April 6th, 2016 2:10 PM
Top Brands
Popular Articles