1 View
Kawasaki Teryx4 Riding at The Lone Ranger Premiere
June 16th, 2015 4:33 PM
Share
We're committed to finding, researching, and recommending the best products. We earn commissions from purchases you make using links in our articles. Learn more here
We Live the Legend in New Mexico
Kawasaki Motor Corp., USA recently invited a select group of off-road publications to Santa Fe, New Mexico, for the opportunity to attend the premiere of Disney's blockbuster summer film The Lone Ranger and then sample its capable Teryx4 UTV over a few miles of arid Southwestern desert terrain not far from where some parts of the movie had been filmed. Although I'm normally a two-wheeled guy, when ATV.com drafted me for this gig, I gladly accepted. Visit picturesque Santa Fe, attend a movie and drive some kick-ass UTVs? Count me in.
On my way to Santa Fe I couldn't help but wonder about Kawasaki's stake in The Lone Ranger. I'd seen the trailers for the film, and I had also perused Kawasaki's static "Live The Legend" Teryx4 promotional tie-in ads, but I still didn't get the connection. I hoped it would all make more sense before the trip was over.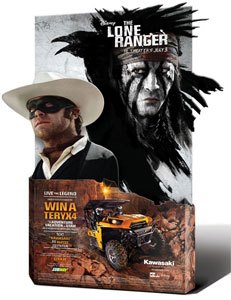 Admittedly, Kawasaki and The Lone Ranger seemed like strange bedfellows to us…at least at first.
Kawasaki put us up in the swank La Fonda on the Plaza hotel, located smack dab in the middle of Santa Fe's cultural and night life hub. But the typically swanky accommodations for a press junket got me no closer to "living the legend," whatever that meant. That night, however, Kawasaki officials attempted to bring things into focus during dinner at Santa Fe's historic Rio Charma western steakhouse, where the prime rib is excellent and the horseradish is the real stuff and not just some watered-down creamy excuse. I'm all for fun in the sun, but as Kawasaki's marketing men dove into their presentation, I wondered if this trip would end up being more like the good horseradish or the bad.
According to Kawasaki's marketing folks, the Lone Ranger partnership is a promotional opportunity that fits into Kawasaki's emerging marketing message of rebellion. Our hosts explained to us that the goal is to increasingly portray the Kawasaki brand as "not for everyone, and we don't want it to be." The opportunity to help market its products by latching on to a Disney film such as The Lone Ranger, in which the protagonists, while good guys, fit the rebel image, appears sensible enough.
But things seemed to get a little muddled when the marketing man went on to discuss not only the Disney tie-in but other cross-promotional campaigns with sandwich giant Subway and pointed out a recent feature on morning television news show Good Morning America as other proud examples of its efforts. Disney. Subway. ABC television. Are these the typical channels used to reach true rebels? Sean Alexander, one of the bright stars of Kawasaki's PR partner firm, Freeman-McCue, tried to clear things up when he noted that while there may be a multitude of people out there who think of themselves as rebels, they may never have thought of off-roading or other powersports as an ideal outlet for that rebelliousness. And if Kawasaki could reach the one-tenth of the one percent of that audience? Why, they'd hit a mother lode of potential new customers that's on a par with the haul from the silver mine in The Lone Ranger.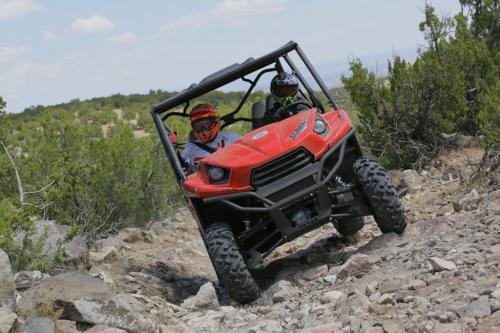 UTV riding may not seem like the pastime of rebels…until you notice how riding areas are being taken away and how off-road enthusiasts are being vilified.
And that really makes sense. After all, as enthusiasts most of us are not the type who want to race out into the night on our Side-by-Side or our ATV and hit some helpless old lady over the head for her social security check, and sadly we've probably all been in situations where we're unfairly portrayed that way – the noise makers, the environmental terrorists, dust-kickers or kickers of, ahem, fecal matter. But our love of adrenaline, our sense of adventure and our quest for thrills are uniquely satisfied whenever we strap on our helmet and hit the starter button. Why wouldn't we dig it if someone wanted to tap into new individuals and get them hooked on our sport? Commercialism always sounds uncool on the surface, but strength in numbers is no myth, especially when the very land-use issues that perennially threaten our lifestyle come into play. In that case, it's cooler to have more people on our side, not less.
The Teryx4 certainly projects its own strength. It may not be the fastest UTV in its class, but you could argue that it's the equivalent of a World War II Sherman tank. It's built to take a beating in the woods, the swamp, or as I found out, the silty, rutted and rock-infested trails that are part of the New Mexico desert. For the Teryx4 driving portion of our event, Kawasaki selected Caja Del Rio Canyon just outside of Santa Fe. Known to locals as Diablo Canyon, the area is owned by the U.S. Forest Service and managed by the Santa Fe National Forest. The Caja Del Rio park is composed of approximately 84,000 acres. It's particularly popular with rock climbers who like to get their own adrenaline fix by ascending its many jagged canyon walls. It's also an attractive movie location. The Lone Ranger was filmed nearby, and Diablo Canyon itself was used to film the 2007 movie 3:10 to Yuma, starring Russell Crowe.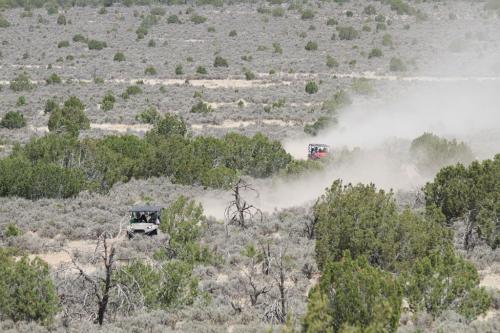 The desert terrain around the Diablo Canyon has appeared on the big screen before.
The driving terrain is mostly two-track road, and Kawasaki made it very clear that straying from these roads into undisturbed desert was prohibdo! But even the roads offer plenty of challenges to vehicular traffic. Sudden washouts and quick terrain changes that run the gamut from Baja-like silt to volcanic rock-strewn sections are enough to keep even seasoned off-roaders on the their toes. And of course, with a well-built UTV like the Teryx4, it's great fun. Our crew, which consisted of 10 journalists spread among five rigs, made for a fast-paced adventure. The total mileage on our ride ran little more 30 miles, but there were plenty of low-speed technical sections to give us a taste of all that the New Mexico desert has to offer.
None of it posed a challenge for the Teryx4. Its fuel-injected 749cc V-twin delivers excellent low-end punch with a smooth mid-range. I also like the Teryx4's Showa-built Electric Power Steering system, which makes low-speed turning a breeze and also helps the Teryx4 hold its line when navigating rock-infested trails. It's an extremely easy vehicle to drive throughout its speed range, and its 16.7' turning range is pretty tight. The Teryx4 steers more quickly than its rangy 86.1" wheelbase might suggest.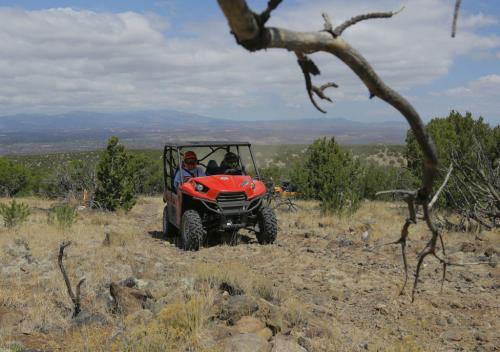 The Teryx4 is right at home in the desert.
High- and low-velocity hits are also amply soaked up by the Teryx4's coil-over shock absorbers, which deliver 7.8" of travel up front and 8.3" out back. The front shocks are preload adjustable only while the rears are fully adjustable, but I never felt the need to make any adjustments to accommodate the terrain we traversed. The Teryx4's A-arm front and independent rear suspension system helps smooth out the bumps by leaving each wheel to do its own thing, but the ride isn't Trophy-Truck plush, and this is one area where the Teryx4 could use just a little more – either more travel or more supple shocks.
One other thing I like is how the transmission still allows proper engine braking when you're descending a hill, so you don't have to constantly tap-dance the brake pedal. If you should need them, though, the brakes are powerful and linear, with 200mm rotors clamped by dual-piston calipers up front and a sealed internal wet brake in the rear. You can read our full review of the Teryx4 here.
Our tight schedule meant that we had to return to the staging area by 2:15 p.m. in order to make dinner and then arrive in time for the premiere of The Lone Ranger. A good time was had by all, and we had experienced some great off-roading in Caja Del Rio, but I was still left wondering when the payoff would come. Maybe something special would happen at the premiere, like I'd turn to ask the guy next to me to please turn off his cell phone and it would be Johnny Depp. Hey, could happen…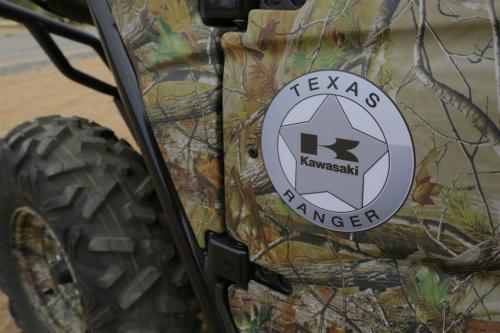 We may not have met the Lone Ranger cast, but you could see the film's influence on the Teryx4.
Alas, Johnny was a no-show at the premiere. Didn't even leave me a text message. But I will say that the movie is very well done, and I recommend that you don't wait for the DVD. Since you probably already know the basic legend of The Lone Ranger, I won't bore you with the details or spoil the movie plot, but suffice it to say it's an excellent western adventure film in which the main protagonists, the Ranger and his sidekick Tonto, attempt to foil the bad guys in the name of justice while also earning themselves a measure of redemption from the separate tragic incidents that have affected their lives.
Our premiere group was honored by the presence of the movie's producer, Jerry Bruckheimer, who introduced the film by giving a short speech and then promptly heading for Dodge, metaphorically speaking.
Regardless, I was still looking for that payoff that would make Kawasaki's marketing message more simpatico. And it finally happened on the day that we were scheduled to return home. Prior to shipping us back to our lives, Kawasaki arranged for a quick ride in the Teryx4's on a short but dusty closed course just outside of town. The plan was to "deputize" us by having us chauffer distinguished members of the Hollywood press who had flown in from around the world to attend the premiere of The Lone Ranger.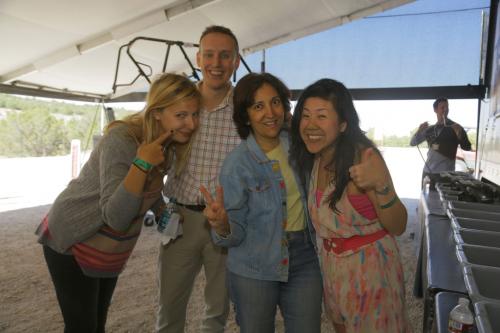 These members of the Hollywood press had a chance to live the off-road lifestyle for a little while.
I was waiting to see which of the suckers, er, passengers I would be taking for a ride when the most dainty of them all, a lovely young Asian girl in a beautiful summer dress with laced horse riding boots walked over to my rig. She introduced herself as Genevieve Loh, strapped herself in and said, "I guess you're going to be taking me for a ride."
"Yes ma'am," I said. "Have you ever done this before?"
Genevieve replied in the negative and proceeded to explain that she was visiting from Singapore, and there is nothing like this in Singapore. Since I was dealing with a complete off-road newbie here, I politely started out with the Kawi/Disney spiel – no smoking, no eating or drinking, keep your hands inside the vehicle at all times – and then I told her that I would only go as fast she wanted me to and to let me know if I was making her uncomfortable. Her reply made my day.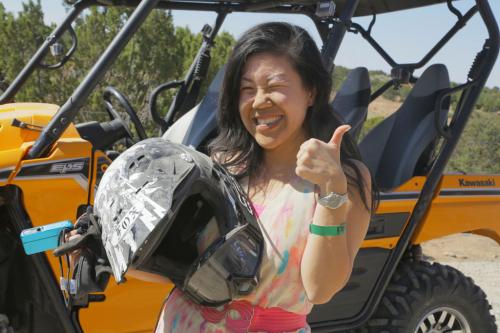 Genevieve Loh, who resides in Singapore, was our willing passenger.
"Oh, go for it," she said. "I want to get the full experience."
Okay, lady, you asked for it. I proceeded to slam the Teryx4's throttle pedal to the floor and keep it there as much as I could. While others backed off or swung wide of one another to relieve their passengers from the relentless dust, I proceeded to shadow freelance journalist Mike Calabro's rig at warp speed. Calabro was on the gas, too, and our two Teryx4's rocked and rolled around the trail loop in unison. Genevieve, hooted, hollered and laughed with exuberance the whole time, even when we hit some G-outs so hard it made my eyeballs rattle.
Then I thought, "What the hell, I'll give her the full experience."
Just as we began to slow down through a short singletrack section I yelled, "This guy's going a little slow. I think it's time for a little love tap!" And I proceeded to nerf Calabro and his passenger, whose heads snapped backward just enough to let me know that they knew we were there. I could see that we were heading back out onto one of the course's wide and fast sand washes, and I figured that now Calabro knew the game was afoot, so I mashed the throttle way early, and when he swung wide halfway down the wash, we zapped him. Now it was their turn to eat our dust.
We did not take it easy on our off-road newcomer.
Except that we then came up to the next rig in line quicker than I thought, so the only gentlemanly thing to do, of course, was to stuff it past them in a bermed left-hander that led to another singletrack section. We cleared them with inches to spare, and just like that, we went from fifth on the road to third on the road. Genevieve absolutely loved it.
I was feeling pretty good about myself at that point, and I was gobbling up the distance to our next victim when, out of nowhere, another Teryx4 came leaping out of a brush section that was not part of the marked trail, and it sawed us off big time. The driver, who peered over his shoulder and gave me a thumbs up, was ATV Rider's Brad Howe, and apparently young Brad had been playing his own version of the game. It was my turn to laugh out loud.
And then before we knew it the ride was over, and we were herded back to the staging area. I turned to Genevieve and asked her if she'd had a good time. Her face was covered in dust, but coming through that dust in Technicolor white was an ear-to-ear grin. And her response left no doubt about whether or not she had enjoyed herself.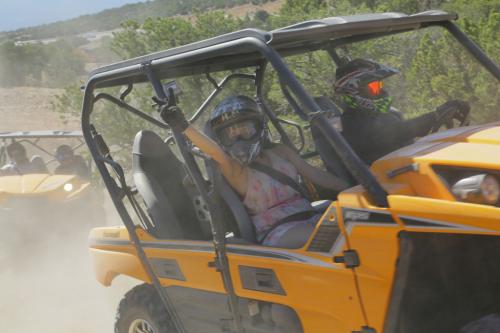 Looks like another convert to the church of Kawasaki!
"That was so awesome!" she said. "It was better than any rollercoaster you could ever go on!"
And that was what made my whole trip worthwhile. It was 15 minutes of a three-day excursion, but that was all it took for Kawasaki's marketing strategy to make perfect sense. I was able to introduce someone to a sport that consumes my passion, and she responded with the same passion. It was an awesome feeling, far better than if our demo ride had left her indifferent or confirmed any negative conceptions. And as far as I'm concerned, those two responses might as well be one and the same. Published June 24th, 2013 9:37 AM
Top Brands
Popular Articles