1 View
Off-Road Riding and Tactical Training: Part III
June 16th, 2015 4:31 PM
Share
We're committed to finding, researching, and recommending the best products. We earn commissions from purchases you make using links in our articles. Learn more here
We practice long-range shooting and take on the Scrambler
Prior to what had turned out to be a golden opportunity to spend three days riding and receiving firearm instruction with Yamaha's ATV and UTV marketing team at the Gunsite Academy near Prescott, Ariz., I have to admit that I had no idea just how focused the company's Yamaha Outdoor branding really was.
Learning that Yamaha has forged alliances with outdoor and hunting groups such as Buckmasters and Ducks Unlimited, firearm organizations such as the National Rifle Association and Gunsite, and veterans' groups such as Honored American Veterans Afield, really opened my eyes to how Yamaha has positioned itself differently and more actively than its competition. It's just one guy's opinion, but I think it's a good fit, and Yamaha should be proud of these efforts.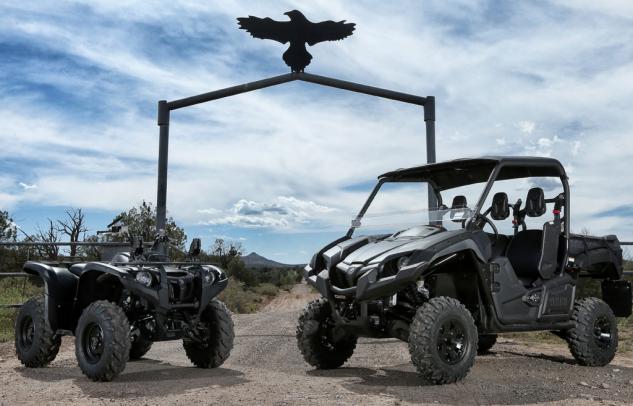 Of course, as many of those groups are considered tops in their respective fields, Yamaha's involvement from a product standpoint might be out of place if its ATVs and UTVs weren't well-respected as innovators and leaders in their respective classes as well. After spending the morning of my third day at the Gunsite Academy free-riding aboard the 2014 Yamaha Grizzly 700 FI Special Edition Tactical Black model, I was convinced that Yamaha is more than worthy.
Grizzly 700 FI SE Tactical Black
The Yamaha Grizzly 700 FI has already forged its place in the utility 4X4 class. Introduced back in 2007, it is a perennially strong contender that has benefitted from constant updates to improve the breed, and the 2014 model year is no exception.
Off-Road Riding and Tactical Training: Part I
Among the latest improvements are a new cylinder head and a modified piston shape intended to pull more power out of the Grizzly 700 FI's fuel-injected, 686cc, four-stroke single. The piston change accomplishes much of this goal by bumping the engine's compression ratio from 9.2:1 to 10.01, but Yamaha has also increased the lift of its single overhead cam while retaining the same duration. The emphasis, say Yamaha spokesmen, was on improving the engine's low-end grunt without sacrificing the Grizzly's respectable top-end power. Durability enhancements for 2014 include a new heat treatment to the connecting rod. The engine changes should give the Grizzly more get-up and go.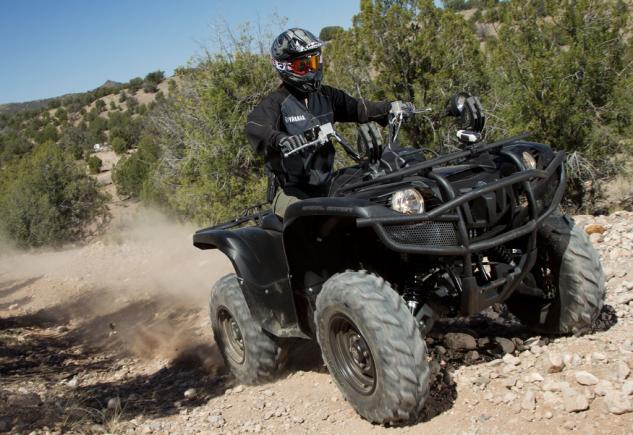 The Grizzly features a host of small yet significant engine upgrades, such as a new cylinder head design and a revised piston design that increases compression to add even more oomph. The extra power helps the big 4×4 ATV get rolling more quickly.
And go it does. My morning of free-riding left me impressed with the Grizzly's linear yet authoritative motor. Throttle response through its 44mm Mikuni throttle body was crisp and clean at any rpm, load or throttle setting, thanks to a well-calibrated throttle position sensor that keeps the fueling precise. That's an important detail to consider on a machine that doesn't feature a manual transmission and therefore eliminates the opportunity for the rider to downshift in the event that more rpm or power is needed, such as when dealing with an obstacle on the trail.
The Grizzly 700's power is charming in its delivery, with plenty of bottom end snap and a smooth midrange pull that transitions seamlessly into potent yet user-friendly top-end power. The Grizzly's innovative Ultramatic transmission plays a big role in the electric feel of the engine while also putting the power to the ground. The system uses a centrifugal hydraulic clutch arrangement that maintains constant belt tension for smooth power delivery and increased belt life. The sprag clutch also does an excellent job of giving the automatic transmission a proper engine-braking feel when descending hills with off throttle.
I also enjoyed monkeying with the Grizzly's three-position On-Command four-wheel-drive system, which lets the rider switch between 2WD, limited-slip 4WD and a fully locked differential 4WD with the simple push of a button on the handlebar. An override button allows the engine to achieve maximum rpm when the differential is in the full-locked mode.
The 2014 Grizzly 700 FI's steel chassis has also received a few noteworthy changes, including new 30mm longer A-arms that add 2.3 inches of width to the platform. Yamaha engineers say that the longer arms increase ride comfort without detracting from the Grizzly's quick-handling character. The A-arms go hand-in-hand with another welcome change, a suspension travel increase. The 2014 Grizzly 700 FI's five-way adjustable preload shocks now boast 8.6 inches up front and 9.2 inches out back, and all feature new, progressively wound springs that offer broader spring rates to help maintain the Grizzly's linear feel through the suspension stroke. Its 10.8 inches of ground clearance is generous, but just in case the bottom rails should make contact with the ground, Yamaha has fitted the chassis with a full-length composite skid plate to take the punishment.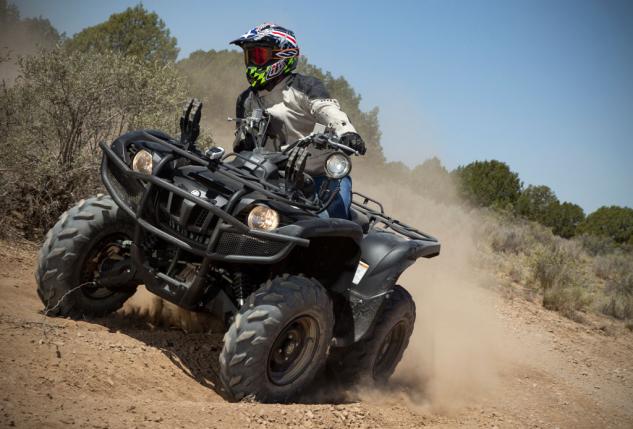 Revisions to the Grizzly's steering and front A-arms yield a lighter-steering unit without sacrificing its trademark steering feel and precision.
On the trail, the Grizzly's suspension delivers a very plush ride without wallowing. Stutter bumps are absorbed in the first couple inches of travel with ease, and bigger hits fail to jar the Grizzly. About the only times that the suspension action is really noticeable are during hard acceleration or under braking. Mash the throttle hard, and the big Grizzly will gently squat on its rear wheels before leveling out – the sensation is similar to a boat coming onto plane. Braking will induce a forward pitch as the weight shifts, but this does little more than to increase front wheel traction. It doesn't adversely affect the Grizzly's steering in any way. Overall, the Grizzly deserves high marks for its comfortable yet trail-ready suspension.
Steering is another area where the 2014 Grizzly has undergone changes. Yamaha engineers elected to revise the Pittman arm while also adding an additional 4.2 degrees of steering lock on each side for a total of 86 degrees of steering arc from lock to lock. These tweaks are accompanied by revised Electric Power Steering unit mapping that reduces the amount of torque required to turn the handlebar through its arc. This combination of subtle differences is intended to reduce steering effort without spoiling the overall steering feel that Grizzly customers have come to know and love.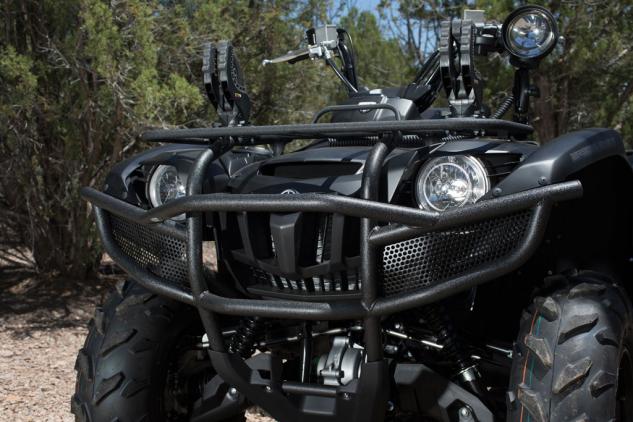 The accessory Grizzly Spot Light boasts 70,000 candle power via a sealed-beam bulb housed in a durable, weather-resistant rubber housing. The light includes a mounting system, 10-foot coiled cable, and a 12V plug/receptacle system that fits all models with a 12V receptacle.
The Grizzly is capable of tackling nasty terrain at fairly high speeds, which places a premium on steering performance and feedback. Once again, the Grizzly 700 is excellent. I had no issues with the EPS, which offers a noticeable yet progressive assist at slower speeds and firms up when the Grizzly is really logging on a fast road or trail. The EPS system actually makes the Grizzly feel lighter and more responsive than you'd ever imagine that a big utility ATV ever could.
Off-Road Riding and Tactical Training: Part II
Lastly, the 2014 Grizzly benefits from new Maxxis tires. The new 25 x 8-inch fronts and 25 x 10-inch rears feature a new tread design to maintain the same crisp handing and offer increased traction by virtue of a slightly lower rear tire pressure requirement. The tires are mounted on new cast-aluminum rims that have their bead lip reversed so that they collect less mud, making cleaning less of a hassle. Since the desert terrain we traversed at Gunsite looked as though it hadn't seen rain in a decade, we'll have to take Yamaha's word for that. Swamp riders, feel free to chime in and share your experiences once you've splashed through a few bogs with a new Grizzly!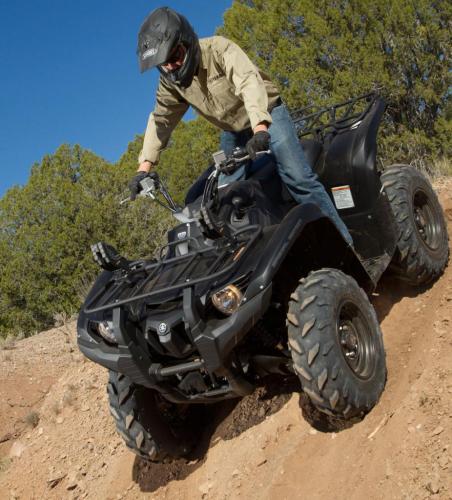 The Grizzly's cockpit offers a roomy layout that makes standing while riding feel very natural. The machine's brakes are supremely powerful and very linear, inspiring confidence on steep descents.
Two more things impressed me. First is the Grizzly 700's roomy and comfortable cockpit, which offers a generously padded seat that is slim and well-contoured, along with roomy footboards that make transitioning from the seated position to the standing position feel very natural. Second are the Grizzly's extremely linear yet powerful disc brakes, which haul its 648 lbs (claimed wet weight, with a fully fueled 5.3-gallon tank) down from speed in a hurry if necessary.
Of course, in keeping with the theme of our Gunsite adventure, all of our Grizzly test units were SE Tactical Black models, which feature the Tactical Black color scheme and graphics. Our test samples also came equipped with some useful Genuine Yamaha Accessories, including the Grizzly Heavy Duty Front Brush Guard ($261.49), Grizzly Gripper Gun Holder ($79.99) and the Grizzly Spot Light ($106.49).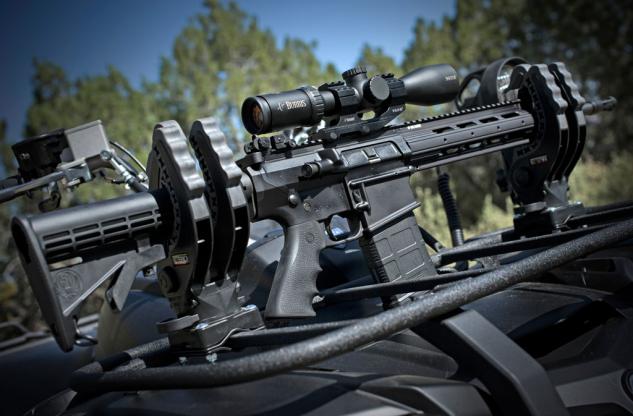 Yamaha's accessory Gripper Gun Holder is designed to keep a gun, shovel, fishing pole, ice auger or other item secure for the ride and easily within reach. Grips feature exclusive Rhino Teeth rubberized jaws to clamp gear firmly with a ratcheting action. The hold can be released with the push of a button.
At the end of the day, my thoughts on the Yamaha Grizzly 700 FI SE Tactical Black model could best be summed up by paraphrasing a popular new truck commercial that is currently running on television: Before I saw the Grizzly 700, I didn't know what it was. Now, I want one.
Gunsite Day 3
Once I parked my Grizzly 700 test model, it was back for more training on the Gunsite ranges. While some of crew were bummed that time would not permit us to exercise our new Garmin VIRB cameras and Tactix GPS watches on the pistol target search route, the Gunsite guys more than made up for it by providing us with extra time to fire our Ruger SR762 rifles at long-range targets set at 300 yards. I'll have reviews on the Garmin products on ATV.com real soon.
The range's knockdown targets use an air pressure system that allow the targets to fall when hit and then reset themselves after a minimal delay. Gunsite instructor Mike Moore explained to us that it was important to wait once we had a confirmed hit, as tagging the target while it was in the process of resetting itself would break the mechanism and force a delay in our drills if repairs were necessary – not a good thing. Fortunately, our group paid attention to his instructions and there were no issues.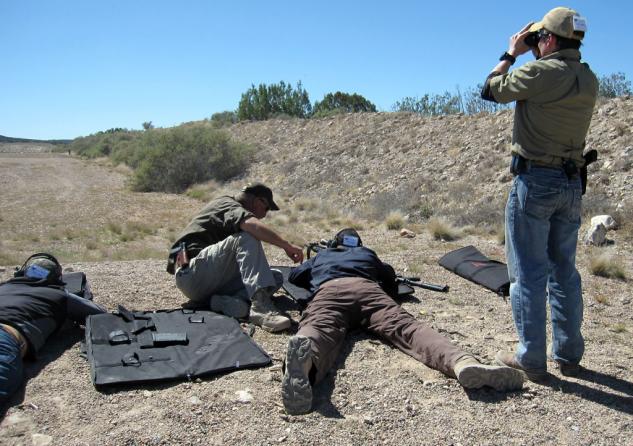 Gunsite instructor Mike Moore coaches a student on the 300-yard rifle range while firearm journalist Jeff Johnson uses a pair of binoculars to call out the location of the student's shots.
With our rifles sighted for 100 yards, shooting accuracy required a different sighting technique for the 300-yard target. Rather than sighting through the center reticle in our Burris scopes, we were instructed to compensate for the arc of the bullet over the longer distance by lining up the target two reticles below the center reticle in the scope. Each reticle drop corresponds to 100 yards more distance.
After missing the target high on my first several shots, I was beginning to think that I just plain sucked at long-range shooting, but I quickly found that adjusting my aim back to the center reticle had me knocking down the target with ease. When I asked Mike about this, he explained that changes in weather, humidity and wind can all be factors that require compensation, and that I had basically learned an important lesson on my own – if you're not hitting the target, make the necessary changes until you do. I also learned that keeping both eyes open makes it easier to view the sight picture, and that is something I plan to continue to practice in the future.
2014 Yamaha Grizzly 700 FI 4×4 EPS Review
I was really glad that we had done the long-range drills before being taken to our final exercise of the week, the Scrambler. This is a range that features a series of eight targets of varying size, height and distance, hiding in the brush. In the Scrambler relay, the student must run from one to firing line to the text, and he or she can utilize any available rests, such as tree branches or stumps, and any of the firing stances learned in order to score hits on each target. The student is timed on all eight targets, and is only allowed two shots at each target. Fail to score a hit in two shots and you have to start over. Adding to the difficulty of the Scrambler is the fourth target, which requires the student to crawl into a two-foot high box, make a shot from the prone position and then hurry back out of the box to make the next target.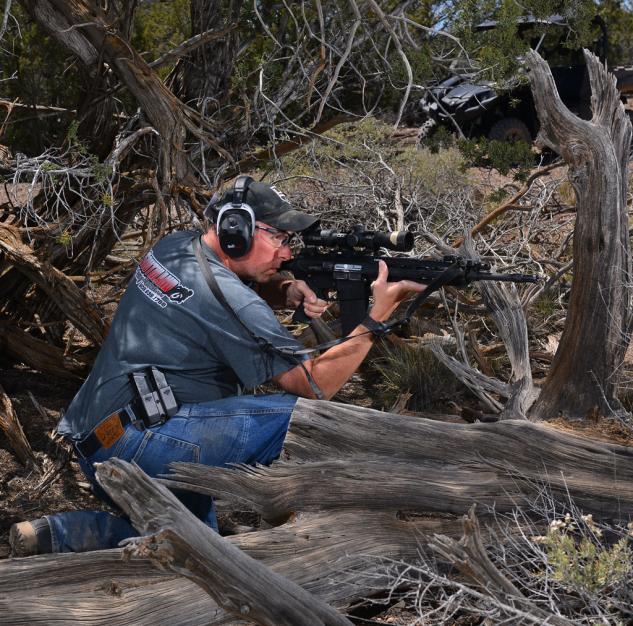 Our Gunsite instruction included time spent on the Scrambler course, a timed "read and react" course where the student has to run from zone to zone and score a hit on each target within two shots. This was the most fun part of the whole trip!
With only one walk through, and with my left-handed shooting technique adding to the awkwardness of running from left to right while keeping the muzzle properly pointed down range, I still managed a very respectable time of 61 seconds. The record for the Scambler is a blazing-fast 34 seconds, set by a motivated Marine dressed in full battle gear. Some of the Gunsite instructors run the drill at a consistent 42 seconds, and some of the more experienced and/or athletic shooters in our group got to within a few seconds of that time.
As physical as the Scrambler is, our group unanimously agreed that it was the most fun experience of the whole week, and many of our crew ran themselves almost to the point of exhaustion in an attempt to shave just one more tenth of a second off their fastest time. If I ever make it back to Gunsite, I am going to make sure and book some time on the Scrambler.
And with that, an amazing and highly educational three days at the Gunsite Academy was over. I left with the impression that I need more work to be a better pistol shooter and marksman, but I definitely left the place a lot better than when I got there and, most importantly, well-armed with a lot more knowledge about how to handle a firearm safely in an emergency situation should one ever arise. You just never know, and that's why Gunsite exists, to teach people how to react safely and smartly in situations where a firearm might be the only alternative.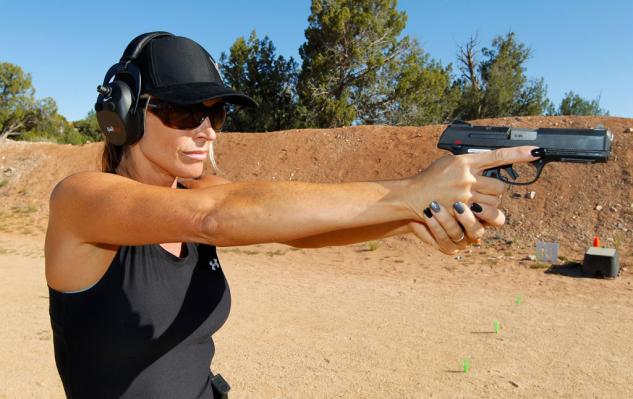 Professional off-road truck racer Corry Weller was one of the students Yamaha invited to the Gunsite event.
One of the other benefits to the event was making new friends along the way, folks like Lucas Oil Off-Road Series racing driver (and ATV.com contributor) Corry Weller from nearby Chandler, Ariz. In addition to being a fearsome competitor in the Pro-4 category, which involves "man-handling" a 900-horsepower off-road truck while battling in tight formation with a host of other talented drivers, Corry races with Yamaha power in a LOORS class that she and her husband devised. Called SR1, it features custom-made race UTVs powered by Yamaha's potent YZF-R1 superbike engines. An avid shooter who grew up around firearms, Corry was excited by the opportunity to shoot, and she came away as impressed as I did.
"I think this is great," Corry said. "I had actually been wanting to come up here for a long time and take a class, but I had never been able to find the time do to it. I love their emphasis on safety because that is how I was raised, and the self-defense techniques that they teach are really good. I can really see why Yamaha supports this because I think that you find a very similar demographic – people who enjoy shooting also enjoy ATVs and Side-by-Sides. There's also the hunting crowd, and Yamaha is very active in that world. It all ties together, and no matter what, you want to be safe. Yamaha is very safety aware. We all want to keep doing what we do, and it is very important that whether you want to learn how to use a firearm or learn how to ride an ATV, the first thing you should do is seek out proper training by experts. You want to enjoy what you are doing, and you can't do that if you are not doing it safely."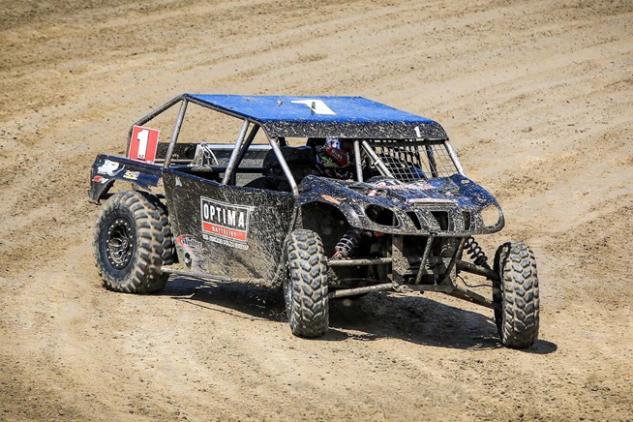 Weller's racing UTV utilizes an engine from Yamaha's powerful YZF-R1 superbike. PHOTO COURTESY OF CORRY WELLER RACING.
Likewise, the firearms journalists among our group were equally impressed with Yamaha's products as much as its effort in putting the Gunsite trip together. Jeff Johnston, a freelance writer and host with American Rifleman Television, is an avid shooter who enjoyed his fresh experiences with the SE Tactical Black Grizzly and Viking.
"This is a wonderful program," Jeff said. "I'm a hunter, and I have property in Oklahoma. I want a Yamaha Viking. To me, they are fun to ride, but they can also be used to do work. You can load up your friends or you can go fix a fence. There's plenty of room for gear in the bed. They are awesome machines. I might have to go with the payment plan on one real soon."
As the group enjoyed a final dinner with our newfound friends at the Gunsite Academy, I took the opportunity to chat with Mike Moore one last time. Mike expressed satisfaction that all of the students had come away from the experience better educated and that none of us had experienced any mishaps that could result in an injury. At that moment, just for grins, I asked Mike what was the dumbest thing he had ever seen someone do during his instructing years at Gunsite. Mike related that while had seen a lot of things, one of the funniest he had ever seen was when he was conducting rifle drills with a platoon of Marines on the firing line. "After they took their initial shots, I ordered them to empty their guns," Mike said. "To a man, they all raised their guns and fired at the targets until they were out of ammo. That wasn't what I meant, but I guess that's one way to do it!"
If you're ever in the Prescott area and have a chance to book time for instruction at Gunsite, I highly recommend it. Our week spent with Yamaha, receiving Gunsite's expert firearms instruction and sampling the SE Tactical Black Grizzly 700 and Viking is certainly one that I will always remember.
I know, it's a dirty job, but… Published May 14th, 2014 4:04 PM
Top Brands
Popular Articles