11 Views
Is the Polaris Ranger XP 1000 Back Country the Best Hunting UTV?
March 4th, 2021 5:12 PM
Share
We're committed to finding, researching, and recommending the best products. We earn commissions from purchases you make using links in our articles. Learn more here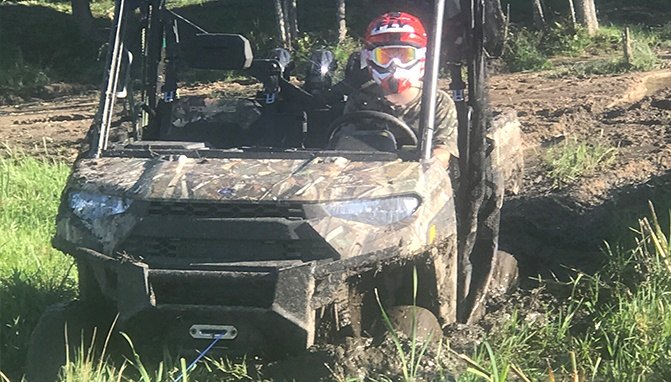 This Ranger ticks an awful lot of boxes
By now, we all are familiar with the Polaris Ranger XP 1000, or at least we should be. This is the best-selling UTV on the market. It has the horsepower, smooth ride and features to get things done, and in an enjoyable fashion. Polaris has taken to listening hard to its customer base when it comes to improving the line, and the newest generation of the big-bore Ranger is the product of that. They have a lot of special-edition machines tailored to specific needs too. The Back Country edition came out last year and we've had time to really get to know the package. Is the Polaris Ranger XP 1000 Back Country the best hunting UTV? Let's see.
Looking at the Ranger XP 1000 Back Country
By now, you should be pretty familiar with the base Polaris Ranger XP 1000. It has a 999cc ProStar twin-cylinder engine that produces 82 horsepower. The Ranger is extremely well known for being smooth, and quiet. In fact, other brands use the Ranger XP 1000 as the basis for comparison for cabin noise and linear power delivery. All roads for smooth, quiet power go through the Ranger.
Part of the smooth ride comes from the shocks and suspension setup. The Ranger XP 1000 has 11-inches of travel at each corner, and the Back Country machine rides on arched A-arms for added ground clearance. When Polaris redesigned the frame, it upped the towing capacity to 2,500 pounds. The frame itself is a one-piece design and was based off suggestions from users like you and me.
The Ranger also has drive-by-wire digital throttle control, with three modes, Work, Normal and Performance. I use Work mode for chores around the house, but being a bit of a gas monkey, I usually spend most of my time in Performance mode. But enough about the specs. Let's talk going off the grid
Back Country Action
The Back Country package adds a few features that help make it one of the best hunting UTV models anywhere. Now, you can choose between a couple of color options, but if you hunt, you're going to get the Pursuit camo machine. I've said it before and will say it again, Polaris should market hunting gear in this camo pattern. It is a truly great northern pattern. When I heard the story of its creation, I laughed. A graphic designer with Polaris literally walked behind the building, scooped up some leaves, twigs, grass and dirt and created it. So cool.
The first thing you'll notice about the Polaris Ranger XP 1000 Back Country is the three snorkel system normally found on the High Lifter mud machine. Raising the air intake and breather up to the same level as your head means this beast can take some serious terrain, especially when that terrain includes more water than you might like. This really adds to the credibility of the Back Country as perhaps the best hunting UTV.
That terrain might leave you with less traction that the Maxxis MU51/52 tires can conquer. No worries, Polaris includes its Polaris Pro HD 4,500lb winch with synthetic rope and a wireless remote. This is a great winch that bolts right into the Ranger platform, so if you don't have the Back Country model, you can add one to your machine in around 20 minutes.
Let's Go Hunting
So is this the best hunting UTV? I needed to find out if the Polaris Ranger XP 1000 Back Country could really go into the back country. I was thinking of the best ways to test the machine when it came to me. A family friend owns a massive amount of mixed woods and farmland near by. We were chatting about the upcoming deer season and he looked at the Ranger and said that he thought it might be the right machine to go check something he'd always wanted to know. On his land, he has a creek that drains into a swampy area. According to maps, there should be a raised dry piece of land in the middle of all of that, but he never wanted to go busting through the quagmire to reach it. He just knew that there was always big deer tracks in the mud, so he just hunted around it. He didn't even finish what he was telling me before I got him in the Back Country machine and we headed off.
It took everything the machine, the winch and the two of us had to get the Ranger through the mud and slime we encountered, but we made it into the piece of land and back home again. Granted I'm still washing mud out of the Ranger's frame. I got a flat tire right at the end, which required some ingenuity to overcome and I managed to break one of the plastic clips that holds the door netting on. But… we made it in and out, in a spot we probably couldn't have with many other machines.
What would I add to the base Polaris Ranger XP 1000 Back Country edition? I'd add a roof and some Kolpin gun boots. Either that, or just do what I normally do, and use Kolpin's amazing DryArmor cases. If you own a gun, you need a DryArmor case. Period. I have abused mine and my firearms are always protected and dry. If I am trying to create the best hunting UTV around, A DryArmor case is a must.
If I know I'd be in serious mud, I'd opt for some new tires, like Sedona Mudda Inlaws. The stock tires work great, but real mud needs real mud tires. A good compromise tire could be Sedona's Rip Saw RTs. These are more aggressive that the stock tires, but aren't dedicated mud tires either.
In all, the Polaris Ranger XP 1000 Back Country is the basis for a great time. It is seriously one of the best Hunting UTV models on the market today and something we'd be happy to own.
We are committed to finding, researching, and recommending the best products. We earn commissions from purchases you make using the retail links in our product reviews. Learn more about how this works. Derrek Sigler
Derrek's love for all things ATV started when he was a mere 11 years old, growing up on his family farm. His mom gave him and his sister a choice - get a horse, or a three-wheeler. The sister wanted the horse, and Derrek wanted the ATV. Luckily he won out, and was soon burning up the trails on a Yamaha Tri-Moto 200. By the time he was 14, he had saved enough of his own money by working on the farm and in his folks restaurant to buy a new 4-wheeler. That happened the day he and his mom were driving past the dealership and saw 1987 Banshee. His mom had no idea what he was buying, and he never looked back. He's been riding ever since, and been writing professionally for many years. He has ridden all over North America and been behind the controls of just about every machine out there. And yes, he still has his 1987 Yamaha Banshee.
More by Derrek Sigler
Published October 8th, 2019 1:49 PM
Top Brands
Popular Articles