1 View
2009 Arctic Cat Prowler Lineup Review
June 17th, 2015 5:08 PM
Share
Get high on XTZ, haul anything with the Flatbed and give Arctic Cat an A+ for evolving
Let's get right to it. Kick in the throttle on Arctic Cat's Prowler 1000 H2 EFI XTZ 4×4 and it will set you back in the driver's bucket. With the same 188-ft-lbs. of torque built into the Thundercat ATV, Arctic Cat engineering gives the Prowler some serious performance in an all-new for 2009 premium package.
If you know anything about Arctic Cat and its northern Minnesota neighbor, Polaris, then you understand that there are serious bragging rights at stake where the two ATV makers compete head-to-head. Arctic Cat intends to be the performance leader in its market segments. You can understand that Cat engineering in Thief River Falls had to be unhappy at the performance image Polaris gained with its nifty, low slung Ranger RZR.
Entering this season Arctic Cat's Prowler was good, but not terribly sporty. It had nowhere near the performance character of Polaris' RZR. Spring ahead to 2009 and you have a Prowler that's not only much improved as an overall product, but endowed with the baddest, meanest engine to hit the side-by-side scene to date.
Engineered, designed and built by Arctic Cat, the 951cc H2 V-Twin is just what the Prowler needed to go from dowdy utility to full-on furious roadster. It should out-accelerate and out speed the RZR, but it won't out handle it. Even with suspension tweaks that make it a bit lower, the Prowler is still a Prowler, albeit one with incredible off the line performance and hill climbing power.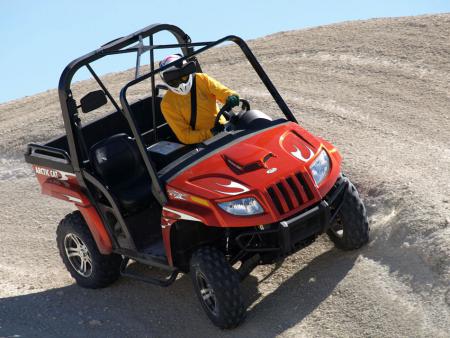 Impressive straight ahead acceleration marks the 2009 Prowler 1000 XTZ.
Arctic Cat spokesmen talk about Arctic Cat's passion for its product and how being a smallish US$600 million company is an advantage that lets it adapt more quickly to market opportunities than its larger competition like Honda, Yamaha, and Polaris with nearly US$1.8 in annual sales. That's why you'll be seeing some interesting new Prowler models for 2009.
Thundercat Attitude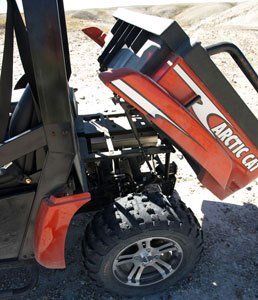 The XTZ dump box can handle up to 600 pounds of cargo.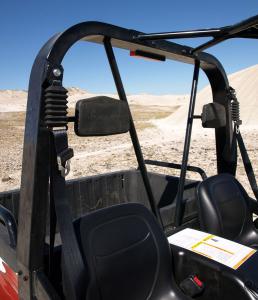 Arctic Cat redesigned the roll cage for 2009 and fitted the XTZ with 3-point seat belts.
The XTZ cockpit offers excellent passenger room and storage.
Channeling the Thundercat into a Prowler required rethinking Prowler performance. After all, the one-liter, fuel-injected V-Twin totally changes the side-by-side's dynamic. As they did with the Thundercat, engineers reduced ride-in height by two-inches for improved cornering, while still allowing up to 10-inches of ground clearance and 10-inches of suspension travel. Monotube front and rear gas-charged shocks absorb suspension movement and offer handling control at speed and in rough terrain.
As Prowler product team manager Tim Michalke noted, "To add the new engine required wholesale suspension and chassis upgrades."
According to Arctic Cat's engineering staff, the XTZ drivetrain retains the same gear ratio as found in the Thundercat. Although the gear ratios may be the same, Prowler XTZ clutching features revised calibration that includes new rollers and weights to better match the added weight of the UTV and to insure quick acceleration. The Prowler XTZ 1000 has a claimed weight of 1,243 pounds, nearly 450 pounds more than the new V-Twin powered TRV 1000 Cruiser. More weight means a need for improved brakes, which the XTZ gets in the form of heavy-duty outboard-mounted disks. Also new for the Prowler is a center console mounting of the redesigned hand-operated parking brake.
With its V-Twin power you get an ability to carry up to 600 pounds in the composite rear cargo box and to tow 1,500 pounds when hitched to the standard 2-inch receiver.
XTZ Features
As you would expect, being the most powerful Cat in of the litter, the XTZ comes with all the goodies. Power passes through Arctic Cat's smooth Duramatic variable ratio transmission to new cast aluminum 14-inch wheels fitted with 26x9R14 Goodyear MTR tires in the front and 26x9R14s at the rear.
There's even an underhood storage area that can handle 25-lbs of miscellaneous gear, including ice to cool beverages and picnic sandwiches.
Meets Expectations
Performance-wise the XTZ is exactly what you would expect. Grab the 3-point seat belt and buckle yourself into the bucket seat. Adjust the steering wheel. Fire up the V-Twin. Shift into drive. Mash the accelerator. And hold on! The speedometer needle spins past 50 mph in a hurry. More quickly than what you might experience in a Polaris RZR. Unlike competitive side-by-sides the XTZ accelerates without restrictive speed limiters — nor reverse limiter either!
As you come up on a turn, you fully realize that you are in a half-ton vehicle. Braking is adequate, but the stock disks get a solid work out. This is not a RZR. Cornering is more pickup truck than go-kart. In the hands of experienced Arctic Cat test drivers, the XTZ can perform amazing jumps and slip around bumpy corners with ease. Since these were prototypes, we let the Cat crew do the serious scratch and dent tour during our test ride session in South Dakota. And they obliged.
Even with the exceedingly impressive performance we felt in the XTZ, we quickly noticed something else. Arctic Cat engineering made the Prowler quieter. You still get a serious rumble from the powerful V-Twin, but that noise you used to get with the engine seemingly centered between you and your passenger is pretty much gone. The XTZ features a sound shield to reduce cockpit noise. Arctic engineers said the sound now is directed rearward away from the riders. It is a noticeable and appreciated change.
Overall, the XTZ is more than fast and quick. It can haul, tow and handle virtually any terrain from dusty desert to South Dakota badlands to hobby farm fields to backwoods fire roads. The Prowler XTZ is an impressive side-by-side that you knew was coming as soon as the Thundercat hit the market.
Prowler 550 Flat Bed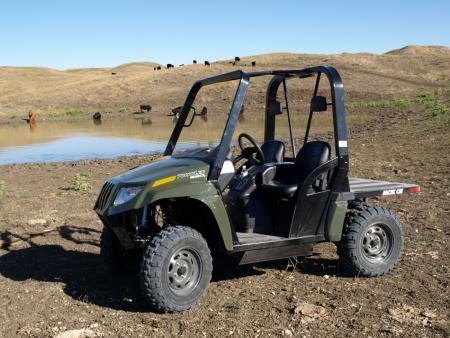 Farmers and ranchers will find value in the 550 Flat Bed.
What you might not have seen coming was the Prowler 550 Flat Bed. In its way, it is as impressive as the Prowler XTZ. First there's the new motor, a 'hemi' headed single with electronic fuel injection and liquid-cooling. Then there's the flat bed, which sits 2.5-nches lower for easier loading than the standard Prowler composite cargo box. Midwesterners will look at this vehicle and see a 'bug', which was what they call cars they stripped down to the chassis and fitted with a straight wooden bed. Those vehicles would make their way through farm fields and hunting lands to haul hay, spools of barbed wire and more.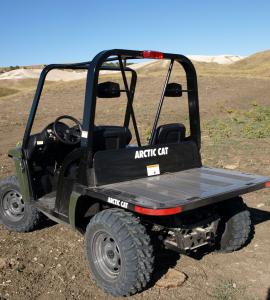 You can carry almost anything on this platform — up to 600 lbs.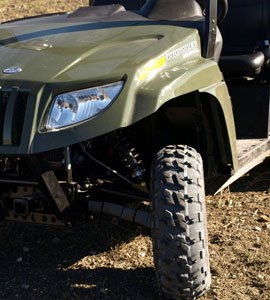 Cat's new 550 Flat Bed comes with Goodyear MTR tires on mounted on 14-inch steel rims.
The Prowler flat bed has a 600-lb capacity and can be equipped with an optional stake kit.
Arctic Cat expects the 550 Flat Bed to be the price enticer for the Prowler line. In reality it may be an exceptionally good seller as it is extremely practical for many buyers and it has incredible guts for a moderate engined and moderately priced UTV. The new 550 delivers the exceptional low-end grunt you want for chugging out to a back forty loaded with hay or fencing gear. The midrange is equally strong. With just a driver, the 550 Flat Bed readily clipped along a very rough, South Dakota field road at nearly 55 mph. This Prowler is more than adequate performance-wise.
Whether at full speed or slogging along up and down steeply angled trails, the 550 Flat Bed maintains solid contact with the terrain as its 10-inches of suspension travel keep the Goodyear MTR tires and 14-inch steel wheels positively positioned.
While the XTZ gained a console-mounted handbrake, the 550 relies on the carryover foot-operated parking brake. The disc braking system, though, is very good on the 550.
Although designed to be an economy model, the 550 Flat Bed is, states Michalke, "The best Prowler value."
There have been upgrades to the Prowler line for 2009. Among them is the 700 XTX which features tilt steering and a turf saver rear differential, which makes the side-by-side well suited for golf course use. You can count on there being a bevy of special editions that will include camouflage models and dresser packages. If you buy a Prowler and want to make in uniquely yours, Arctic Cat has an incredibly complete accessories catalog that includes a series of Speedpoint tow-behind planters and drills.
Our top picks for side-by-sides for 2009 have to include the awesome Prowler XTZ 1000 with V-Twin power and the 550 Flat Bed with its versatility and Thundercat heart.
Related Reading:
2009 Arctic Cat ATV Lineup Review
2008 Arctic Cat Prowler 650 XT Review
Published October 28th, 2008 10:57 AM
Top Brands
Popular Articles