1 View
2009 Arctic Cat 366 4×4 Review
June 17th, 2015 4:14 PM
Share
A solid package for the new rider
Introduced in 2008, the Arctic Cat 366 is intended to give new riders the experience of the wide-open trail world. The 2009 Arctic Cat 366 is the company's budget utility 4×4 offering, priced just under $6,000 ($5,649 to be exact), the 366 offers a "no frills" option for consumers looking for an affordable ride. This utility-styled ATV is built to be fun and functional for the consumer looking to get into the sport.
From an ergonomic standpoint, the 366 is pretty average, and comparable in size to the other machines in its class. The instrument cluster offers all of the useful information that you would expect (digital displays of clock/hour meter, mode button, set/reset button, odometer/trip meter, gear position, speedometer, drive select, high beam, battery condition, temperature and oil pressure), and nothing in the way of unnecessary "extras."
The large stretched handlebar is a bit awkward to get used to while riding (or looking at the machine for that matter), but it is very functional and works well for its intended purpose and placement. Pretty much all of the controls are easily reachable and well thought out, but the lack of a handlebar-mounted rear brake is a bit of a letdown.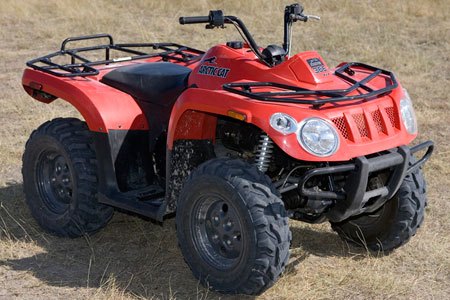 2009 Arctic Cat 366 4×4
The floorboards are roomy and seem to cover the rider's legs and feet enough to keep the mud and water away while the foot pegs are average at best. Getting good foot grip is crucial for any rider – especially new riders – and this is an area we feel requires some attention.
Visually the 366 is pretty cool, with very large bug-eyed lights, and either army green or red plastic. It's got an old-school military look quite similar to an old jeep. The majority of the motor is hidden from view via easily removable plastic side panels, which has both advantages, and disadvantages. On one hand, everything is tucked away nicely, but on the other hand everything serviceable is tucked away too.
Riders will find the seat on this cat to be plush and comfortable. For longer days in the woods this seat is well suited for those who like to sit down. The large, wide tank makes you feel a bit bow legged while riding. The racks are top notch, and in line with just about any other utility quad. The only real storage compartment is under the seat in an unsealed compartment. This can be good in dry riding conditions but it would be nice to see a sealed storage option. A standard 2-inch receiver hitch is great while working, but for serious mud play it tends to hang up in the trail.
Brakes, Suspension, Steering
Hydraulic braking duties are handled by a left-hand actuated-front brake, and right-foot operated-rear brake. Overall, the brakes are sufficient, but the aforementioned lack of a right hand brake lever takes away from the overall brake performance. To its credit though, the 366 is predictable when stopping at just about any speed.
At low speeds and through technical terrain, the Arctic Cat 366 feels right at home and works pretty well. At anything over medium speed, the steering leaves a bit to be desired. When compared to other machines in its class, the steering lacks a bit. While high speed steering is a bit sketchy, steering in low, and mid speed conditions isn't nearly as big of an issue, and the 12-inch steel wheels wrapped in 24-inch Maxxis tires will take you just about anywhere you point them.
At low speeds, the 366 proves itself quite capable over technical terrain.
The Cat's suspension suffers from a lot of the same problems as the steering; the lower the speed the better it performs. For utilitarian applications, the 7" of shock travel is fine, and towing, or hauling big loads is not a problem as the 366 enjoys 10" of ground clearance and rarely bottoms out.
Power, 4WD, & Ground Clearance
Though it won't win many drag races, the 366cc powerplant is great for light duty chores and having fun in the trails.
Arctic Cat's 366cc single overhead cam, four valve, four-stroke mill is air and oil cooled. It receives its fuel through a 36mm Keihin carburetor that utilizes an electronic automatic choke. Power wise, the motor is only a 366 so you have to be pretty realistic with your expectations of the machine's abilities. The carbureted 366 won't exactly set the world on fire or do well in drag races, but chances are it'll do just fine at light duty chores, and average speed/difficulty trail rides – just about what you'd expect for a machine in this class.
This powerplant will serve you will in dry conditions for its intended purpose, but when introduced to water the CVT belt has a tendency to slip, which pretty much renders the power worthless. This could be rectified by properly sealing the CVT covers and air intake/exhaust boots for deeper, wetter situations.
The 10-inches of ground clearance is great in the dry stuff (like rocky, rutted trails), but the Cat has an aversion to muddy conditions and is pretty easily hung up. The receiver hitch is partially to blame as it "high centers" regularly, but the belt slippage is the bigger issue.
Overall the 2009 Arctic Cat 366 is a decent package. For the money, it does everything fairly well, and with a few modifications it can be drastically improved.
Comparable vehicles: Kawasaki Prairie 360 4×4, Suzuki KingQuad 400 AS, Polaris Sportsman 400 HO, Honda Rancher 4×4, Yamaha Grizzly 350 IRS 4×4, Kymco MXU 375 4×4
2009 Arctic Cat 366 Specs
2009 Arctic Cat ATV Lineup Review




2010 Arctic Cat Lineup Unveiled

Published October 21st, 2009 11:23 AM
Top Brands
Popular Articles
You may also be interested in